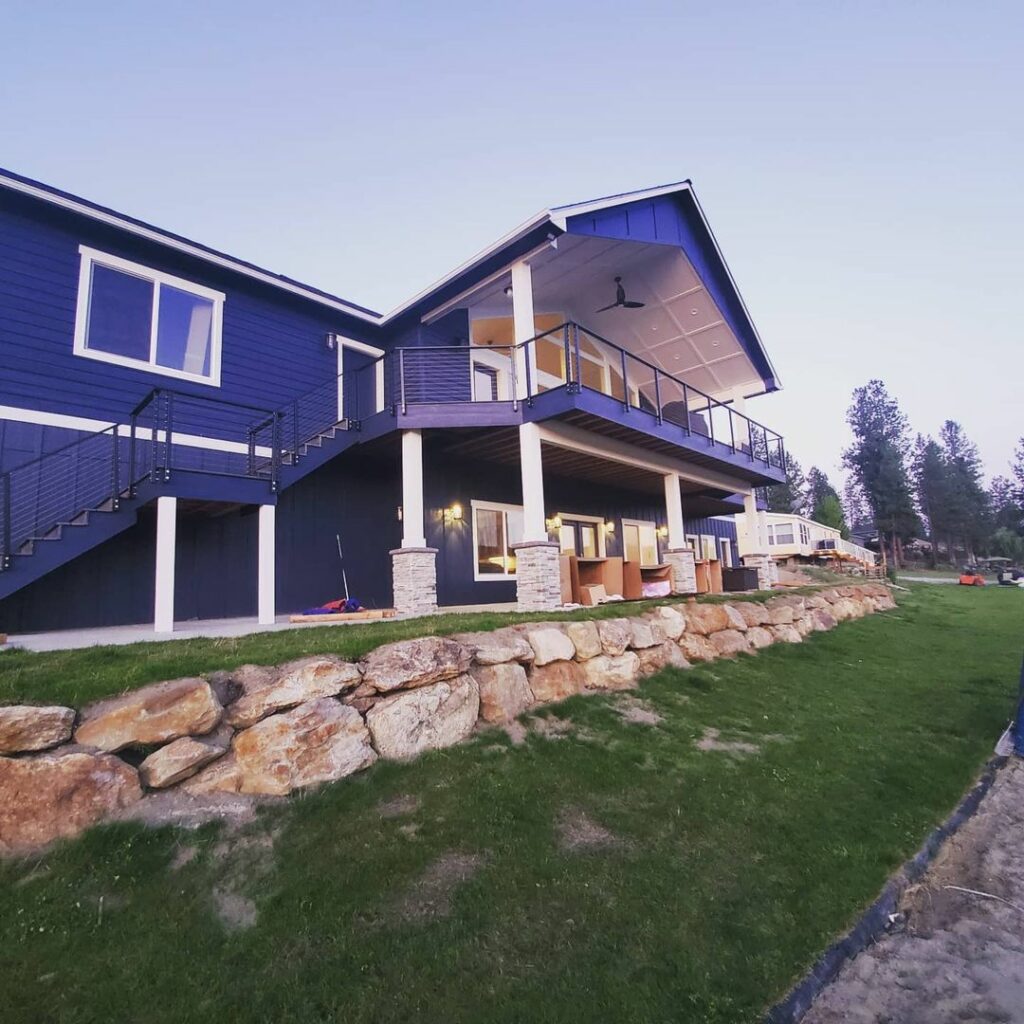 If you're looking for a way to enjoy the outdoors without having to leave your home, consider adding an outdoor living space. An outdoor deck is a great way to add more space to the exterior of your home, where the two are blended together to create a unique space in which to relax and enjoy the view.
Trusted deck builders in Bellevue, like 3 Brother's Decking, can create a custom outdoor deck that is perfect for your needs and lifestyle. Plus, you can also add features like an awning to make the space even more comfortable.
In this blog, we showcase a home overlooking Sammamish Lake on the western side of Bellevue where we not only built a deck but installed an awning to further enhance the area.
To start, let's quickly look at the benefits of both a deck and an awning.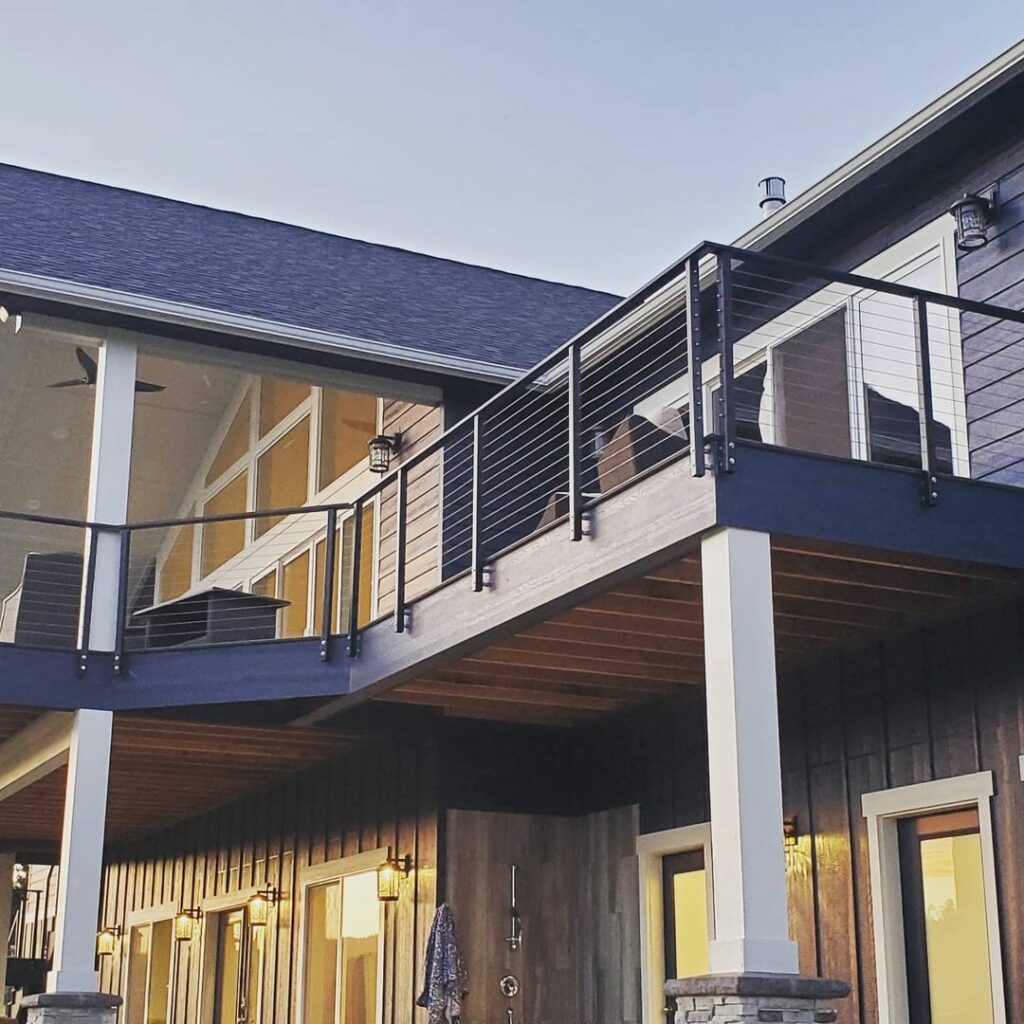 Why do homeowners choose to install a deck?
A deck allows homeowners to extend their living space and create a functional, inviting outdoor area. With an expansive view of Sammamish Lake, our client wanted to get the most out of their home by adding an additional area to relax and entertain outside.
A deck provides a large space where guests can gather or you can take in the beauty of nature from your own backyard.
The benefits of a deck awning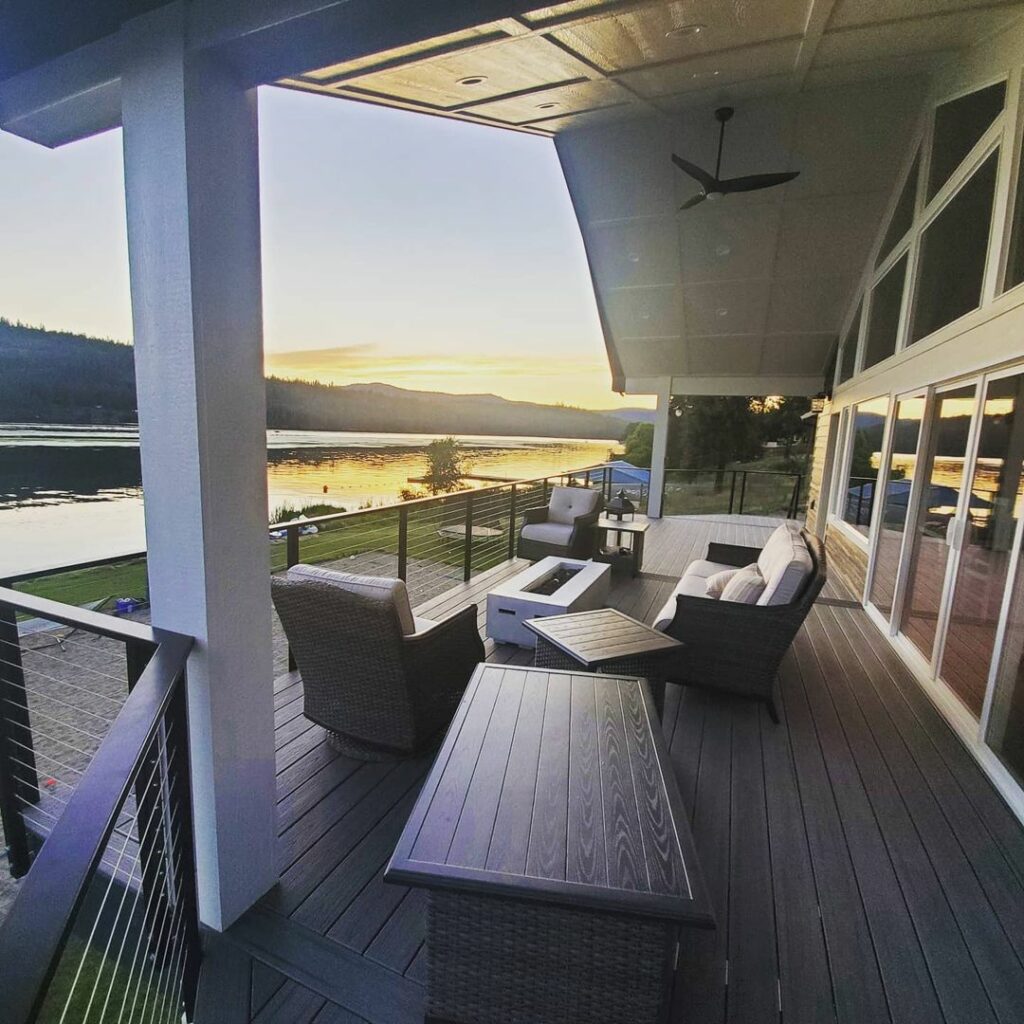 An awning is great for extending the use of your outdoor spaces throughout the year. It offers protection from harmful UV rays and rain so you can enjoy your outdoor living space no matter what the season brings. Plus, it adds a touch of style that will elevate any outdoor setting!
The result with this home? An amazing outdoor living space with a stunning view of Sammamish Lake. Our deck builders created the perfect outdoor haven, complete with an awning to provide shade and protection from the elements. The result is a safe and comfortable place to relax, entertain, and enjoy spending time in nature!
Whether you're looking to add more space to your home or take advantage of your amazing views, investing in an outdoor living area is a great way to make the most out of your property. With custom decks and awnings from deck builders like 3 Brother's Decking, you can get exactly what you need and create an area that will be enjoyed for years to come.
The Bellevue deck case study
You can see that this home was designed to merge with the lake below. The blue coloring creates a feeling that you are immersed in the landscape that the home overlooks, while the clean white finish helps to reflect the natural light and enhance the outdoor area.
The deck
We designing this deck with a focus on opening up more space for the homeowner.
Our team used high-quality wood for the boards, creating a warm and inviting atmosphere. The deck was designed to wrap around the home and provide ample space for entertaining guests or enjoying some peace and quiet.
The view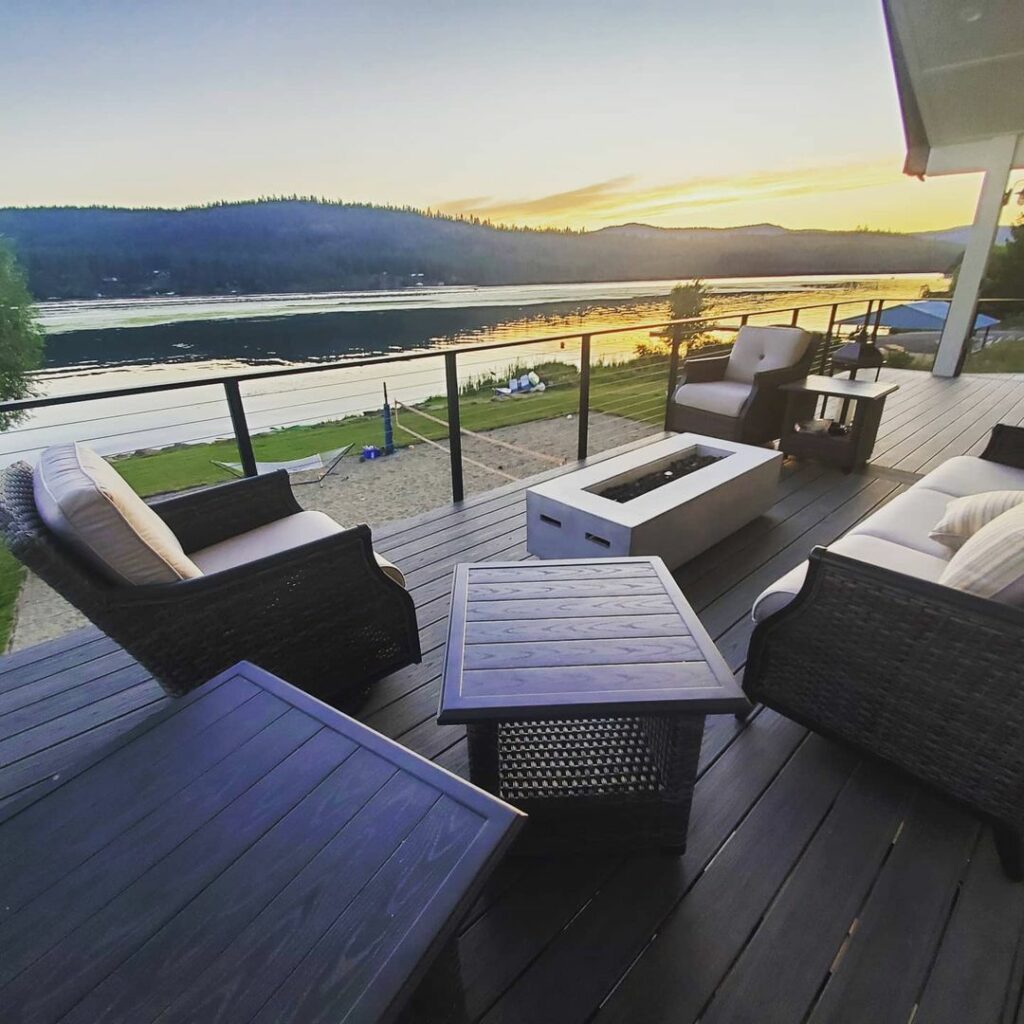 The view – oh the view! This is what made this project so amazing. With the deck built in an elevated position, you can take in stunning sunsets and picture-perfect views of Sammamish Lake.
Here, the owner can lap up the morning sunrise or simply sit back and watch the boats go by. With an outdoor living space like this, it's easy to forget that you're only a stone's throw away from the heart of Bellevue!
Sunsets are equally impressive in this part of the US, making the outdoor space even more enjoyable.
Furniture to match the setting
To really bring this outdoor living space together and provide the perfect spot to relax and entertain, the homeowner added some beautiful furniture to complement the deck area. They chose pieces that were comfortable yet stylish, allowing the homeowner to make the most out of their dreamy deck.
A small firepit was installed to give the area a cozy feel and provide warmth on cooler evenings. Plus, there's plenty of seating for larger groups to enjoy!
The staircase to the backyard below
To complete the project, we built a beautiful staircase that leads down to the yard below. This addition serves as an attractive feature while also providing access to this part of the backyard.
We used a horizontal railing system on this staircase to further enhance the design, offering both safety and an uncompromised view. More on this later.
Two levels of space to enjoy
Not only does the homeowner get to enjoy an elevated view from the top deck, but they can also take advantage of the lower level. This area is great for additional seating and an outdoor kitchen, as well as a lounge area that takes in the gorgeous view of Sammamish Lake.
They chose furnishings to match the level above, providing ample space for entertaining a large number of guests, or to mix things up a bit and have two spaces for the family to enjoy on a windless, spectacular evening.
The pillars
We selected pillars with clean lines to not only support the deck but to enhance the modern feel of the home. The slate base of each pillar added to the style of the outdoor area, creating a unique and stylish look.
As you can see here, the two layers and the pillars complement the rest of the home's exterior, with the white pillars matching the rest of the home's edging.
An awning to match the roof
The homeowner chose to install an awning above the deck that matched the roof of the home itself, providing maximum protection from sun and rain.
This awning was customized to ensure that it would fit perfectly with this space and allowed for even more outdoor furniture to be placed beneath it. This way, the family has ample seating and space to enjoy the panorama of the Bellevue area and Sammamish Lake.
We also installed a fan for those warmer Bellevue evenings. The homeowner especially loved this touch.
The railing system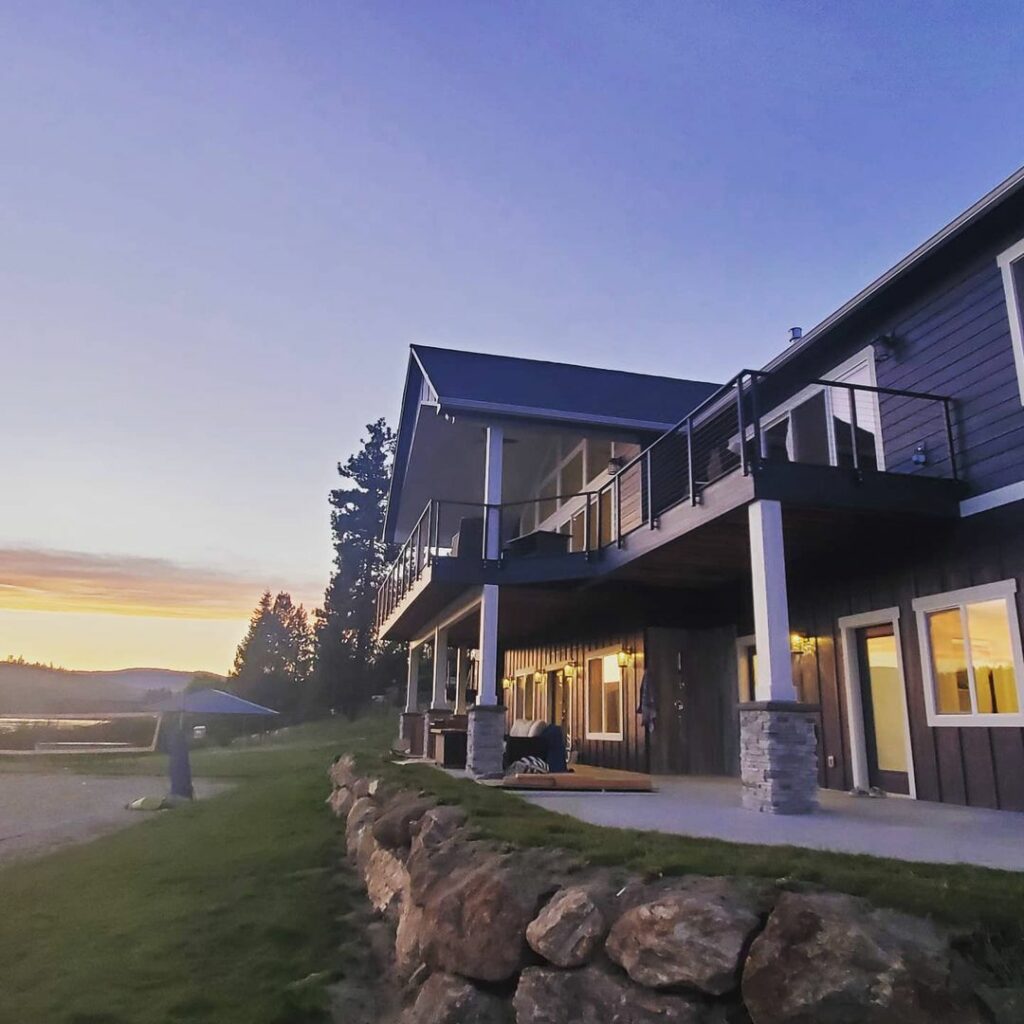 After consulting with the homeowners, we opted for a horizontal cable railing system. This type of system is both incredibly attractive and highly functional. Here are just a few of the benefits of such a railing system:
They are safe and meet all the required residential building codes: Cable railings are incredibly secure, making them perfect for any home
They are cost-effective: Cable railings are one of the most affordable railing systems on the market
They resist corrosion and can be customized to fit your specific needs: Such railings are strong and durable, so you won't have to worry about them deteriorating over time.
Easy to maintain: Since they don't require a lot of maintenance, with cable railing you can enjoy this outdoor area without having to worry about upkeep.
The result? A stunningly modern look that complements the deck and takes advantage of the breathtaking views.
Install your Bellevue deck and awning with 3 Brothers Decking
At 3 Brothers Decking, we specialize in Bellevue outdoor living spaces and awnings, which we've been crafting for over 10 years. Our team of experienced professionals will work with you to create the perfect deck or awning for your home. We are committed to providing outstanding customer service throughout the entire project, from design to installation.
Whether you're looking for an upgraded deck area or entirely new construction on your property, 3 Brothers Decking can make your dream a reality. Contact us today for a free consultation! You can reach us at (425) 505-5282 (Western Washington) or leave us your details and a friendly member of the team will call you back.
We believe everyone should be able to enjoy their outdoor space without compromise – and with 3 Brothers Decking, you can!