When a Maple Valley, WA, homeowner wanted a deck that would expand their usable outdoor space without blocking their gorgeous backyard views, there was only one option. This sizable deck-and-covered-space combo completely redefined the home's aesthetic, as you can see in the drone video. What's more, it did so without feeling overly imposing or placing limitations on a growing family.
This project was fun because we got to explore a fresh twist on a classic design. Although second-floor decks are nothing new, this one includes a few features that make it special.
Unlike many decks, this one naturally divides the space it occupies into multiple sections. By extending some areas further than others, we successfully realized an organic feeling of self-organization. We were also able to mirror the profile of the nice stone patio below, tying everything together in a fashion that looked as if the house and deck had been designed together from the start.
For instance, the two protruding end sections naturally lend themselves to brunches, cookouts, and general hang-out sessions. By contrast, the middle zones act as a space for foot traffic. In other words, this deck is an ideal stress-free dinner party spot.
Although it's always up to the homeowner how to arrange their deck furniture, we thought this layout would be the easiest to manage. We took the central location of the door and adjacent bay window into consideration and went with the flow. As an added bonus, this left plenty of space for a staircase that didn't jut out into the yard.
Making the most of what we were working with also helped give the finished result a better sense of balance with the house. While extending the central area was technically a feasible option, doing so might have looked a bit overwhelming.
All-Weather Deck Cover
This choice started making even more sense when we considered one of this project's standout elements: the all-weather covered space. It was only logical to add the gable close to the sliding doors – The shorter trip is a big plus in rainy conditions. The protruding window and wall to either side of the gable also created a cozy little niche to help keep the wind and sun at bay.
We'll admit that some of these choices were practical. For instance, the large window at one end didn't really leave space to attach the new gabled deck cover to the house there. In other spots, the eaves of the existing roof might have gotten in the way. Our solution ended up being the best option to accommodate the home's profile while expanding the space as much as possible.
You might not have noticed one of the coolest aesthetic elements of this deck, which actually means we did our job right. We're talking, of course, about the cable railing.
Custom Deck Cable Railing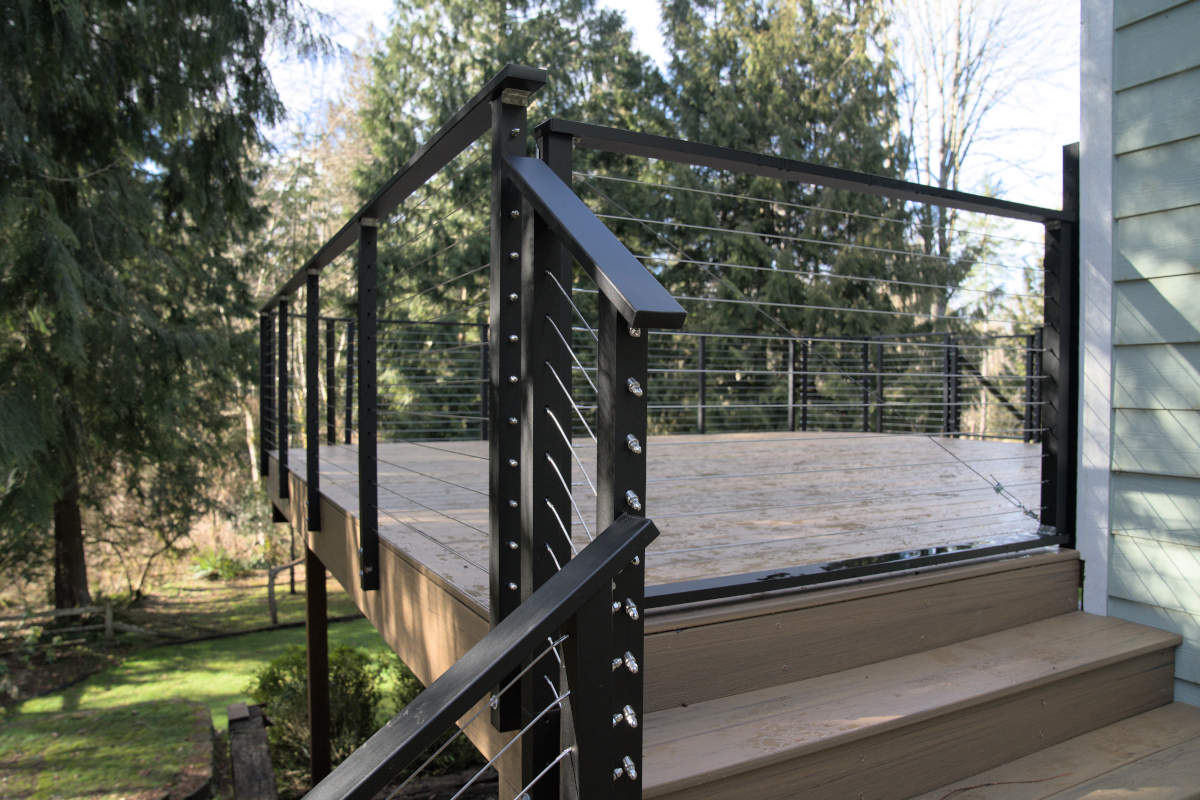 Light yet strong, cable railing is perfect for projects where unobstructed views are a priority. It makes it equally easy to appreciate the gorgeous trees and backyard from the deck itself or from inside. At the same time, it doesn't steal the show from the beautiful composite decking.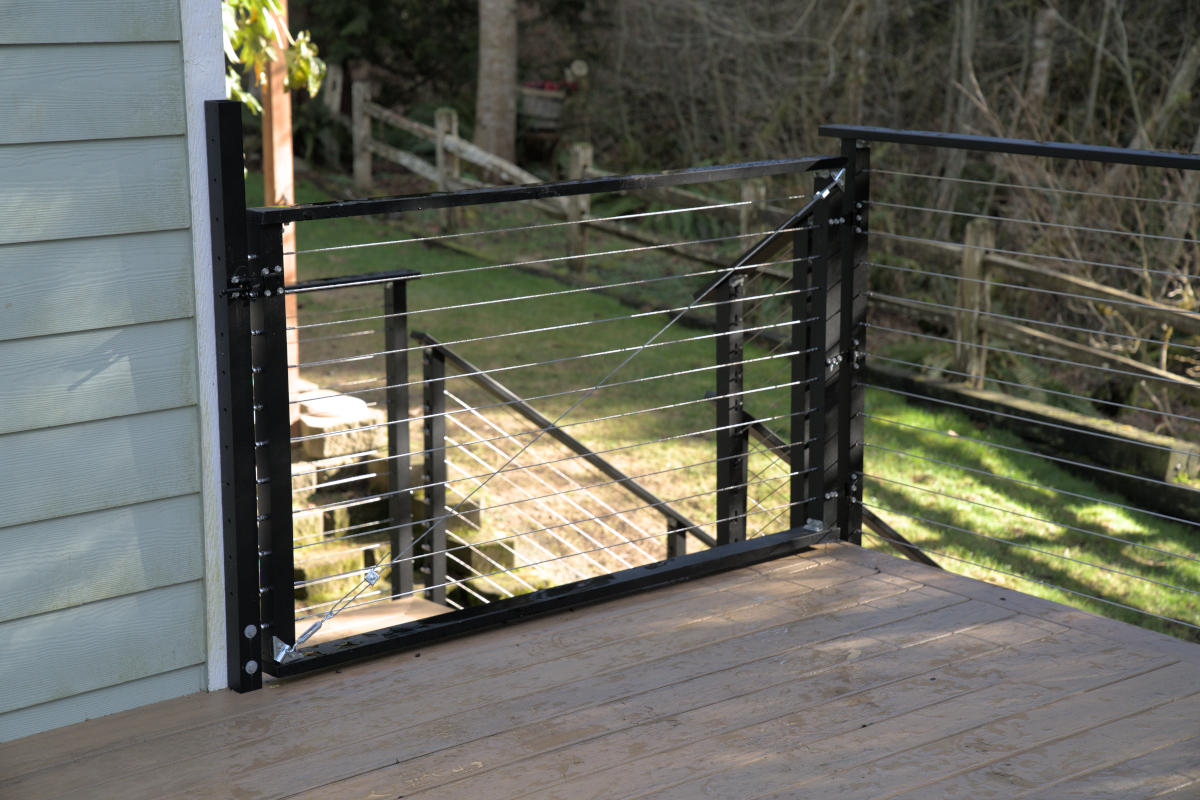 Speaking of wooden posts, did you notice the split-rail fence near the property's edge? We really liked this rustic look, so we thought it'd be cool to do something more modern with the deck railing for enhanced visual contrast. The effect came out better than we'd hoped, and the homeowner was super enthused too.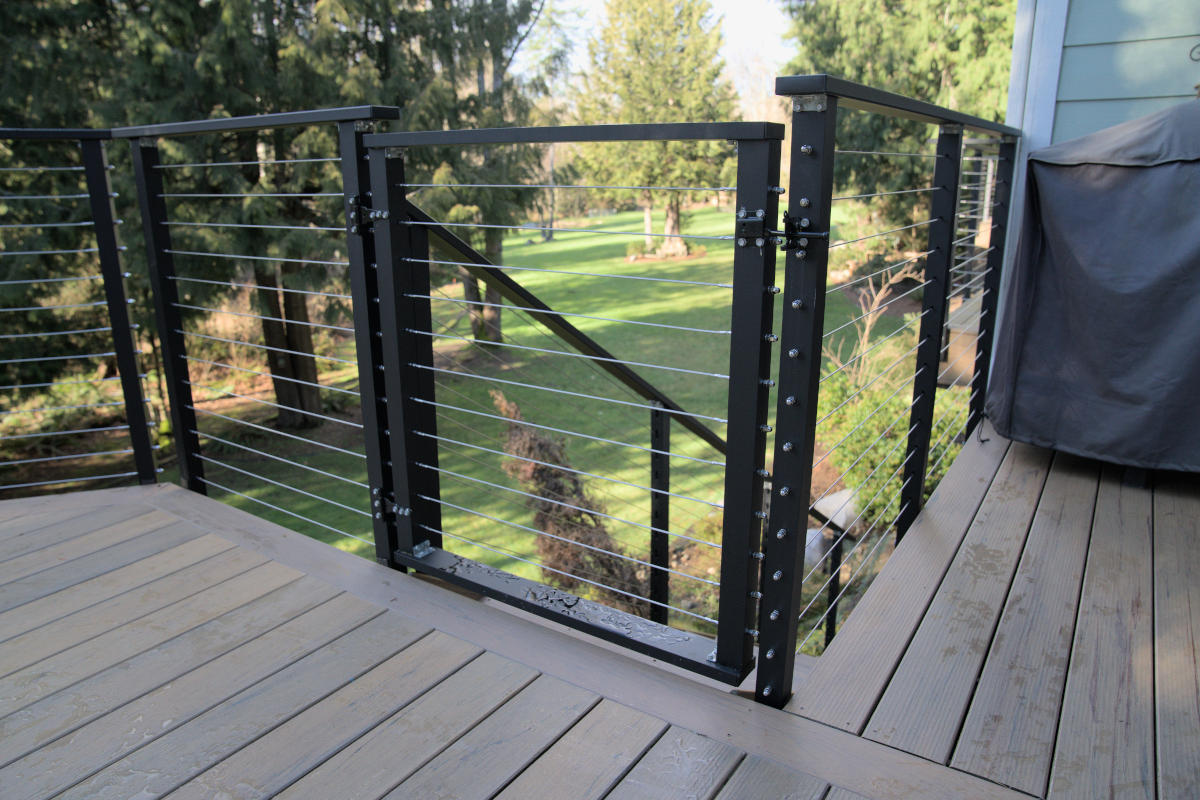 Cable-style railing is also great for entrances. Since it's so light, you don't need a lot of force to swing the gate open or shut – continuing the overall ease-of-use theme. At the same time, it's more than sturdy enough to serve as a stable barrier at the top of the stairs. The combined effect keeps the deck safer for those using it, as well as discouraging random passersby from inviting themselves to dinner parties.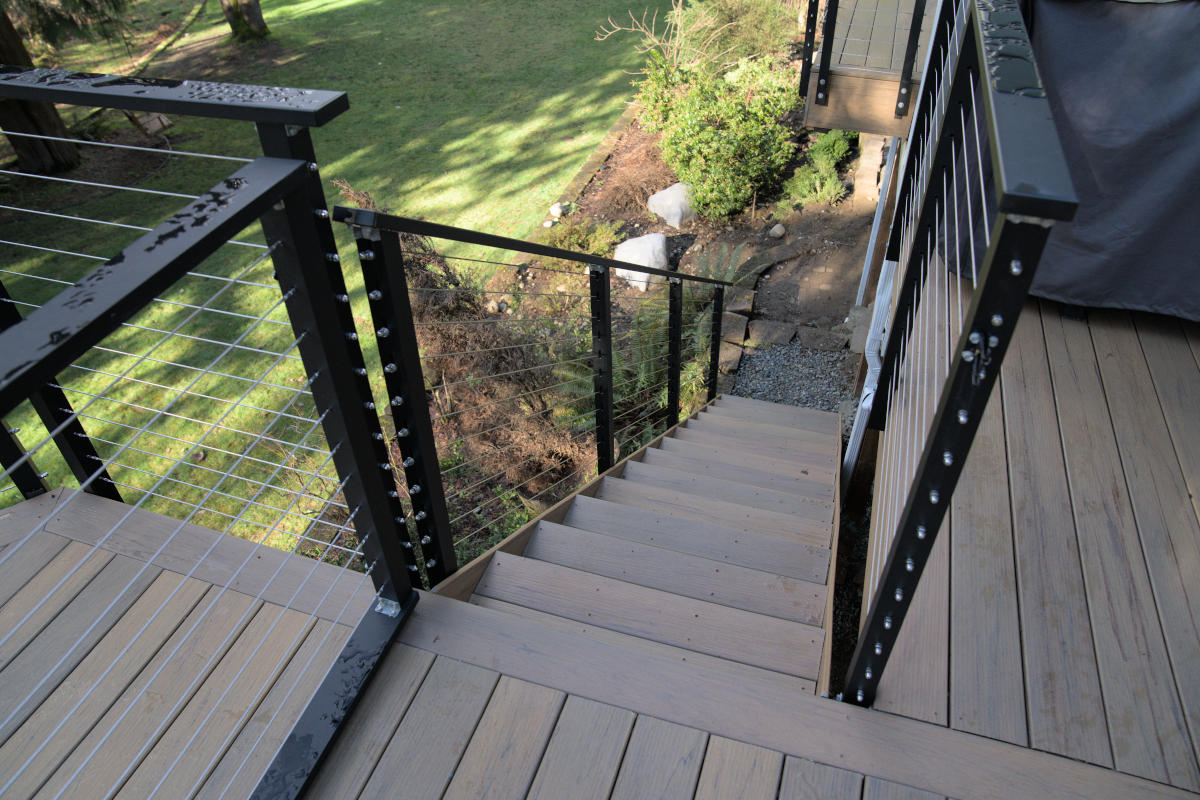 Another cool understated element of this style of railing is that the cable fixtures remain visible at the end posts. It gives it a kind of industrial aesthetic whose irregularity adds flair without being too distracting.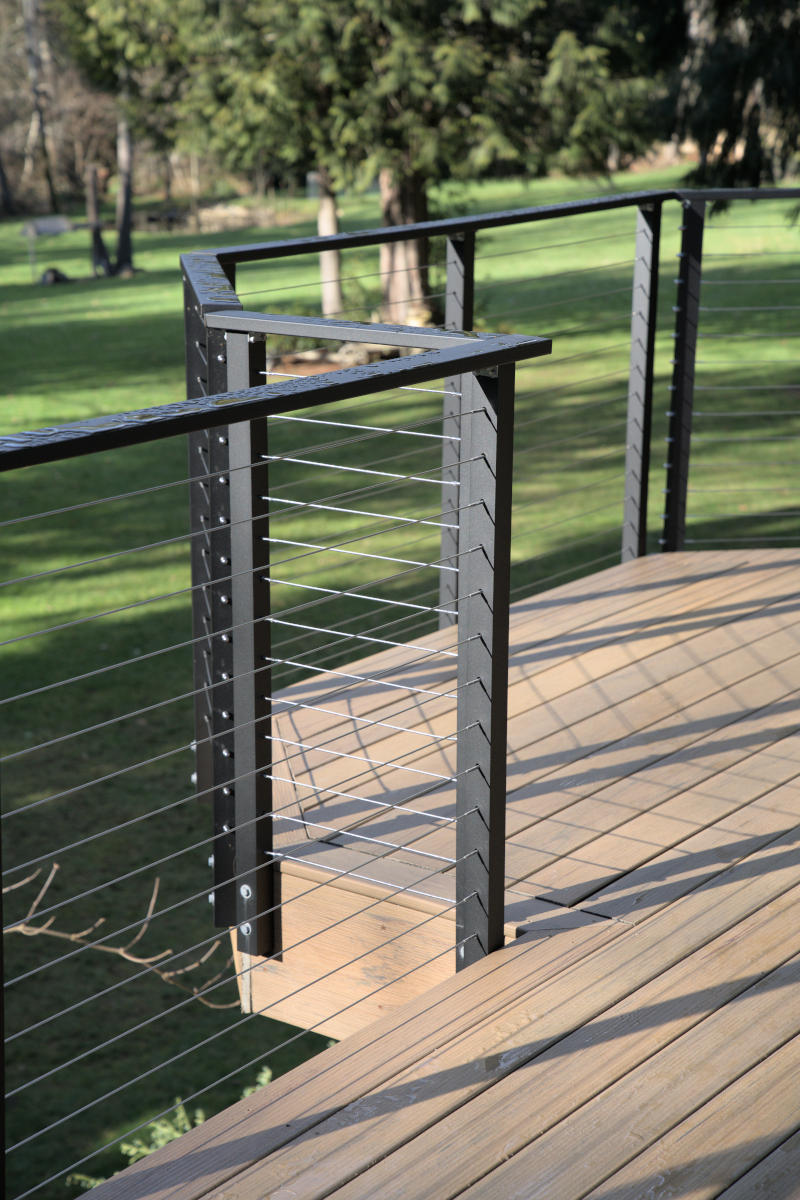 Also worth noting is the fact that minimalistic railing equals minimal maintenance. We're proud to say the property owner will never have to repaint or re-stain this cable railing, which is a far cry from what they'd be in for with a wooden alternative. They get to focus on enjoying their home makeover instead of worrying about how they'll keep it pristine.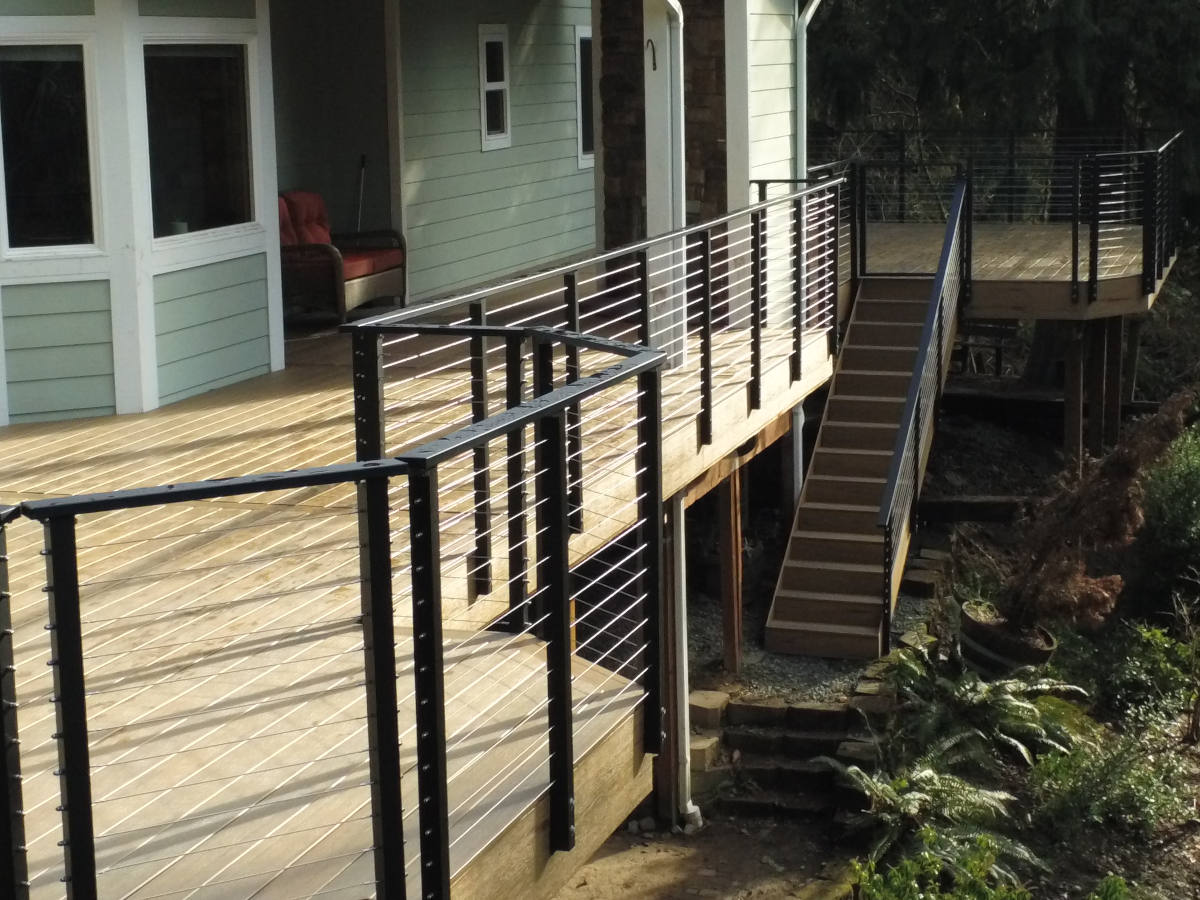 This project was a whole lot of fun to conceptualize and execute. Although it took some doing to get everything just the way the homeowner (and our inner design nerds) wanted, the effort proved to be worth it. When all was said and done, we transformed this home's exterior into a more functional entertaining, dining, and outdoor living space.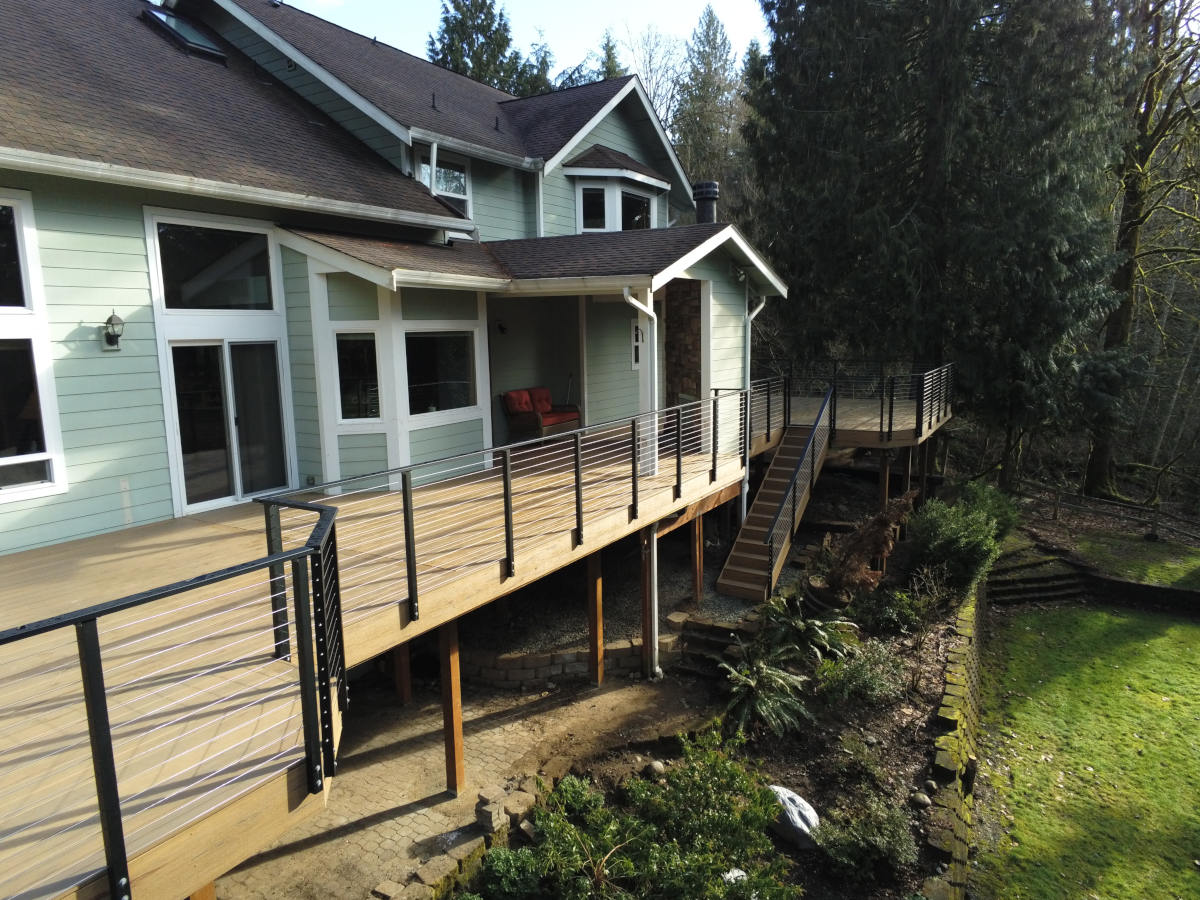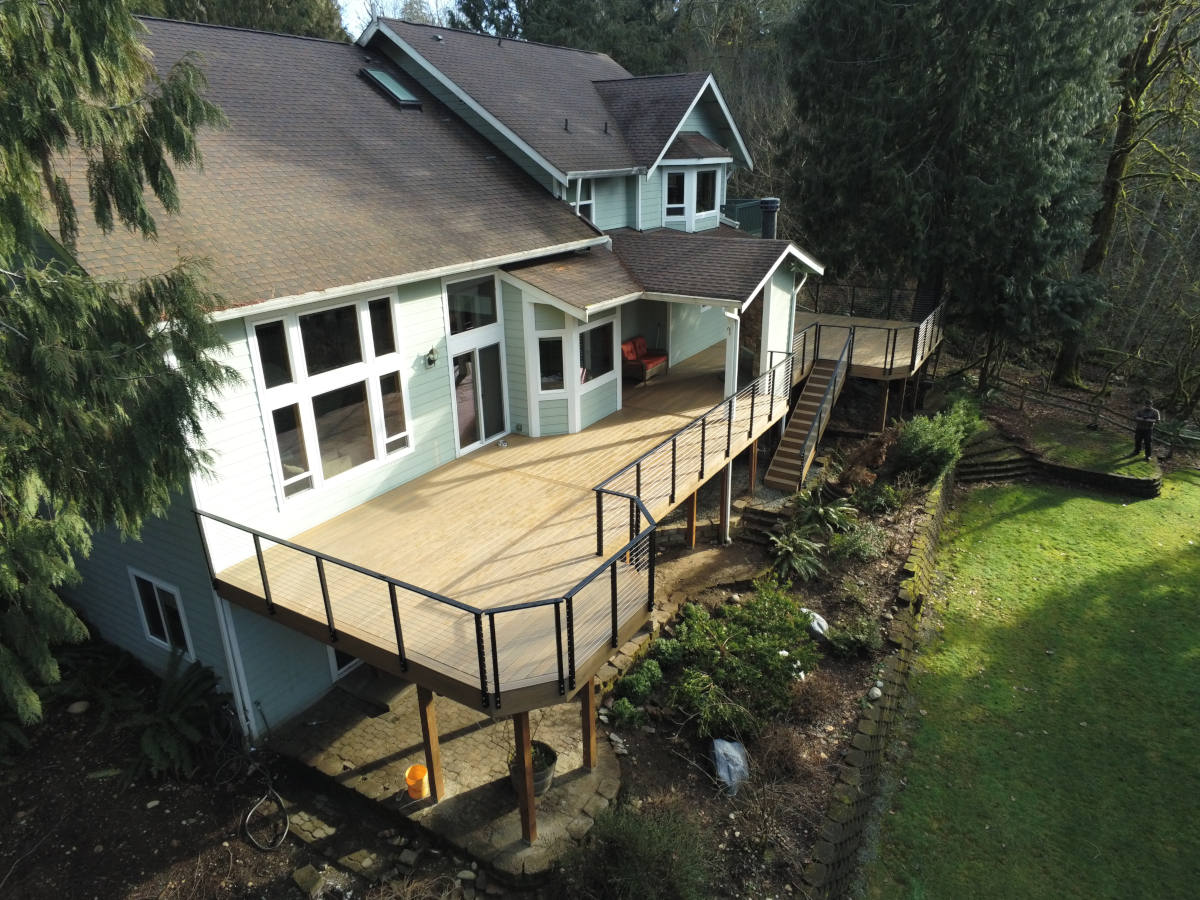 Your outdoor living space
Deck improvements can return 100% of the price you pay for your deck.
According to the 2018 Remodeling Impact Report from the National Association of Realtors patios can recover 102% of their building costs on average. The 2016 version of this report found that the recoup rate was as high as 106%. Remodeling Magazine's annual Cost Vs. Value Report found in 2007 that adding a wooden deck is the most cost-effective home improvement project for a mid-range home.
To view more projects using our deck construction services, view our project gallery or our blog feed.
To learn more about our deck services and to book your free consultation, contact us, or give us a call at (425) 505-5282 (Bellevue) or (509) 998-6522 (Spokane).