Check out the illuminated Maisy Railing deck railing installed by Maisy Rails in Bellevue, on top of a deck we built!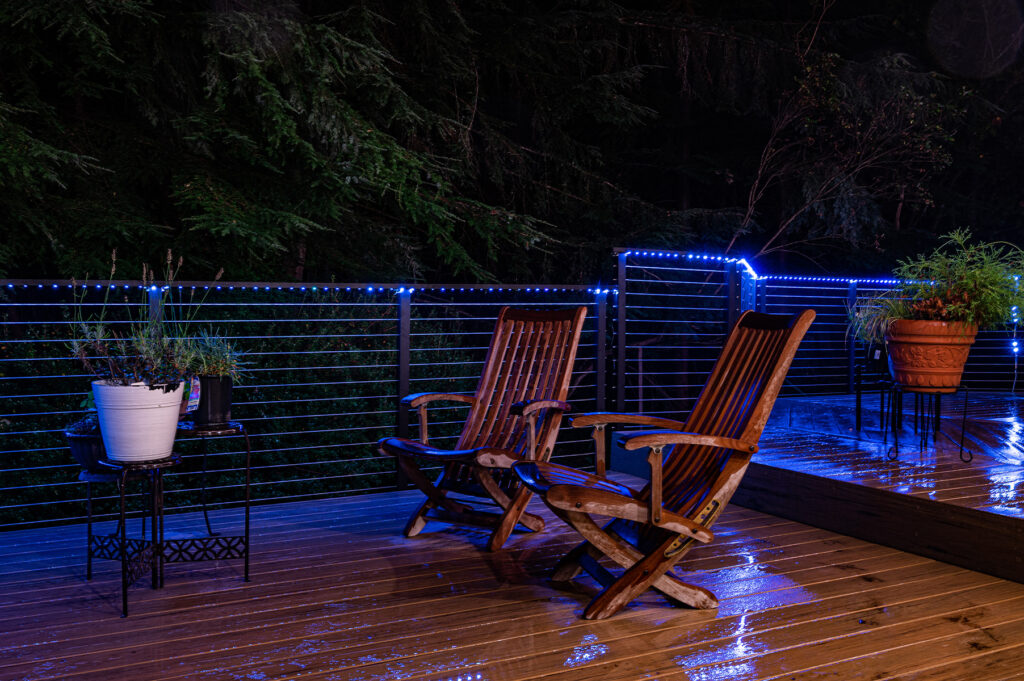 It is not uncommon for us at 3 Brothers Decking to complete a project and fall in love with decks all over again. This is exactly what happened with this project. It's funny how things work out unexpectedly, and this was one of them. Our team is ecstatic with the way the deck came to life with the embedded LED lighting on the cable railing at night. The results, as you can see, are stunning.
We think it made a perfect complement to this sprawling home tucked into the woods beneath a grove of pine trees. That's why this particular project is special for us. Here's a look at how the illuminated deck railing lights fill the entire deck with light.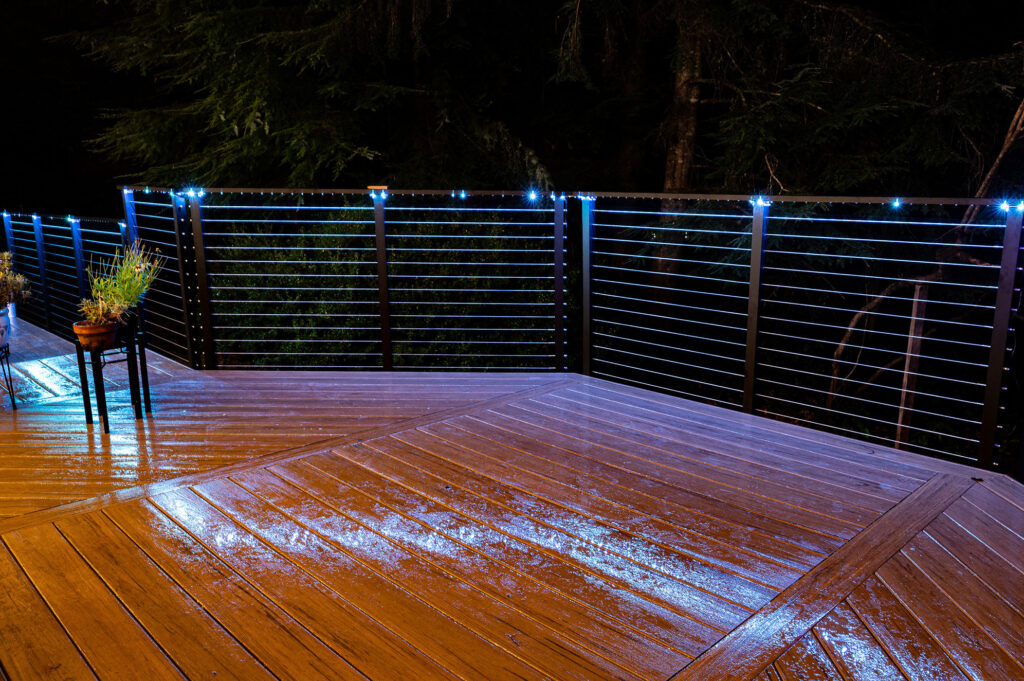 Creating the ideal outdoor ambiance for commercial and residential properties is what we do at 3 Brothers Decking. Whatever you are looking for, whether it's a deck to refresh or railings that need to be adorned with railing lights, or a completely new custom deck style, our team can make it happen. To ensure that the aesthetics of outdoor living suit your lifestyle preferences, our team works with you every step of the way. Make your outdoor space functional and hassle-free with our deck and exterior lighting services.
With embedded lighting, outdoor spaces can be illuminated in a way we never imagined possible. Aside from being bright, weather-resistant, and long-lasting – come rain or snow, embedded LED deck lighting is also energy-efficient and long-lasting.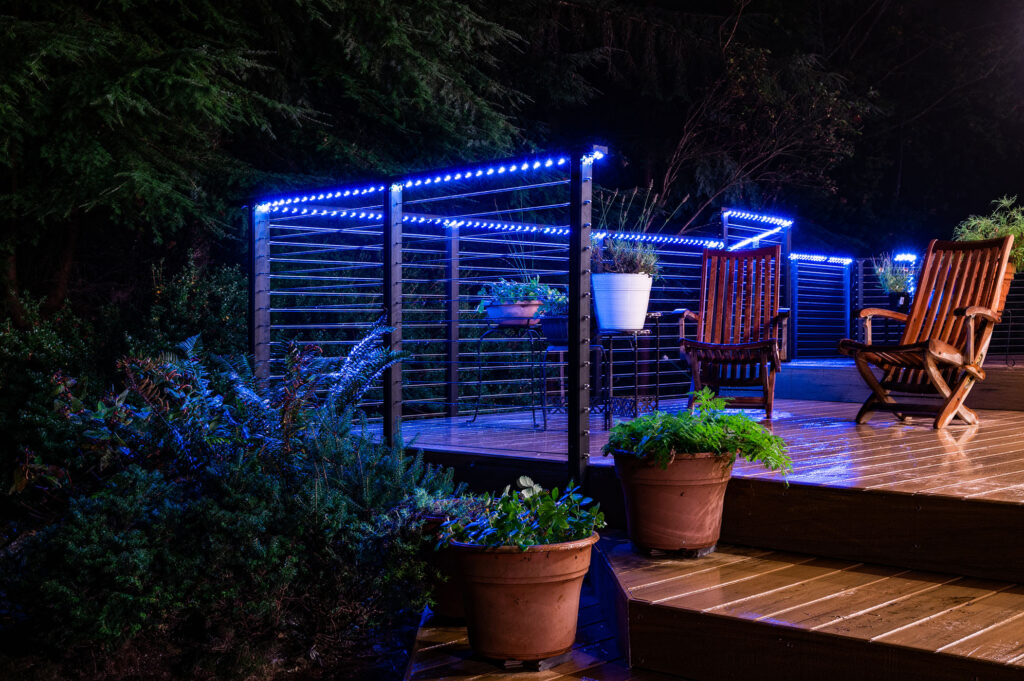 At 3 Brothers Decking, we work with your needs to find a cost-effective and creative lighting solution that meets your home's interior and exterior lighting needs. Take a look at these eye-catching embedded railing lights we installed on the Maisy Railing that made the deck and backyard look spectacular in so many ways.
Creating a deck that fits your lifestyle
As we set out to build this deck, and install railing lights for this project, we wanted something subtle but impressive. For this reason, we selected railing-embedded lighting that would match the deck style and preferences.
The style, strength, and safety of any type of deck, railing, and lighting come into play when we begin to plan the project. It is essential to choose the right lumber for the deck, as well as select elements that complement the natural surroundings and last for years to come.
As with any deck construction project, this one was no different. When building this deck, we wanted to show off nature's beauty and chose railing lights that would do just that.
For this purpose, the lighting was embedded into the railing to illuminate the right areas and show off the deck's natural beauty and warmth. At 3 Brothers Decking, we created a deck design that incorporated cable railings and railing lights that blended well with the environment. Our goal was to enhance the deck's appeal with integrated led outdoor lighting.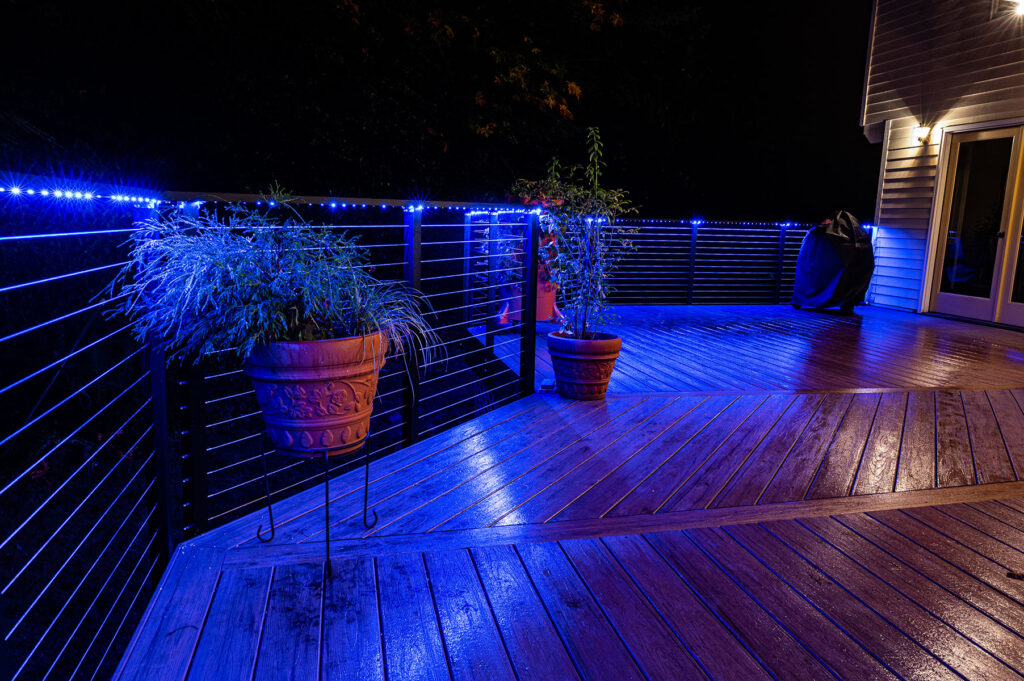 An outdoor living space can become more appealing with a deck that is weather-resistant and functional. We wanted to create a more private environment where the clients could entertain, relax and take in the beauty of the natural surroundings.
A deck expands your home's living space. To add to the deck's curb appeal, we went with subtle railing lights highlighting the cable railings. It's a natural crowd-pleaser, and people can envy your deck when they drive up to your house.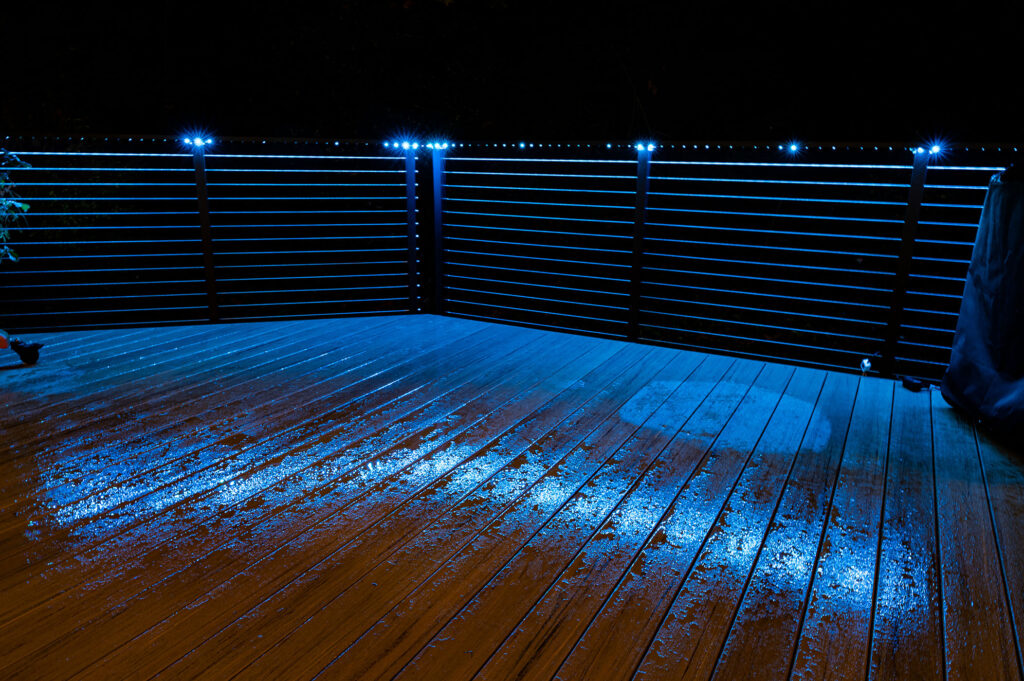 It is no secret that decks that are fully equipped are a dream come true for any homeowner who wants a great place for entertaining. It's often a big attraction for potential home buyers to have a deck or patio where they can entertain guests.
It's worth investing in a stylish and meticulously maintained deck because it'll boost your house's value. When it comes to purchasing a property, people are willing to spend more if the deck is of high quality. A deck must be well-lit at night in order to be safe at night, and it must be integrated into its surroundings.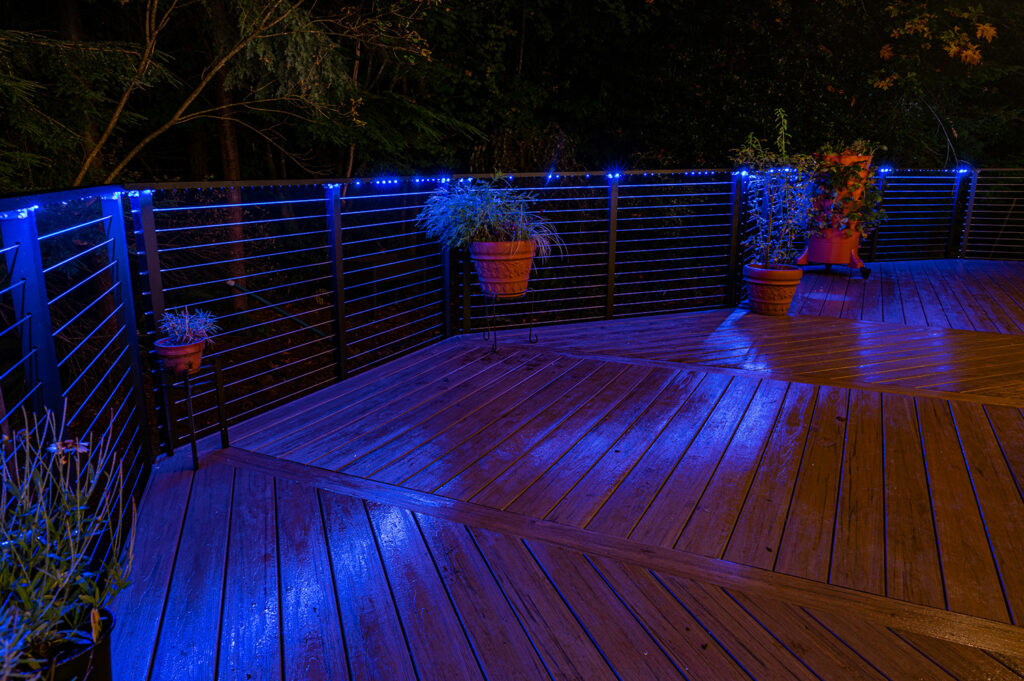 Deck railings that are safe and sturdy
As you can see in the photos, we installed a stair cable railing system. In addition to providing a safe way down the stairs, this is an excellent way to keep your sightlines clear and open. Decks with this feature feel open and airy.
We wanted to maintain a great deal of harmony between the colors of the railing lights and the deck surface even at night, which was the desired look for this particular customer. Due to its steel construction and ease of installation, we were able to install the stair cable railing system with ease.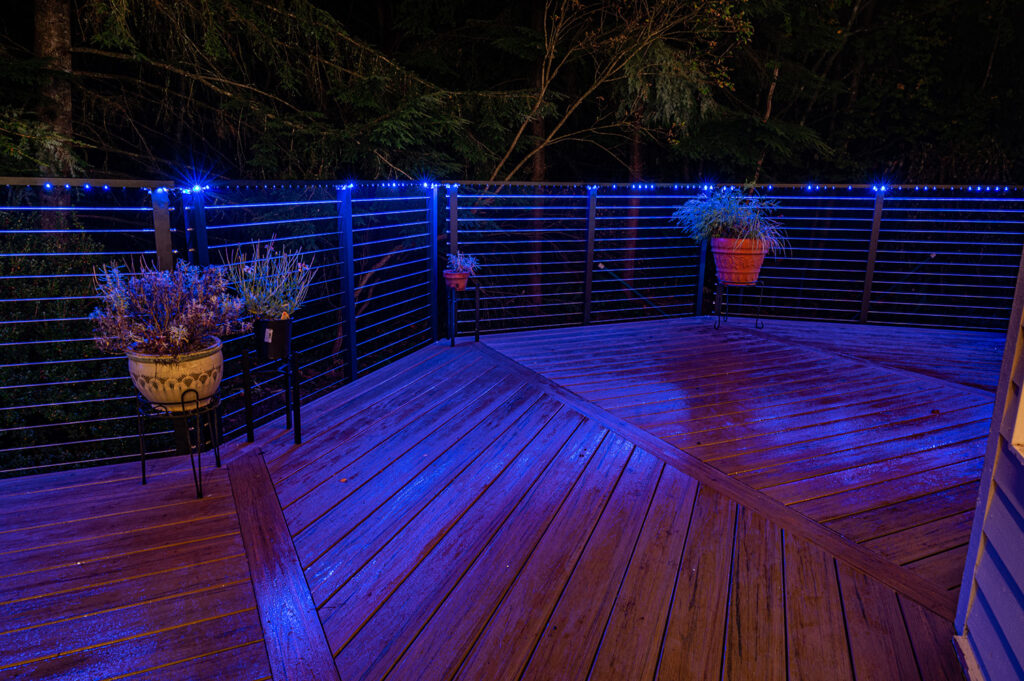 The subtle beauty of embedded LED lighting
Deck lighting emphasizes the stairs in a very warm and moody way. It makes the stairs stand out. Having a brightly-lit entertainment area at night makes everyone feel more comfortable and keeps them safe.
When it comes to sweltering summer nights, LED outdoor lighting can illuminate the outdoor backyard deck to produce a breathtaking effect when you are trying to avoid the summer heat. With this in mind, we wanted to play around with the railing lights themselves.
With embedded lighting, we wanted to strip away unnecessary embellishments and emphasize form. Needless to say, every deck needs the less is more approach.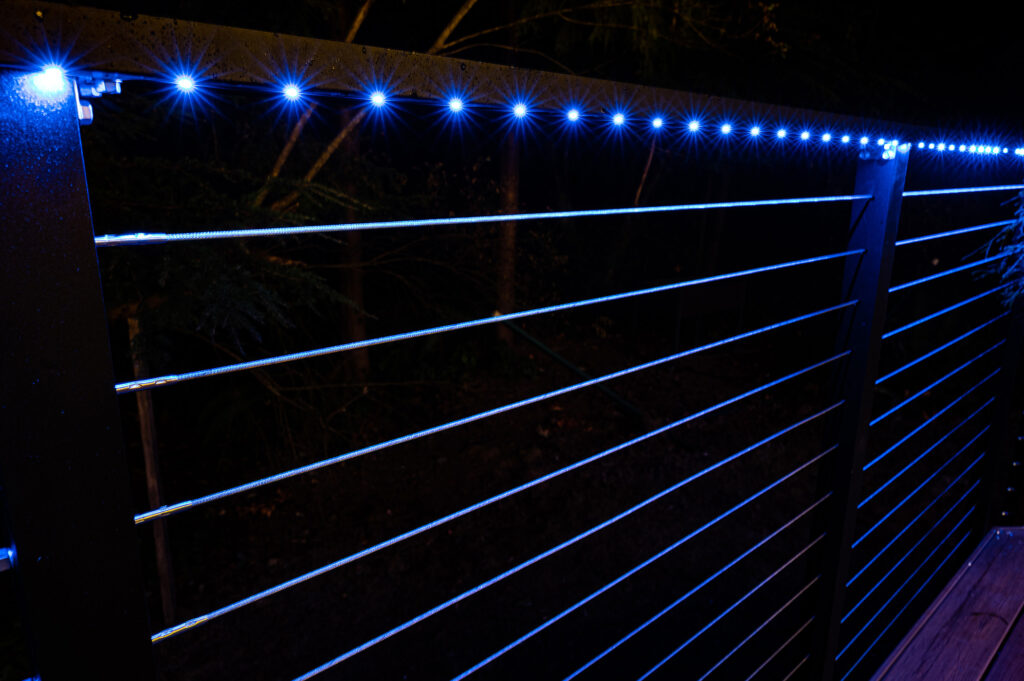 Make a statement
Embedded railing lights are great for enhancing your deck's overall appearance. With embedded LED lighting, you can transform an everyday outdoor space or deck into a sleek, modern entertainment space. Besides highlighting architectural features, such as this entertainment and lounge area, it's a great way to draw attention to anything architecturally significant.
Long-lasting solution
No matter what the weather, nothing is better than entertaining on a deck equipped with LED outdoor lighting at night. In this deck design, the embedded lighting frames the deck and highlights the shapes of the home. Sometimes we also use spotlights above the entertainment area to bring attention to the space. It is a simple way to create layered lighting.
Brighten up your deck
Railing-embedded deck lighting fits perfectly under railings or can be easily cut to size, so it appears as if it has been custom-made. The LED outdoor lighting illuminates the deck from under the cables, maximizing the feeling of space and providing ambient lighting throughout the night.
Energy-efficient and weatherproof
Embedded LED deck lighting offers greater efficiency, versatility, and durability. It was our intention to install railing-embedded lighting that would work no matter what the weather. No matter what the season might be – summer, winter, or rainy season – there's no need to worry about the deck or lights being damaged. Your energy bills will be significantly reduced thanks to their high energy efficiency.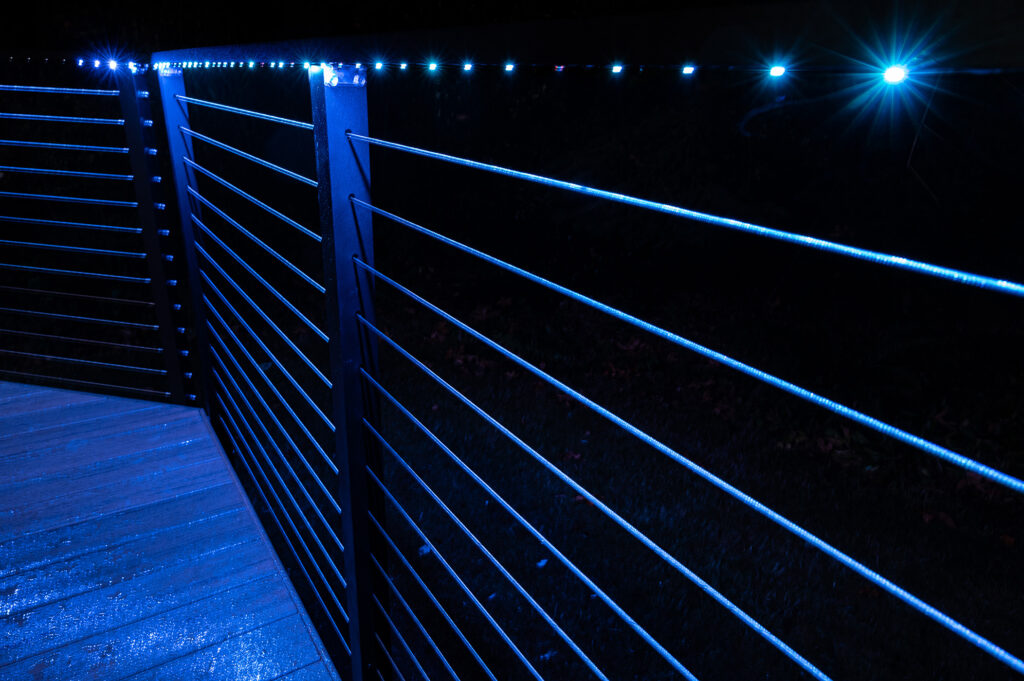 Create the deck of your dreams with 3 Brothers Decking
Our team would be happy to help if you are planning to build a deck and install railings with custom lighting. We are your one-stop solution for deck lighting, LED outdoor lighting, railing lights requirements and so much more.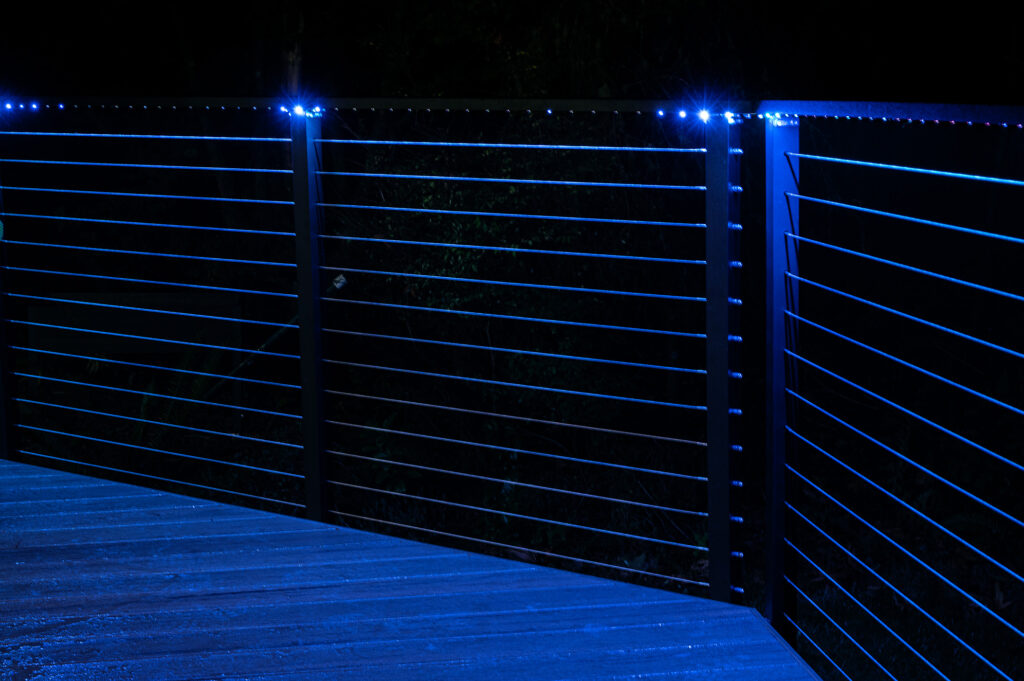 For all your decking needs, you can count on us! Getting the perfect deck for your home starts with a free consultation. For more information, contact our team today.