This deck was low enough to the ground for no railing. This is an excellent way to go for a wide open view and unobstructed floorplan.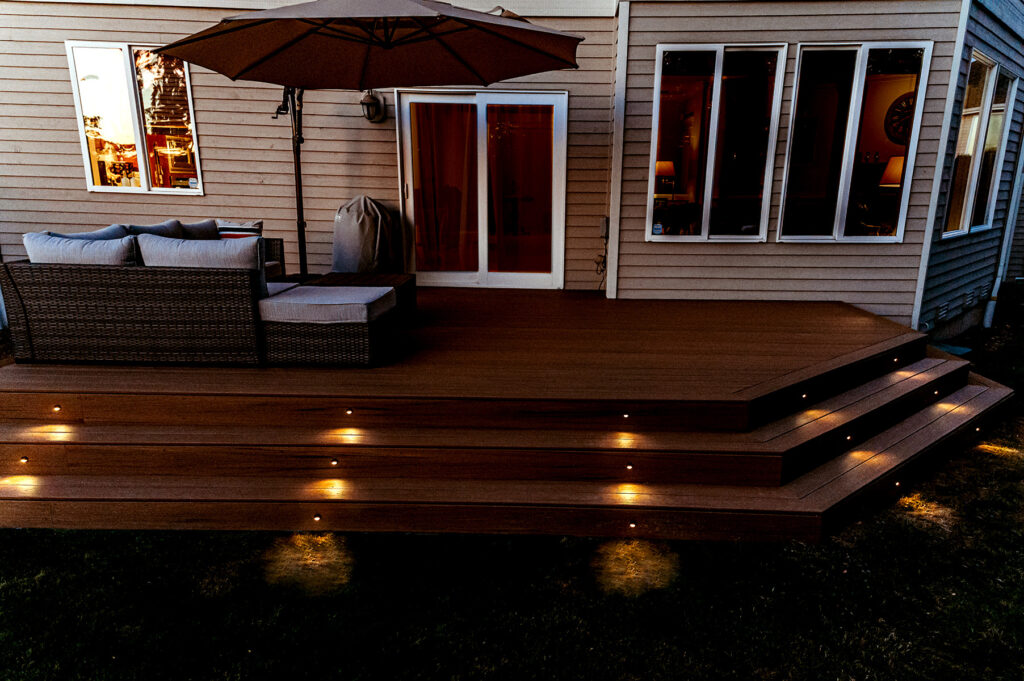 As a homeowner, you may be looking for ways to improve your outdoor space. A deck is a great way to do that, and if you're looking for a low-maintenance option, consider building your deck close to the ground with no railing needed.
Building a deck like this is simpler than you may think, and it can save you money on materials. It's also a great deck if you have young children and don't want to have to worry about their safety around the deck.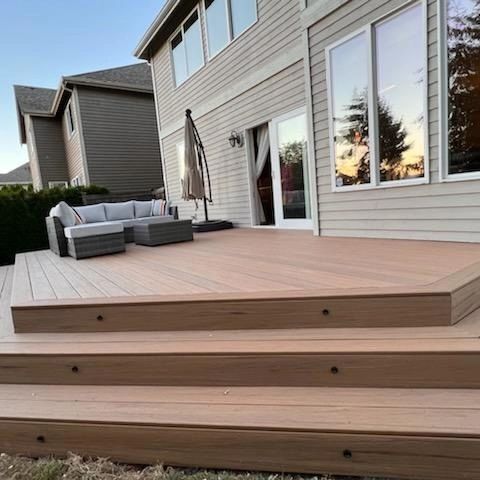 We recently completed such a deck in Bellevue, WA and installed embedded deck lighting to illuminate the stairs.
Low risers, no deck railing
With this specific, it was low enough to the ground for no railing. This is an excellent way to go for a wide-open view and unobstructed floor plan.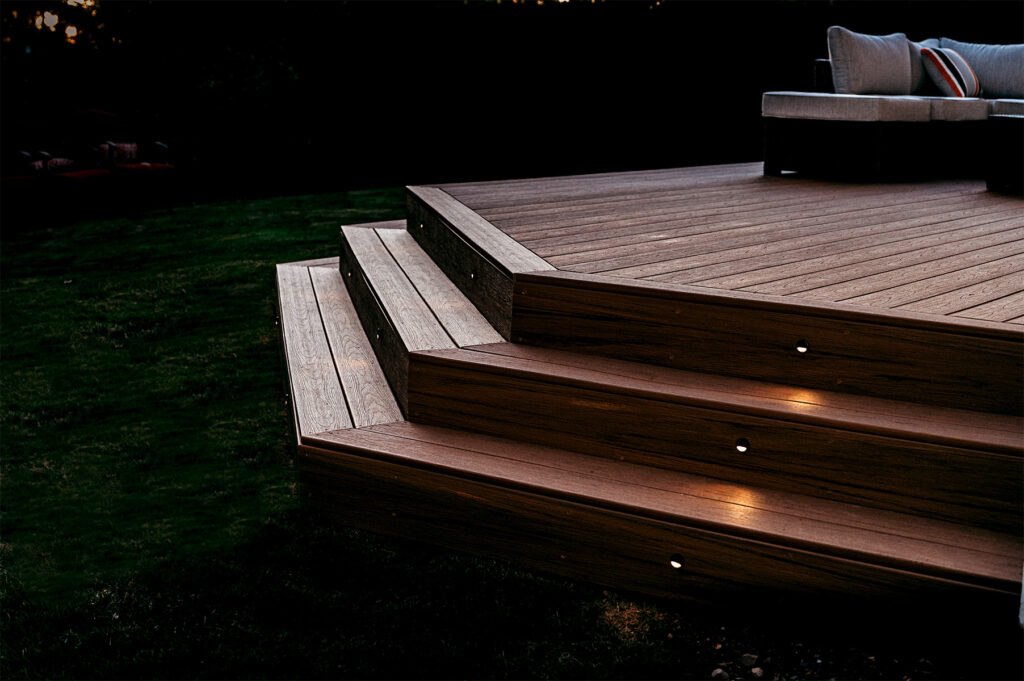 One of the first things we ask our clients is how high off the ground they would like their deck to be. As you can see there, this client opted for a deck that was quite close to the ground, which means it didn't need to have railing installed – all it needed was a few well-considered steps leading to the ground below.
The benefits of a deck that is low to the ground
You'll save money on materials: If you opt for a low-maintenance deck with no railing, you'll save on the cost of materials.
It can provide an unobstructed view: A low deck with no railing means there's nothing in the way of your view.
You'll have a deck that creates a more open feel: If you have a small outdoor space, building a low deck can make it feel larger and more open.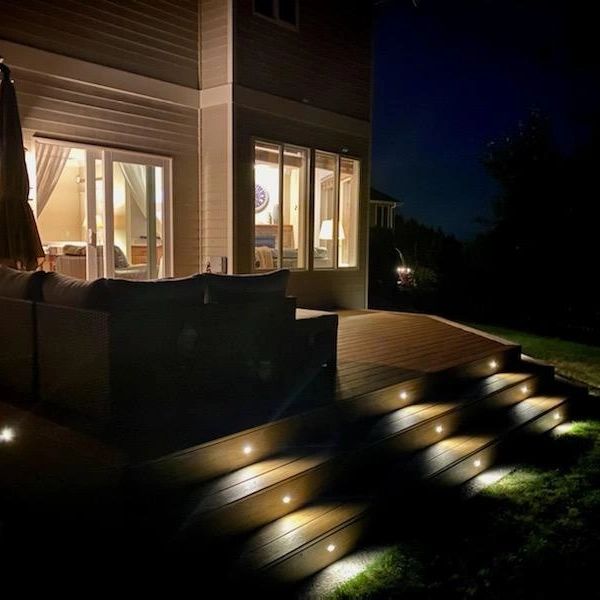 A low deck creates a great opportunity for lighting
With a deck low to the ground, you have a great opportunity to add lighting to illuminate each stair. This can create a really impressive effect and make your deck safer to use at night.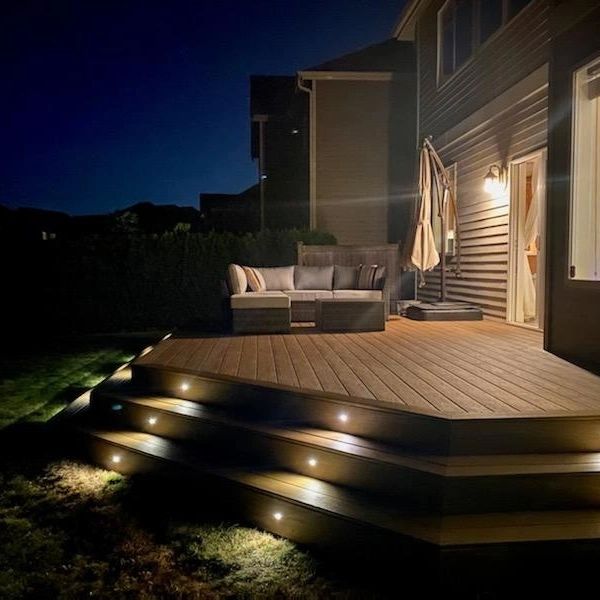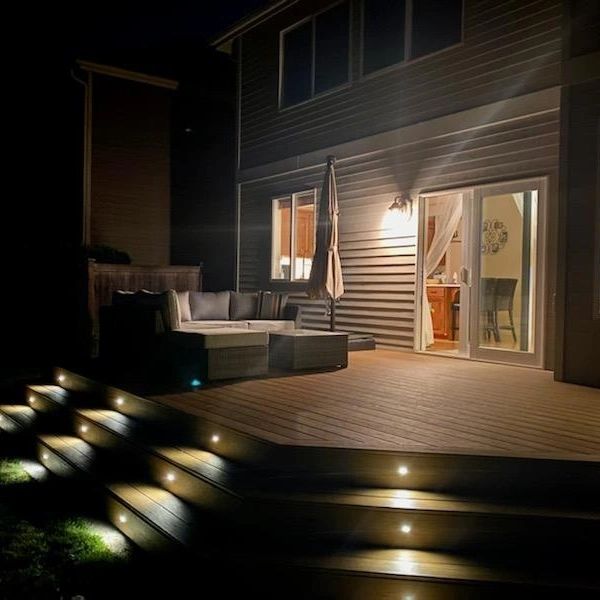 This will create a unique outdoor ambiance as you enjoy your deck while looking out at the view beyond, with the stair lighting illuminating the area around the deck.
Tips for preserving your deck
Here are a few tips to consider that will assist you in ensuring your deck lasts the ages.
Regularly sweep and hose off your deck to remove dirt, pollen, and debris.
If you have potted plants on your deck, make sure to regularly water them so they don't dry out and start to drop leaves and dirt onto the deck surface.
Once a year, give your deck a good cleaning with a power washer or by hand using a deck cleaner made specifically for composite or wood decks.
Take a close look at your deck often to look for signs of damage, such as broken boards or nails that are loose, and repair them as soon as possible.
If you live in an area where it gets cold in the winter, consider putting down some non-slip mats or covering your deck to protect it from the snow and ice.
Contact a reliable decking company to assess your deck once a year and consider any maintenance that is required. They'll look for things like loose nails or boards, and they can also clean and stain your deck to keep it looking its best.
Create the deck of your dreams with 3 Brothers Decking
3 Brothers Decking is a family-owned and operated business that has been building custom decks in the Seattle area for many years. We specialize in creating unique outdoor spaces that are tailored to our client's needs and preferences.
Here's why we are a preferred decking contractor in Washington and Northern Idaho.
We offer a wide range of services, from design to construction to staining and sealing.
We use high-quality materials and construction methods to build decks that last.
We create custom designs to suit each client's individual needs and tastes.
We offer fair and competitive pricing.
We are experienced and knowledgeable about all aspects of deck building, from the initial design to the final finish.
If you're interested in having a new deck built, or if you need your existing deck repaired or refinished, contact 3 Brothers Decking today. We'll be happy to provide you with a free consultation and estimate.
You can contact us at (425) 505-5282 (Bellevue) or (509) 998-6522 (Spokane). If you'd like to discuss your outdoor living space improvement, you can also do so by sending us a message on our free consultation page.
You can also take a look at our various deck lighting options, whether that be for your stairs on your deck that are low to the ground or for a deck that is raised high off the backyard below.