Some projects come together in unexpected ways, and this was a perfect example. Although we always knew that cedar would be the ideal complement to this home nestled in a patch of conifers, even we were surprised to discover just how stunning the result was.
The 3 Brothers Decking design and installation teams truly outdid themselves on this one, and the natural wood deck they created included a few features that set it apart from the usual fare. Here are some of the highlights that made this one of our favorite projects to complete – and a big success with the homeowner.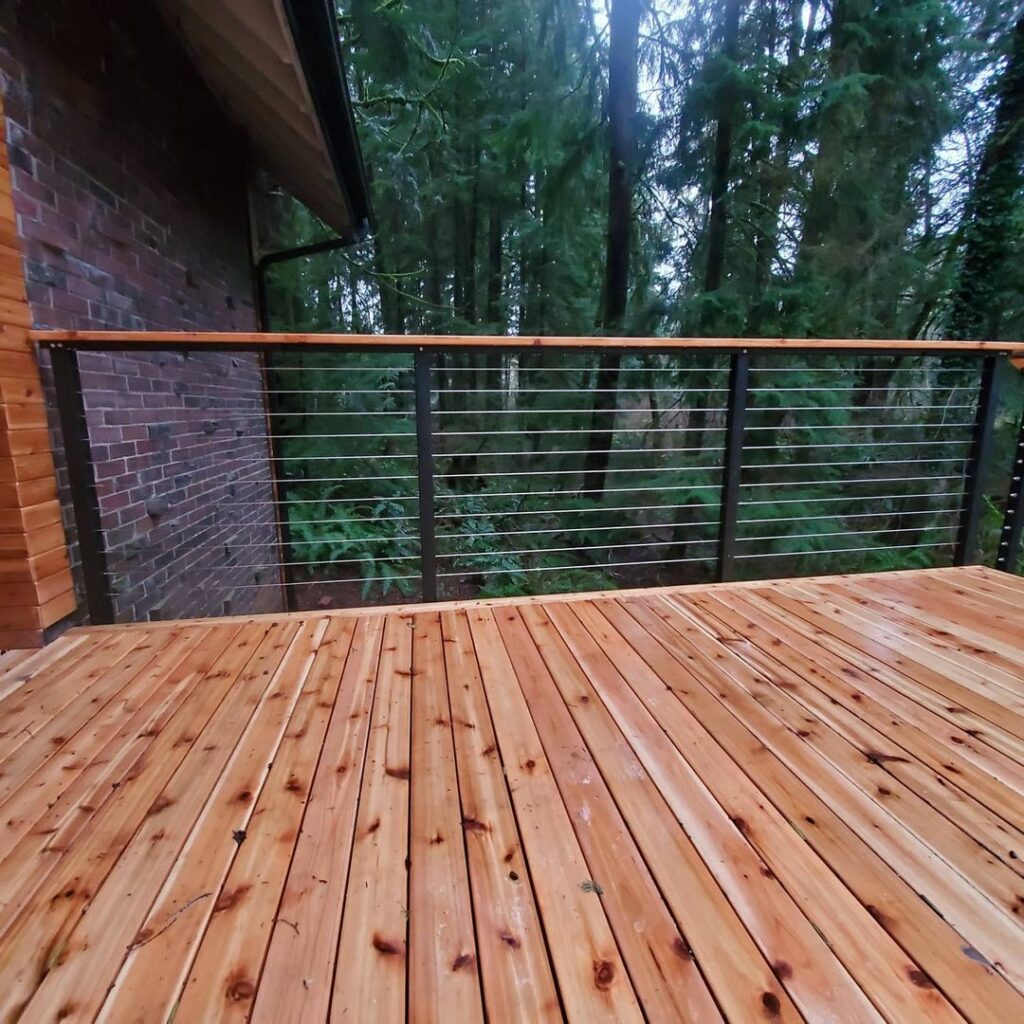 Choosing the Right Lumber for the Job
Cedar is a great material for attractive decking. As you probably know, it's naturally rot-resistant and durable, so you can finish a fairly large deck installation without feeling like you've sentenced yourself to a punishing amount of maintenance and upkeep. Although it's a bit more expensive than other lumber, its high strength and longevity mean that the extra investment is usually worth it in the long run.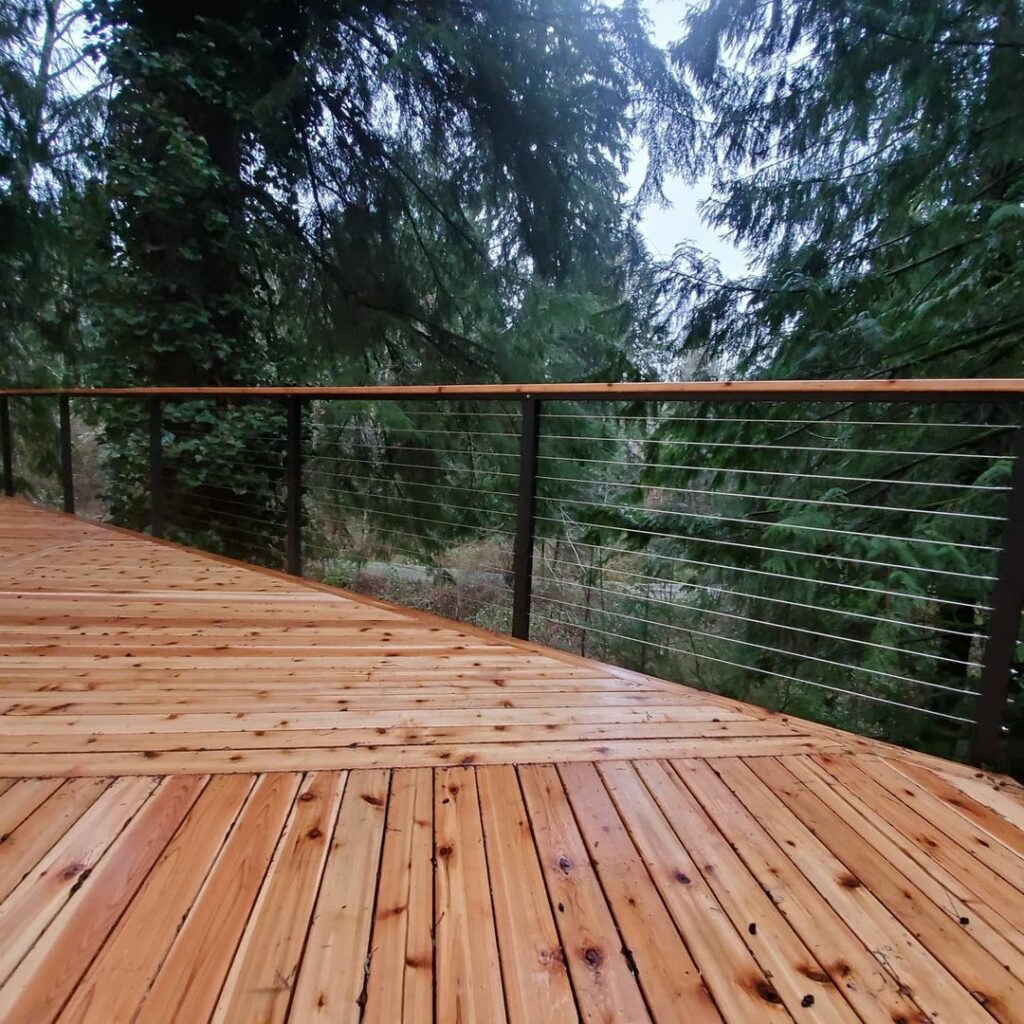 Cedar is also an inherently beautiful wood that can add a lot of character to a home, and this project exemplified its possibilities. Some jobs might be better suited to wood with a less defined grain pattern or more uniform color, but not this one. Here, we used the dark patches, knots, and burls in the lumber to our advantage by creating a highly varied deck surface.
The resulting decking stands in contrast to the home's traditional brick and panel siding, creating an overall appearance that's a bit more interesting to look at. We were pleased to see how it established a visual space around the house, highlighting the building's strongest features against the backdrop of the surrounding greenery.
Picking cedar lumber that naturally looked good in its minimally-finished state was a conscious design decision that we're glad we stuck to. You may have noticed that this subtle feature complements the color of the timbers under the roof's exposed eaves. It was a great choice for helping the property achieve a more cohesive appearance without actually having to modify the building itself!
Design Elements That Respect Nature
The 3 Brothers Decking team has been serving Western Washington, the Greater Seattle Area, and Northern Idaho for years, and we didn't get this far by doing things halfway. When we take on projects with strong themes, we try our best to pay attention to the small details since these seemingly minor elements determine whether a deck installation resonates with the homeowner.
This deck construction job was no different. Since the idea was to create a space the occupants could enjoy while feeling immersed in nature, we took great caution to work around existing obstacles in an organic way. For this project, that meant leaving spaces in the deck surface where the existing old-growth trees could continue their push skyward.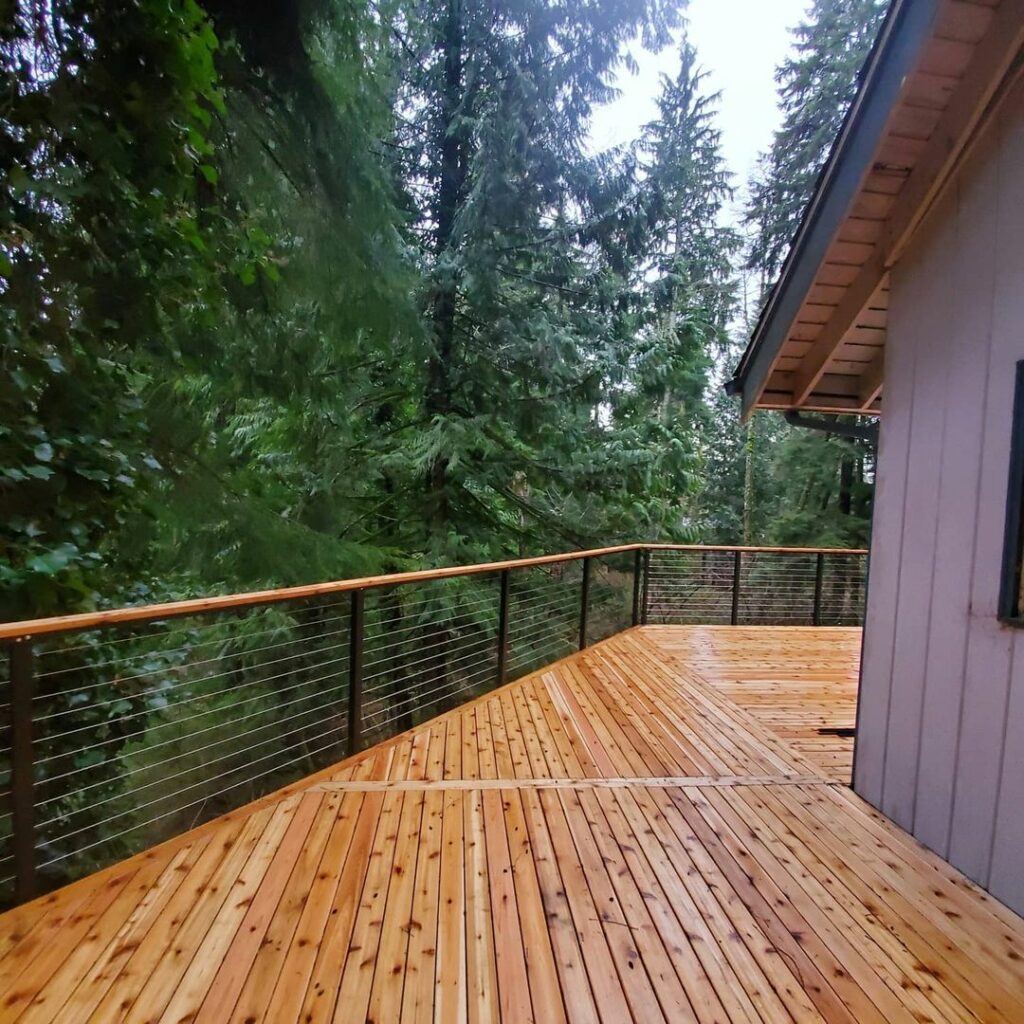 Building around the trunks this way let us accomplish a few important goals. For starters, since the trees were already there, it would take significant labor to remove them. We weren't just trying to save ourselves from sweating, however: This alternative made it possible to minimize installation costs so that the property owner would have room in their renovation budget for other features.
In our experience, decks work better when they integrate as seamlessly as possible with their surroundings – which can be tough to achieve considering that Mother Nature doesn't exactly publish blueprints! That said, we're glad we went to the extra planning effort. By letting some of the nearby flora play a prominent role in the final work, we were able to create a more intimate setting where the occupants could enjoy the shade and natural wind protection of hanging branches.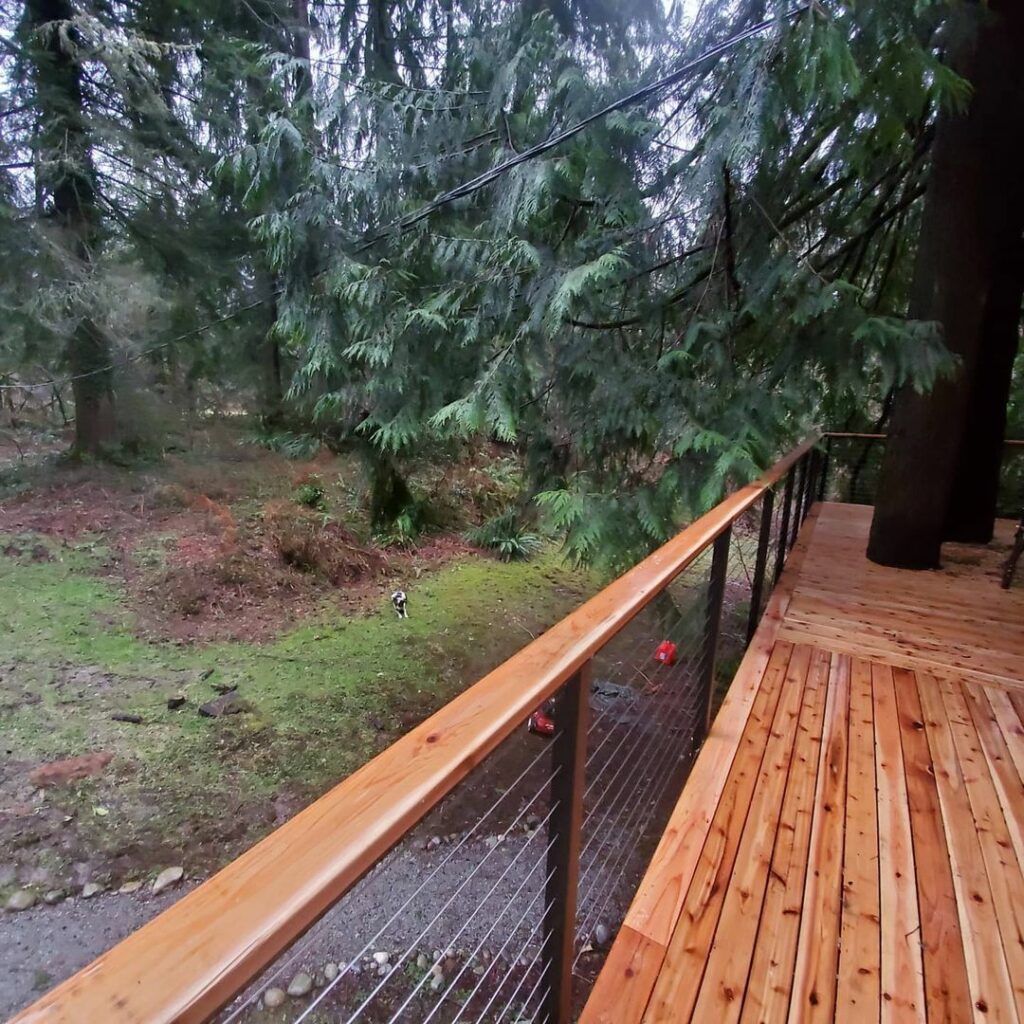 Soft, Convenient Touches
One of the most successful elements of this design was the custom railing we devised. Unlike many of the projects we create, this one combined two different railing styles – metal cable and cedar wood – to pull off a softer look that was truly unique.
Steel cable railing is one of our favorite types of railing because it's so minimal. Since it leaves the views wide open, you get to enjoy safe surroundings without having to sacrifice the stunning perspectives that make your home enjoyable. It's also extremely versatile since it goes well with anything and incorporates sturdy uprights that don't take up much space.
Here, however, we really wanted to keep with the existing theme. We ended up adding a single layer of high-quality, super-smooth flat planking to the top of the railing, which was straightforward since metal cable systems are super easy to adapt and modify. This unified the look by repeating the cedar's natural color and reinforcing the border and skirting around the edge of the decking – ultimately producing a nicer overall composition.
The natural wood handrail also offered a more convenient tactile surface. It's the perfect solution for keeping your grip when climbing the stairs on rainy days, and it's not a bad place to set drinks, hang up planters, or add seasonal decor either.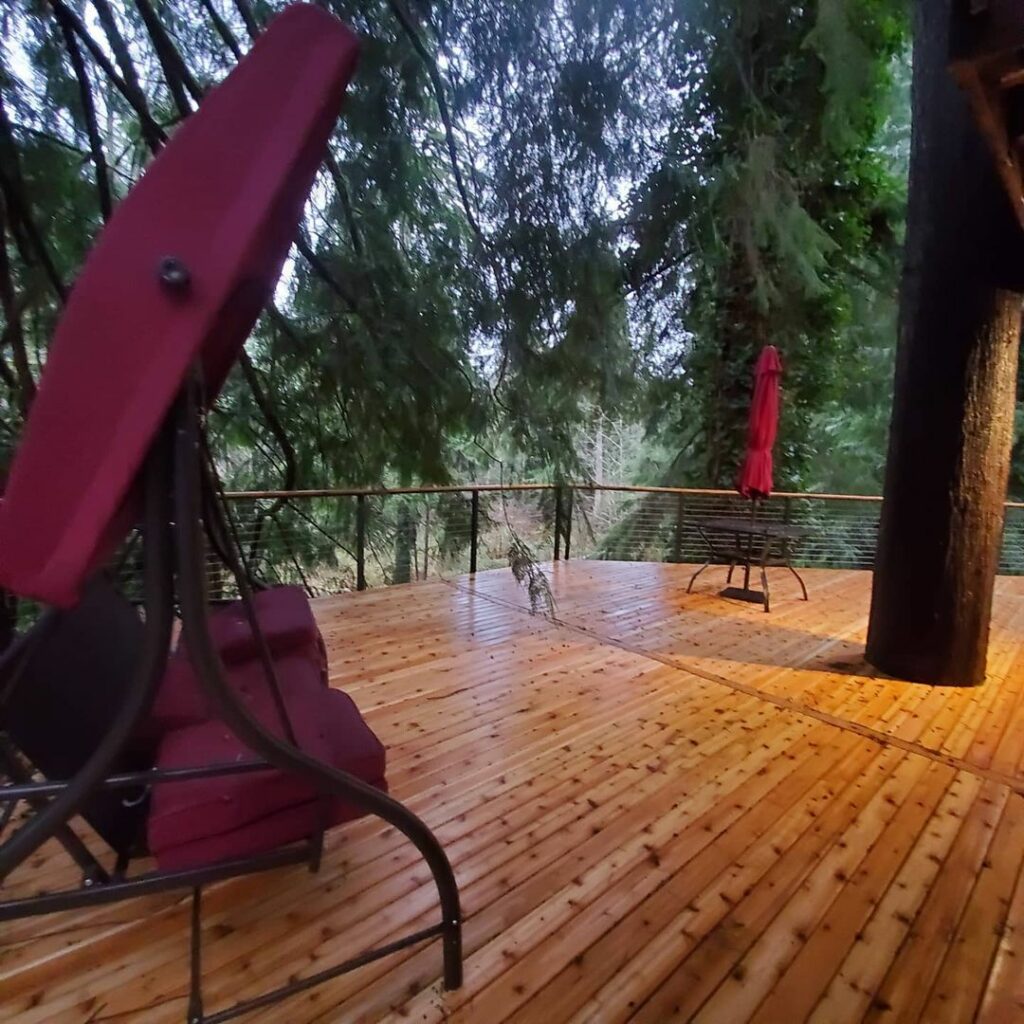 Bringing It All Together
Every 3 Brothers Decking project is geared towards the individual. Because each homeowner and property are different, we always work to tailor our designs to their specific needs and avoid creating the typical cookie-cutter styles you might see on some homes.
We've already mentioned a few of the ways we achieved this, like letting the trees peek through, selecting the finest high-character cedar wood, and combining different types of railing systems to produce something totally new. What we didn't yet mention, though, is one of the most interesting aspects of this installation: The staircase and landing.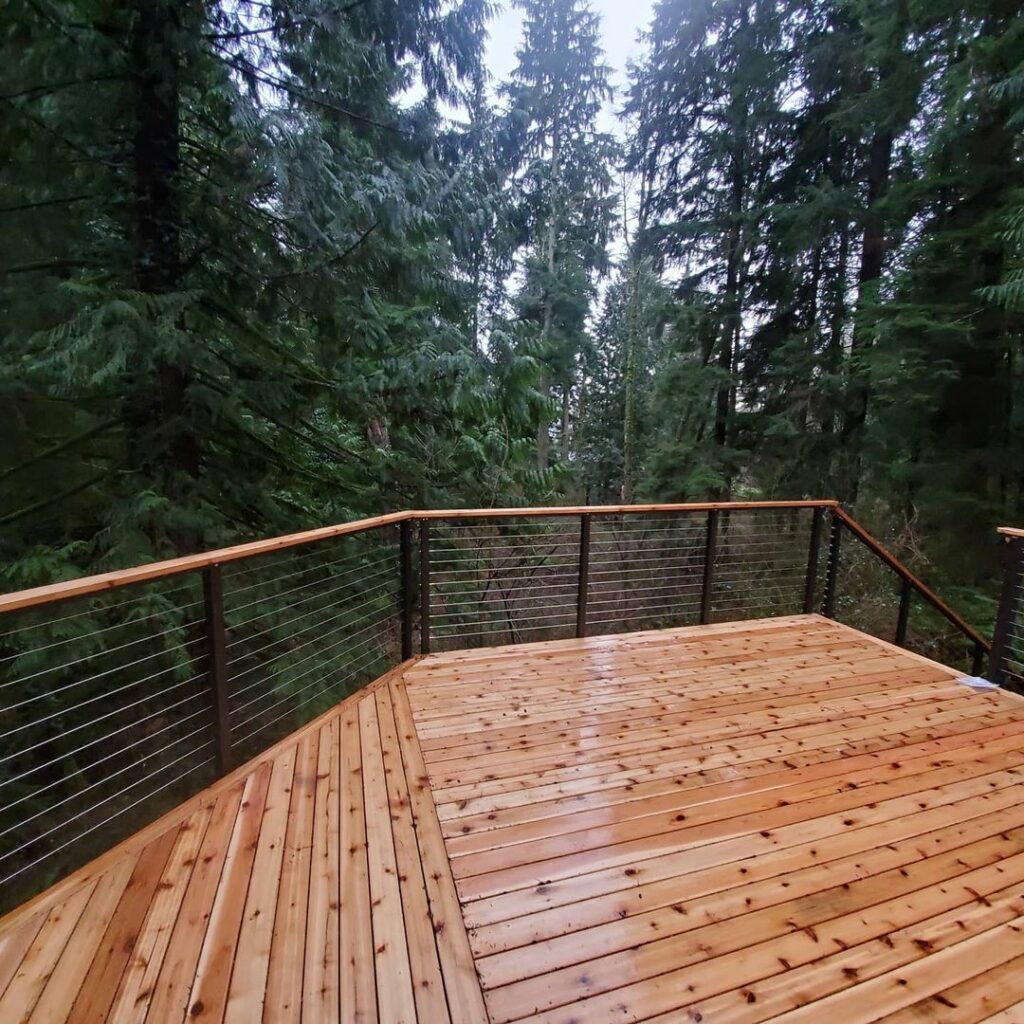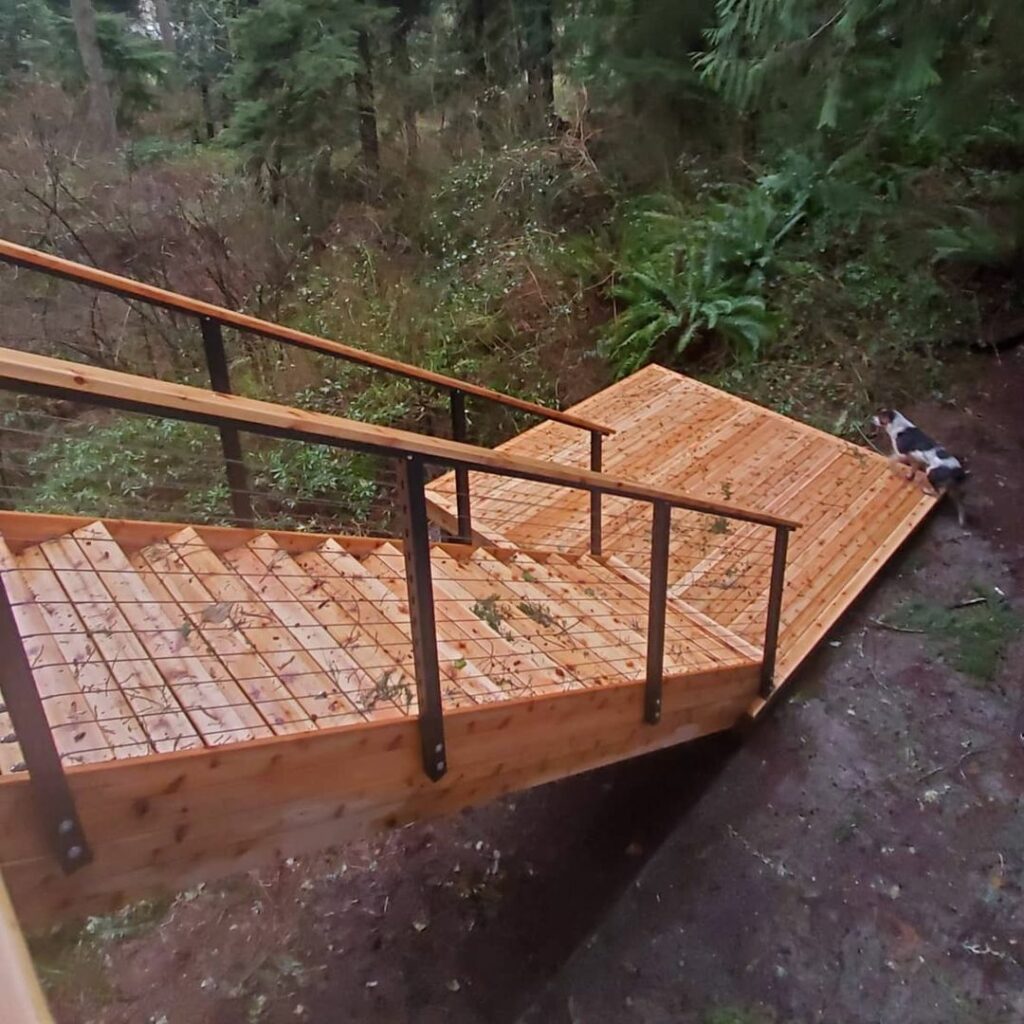 When planning deck designs, it's best to work with existing features as much as possible to avoid clashing. Although this doesn't always pan out, we got lucky here since the stairs led down to the driveway, lining up nicely with the open view through the trees in the distance.
We also wanted to make this decking installation as accessible as possible, so we added a mini-landing at the bottom of the stairs. As you can plainly see, our company's canine quality inspector was a huge fan of this addition, although she's not that tough to please!
Although we didn't expect the homeowner to host any parties down there or anything, including this small space was an important usability perk – It let us create even ground without having to level out the surroundings or excavate anything, making for a safer, more convenient installation.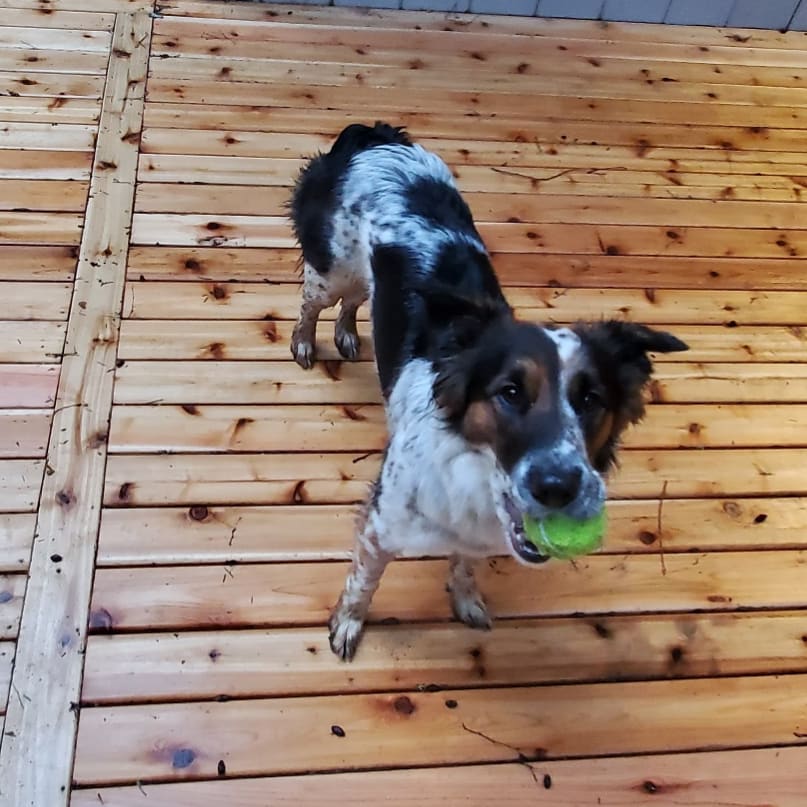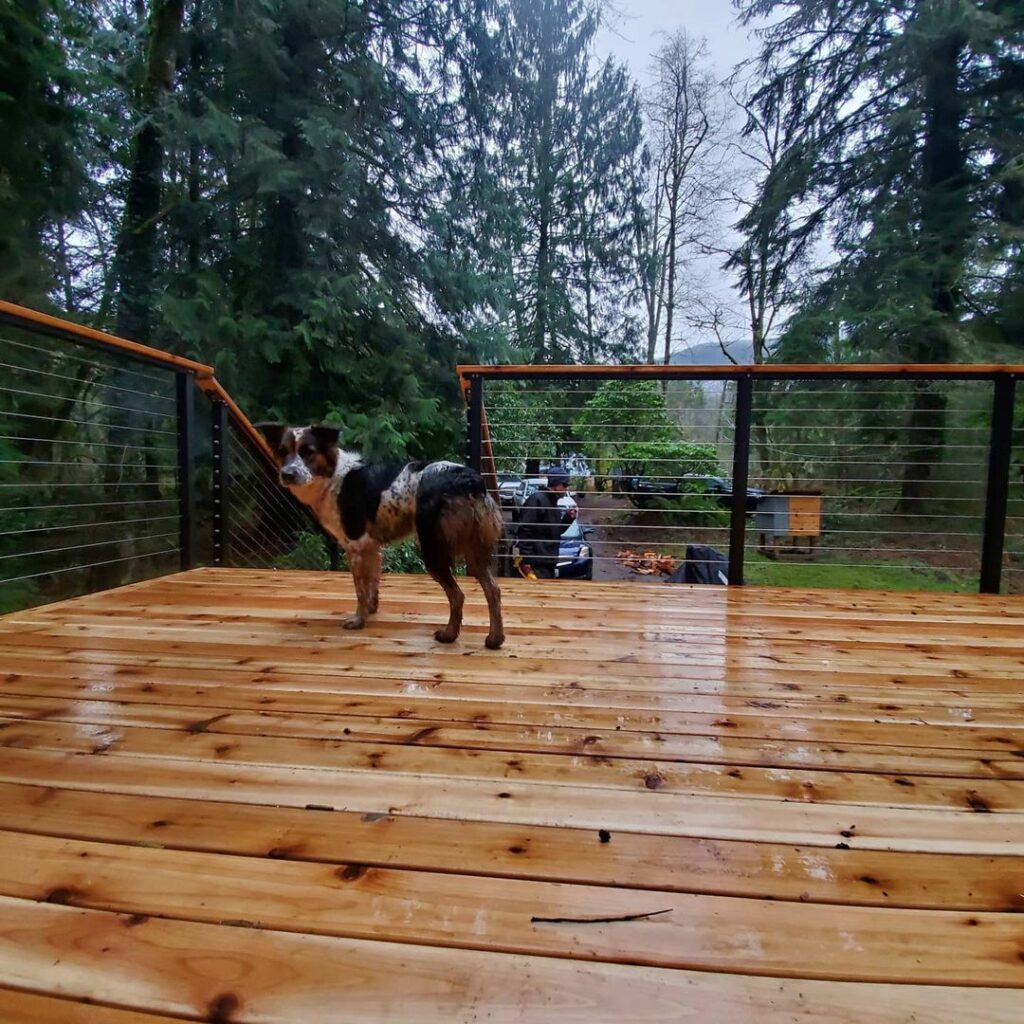 Create a Deck That Makes the Most of Your Space
Deck construction can be tough, especially when you're working to create something that meshes well with preexisting surroundings. Finding a deck builder who can plan the right combination of functional features and visual elements – not to mention handle the sourcing and skilled labor – makes it way easier to complete a project you'll love, no matter how complex.
Want to express your personal style with wood, steel cable railing, modern, or naturalistic decking designs? Get in touch with a 3 Brothers Decking specialist to uncover your property's potential.