Have you started planning next year's additions to your outdoor living space? At 3 Brothers Decking, we know that planning can never start soon enough! That's why in this blog post, we're sharing one of our most highly requested deck additions from 2023.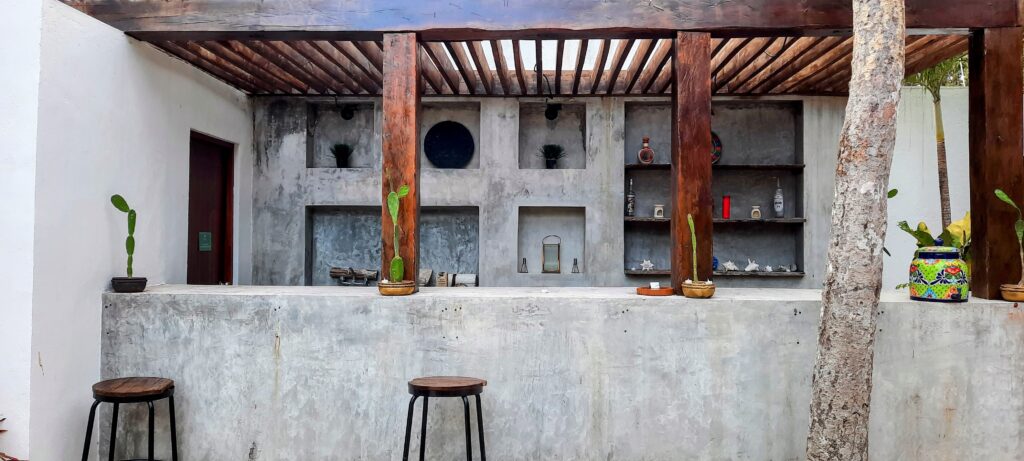 This year, we saw tons of requests for a wet bar addition to our clients' existing or newly built decks. Because this feature has already become so popular, we had to put the word out for those planning upgrades or new deck designs for the new year. Ready to get ahead on your outdoor retreat updates?
Whether you're looking to entertain guests or create a unique space to let your mixology creations come to life, an outdoor bar area can serve so many different functions. We don't see the deck bar's popularity slowing down anytime soon! So, let's discuss: What goes into building a deck bar, and how can it be customized to suit your entertainment and outdoor living needs?
Keep reading to find out!
---
Size & Layout
This step indeed applies to just about any new deck design or addition. However, it's important to point out that the size and layout of your deck can be significantly impacted by adding a wet bar area.
Depending on how large you want your bar area to be and what types of furnishings you want to include, you'll need to ensure you're setting aside the proper amount of space. For instance, you may want to consider:
How much bar top space would you like?
Do you want additional storage or a bottle display area?
How many would you like to seat comfortably in this space?
These are all critical questions to answer before settling on a design or layout for your wet bar. Once you've got a simple design idea, the later stages of planning this exciting new addition will become much easier!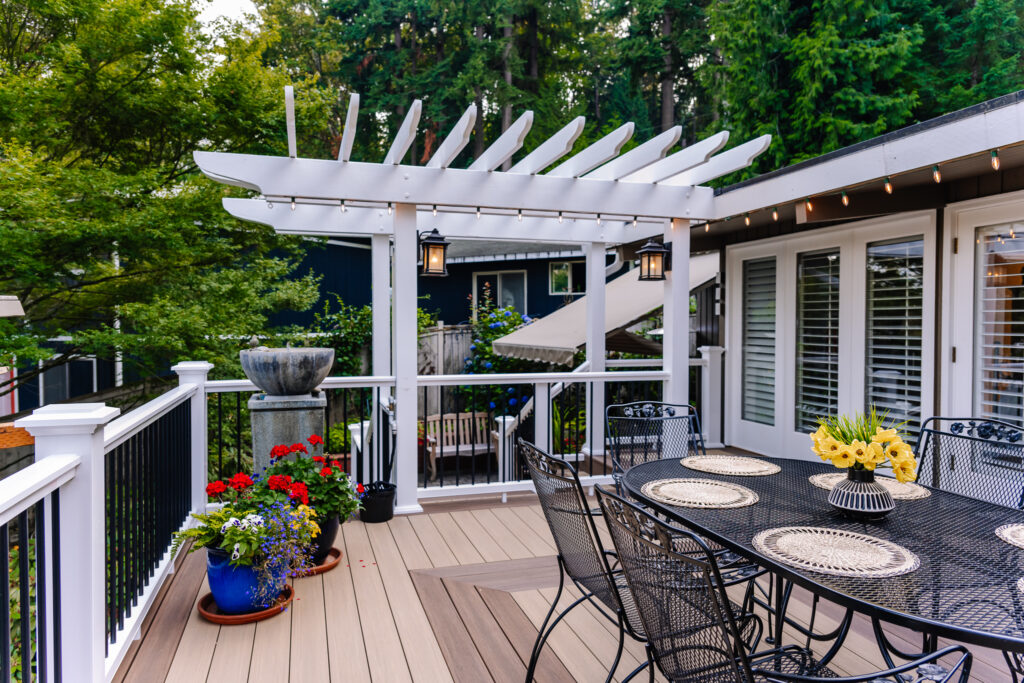 Furnishings
Now that we've dealt with some of the more challenging issues, let's get to the fun stuff: Furnishings!
In any typical wet bar space, you'll find seating like bar stools, lounge seating, and even high-top tables meant for guests to stand at and enjoy a drink. While these are all great options, here are a few ideas you might not have considered:
Would a game table and chairs suit your lifestyle?
Would you prefer a modular furniture set-up that could function as several different seating arrangements, depending on the occasion?
You may even find that you want a smaller bar area, where just barstools alone will be enough.
Bar Stools are the foundational element for nearly every bar setting, so it's important to provide comfortable seating for guests with bar stools that are functional and intentionally designed for outdoor use. You may want to consider more durable materials that can withstand the elements, like aluminum, teak, or even outdoor-rated wicker.
NOTE: You may also want to select stools that can accommodate users with all different limitations, such as height-adjustable options, stools with arms and backs, and stools that aren't too heavy for one person to move.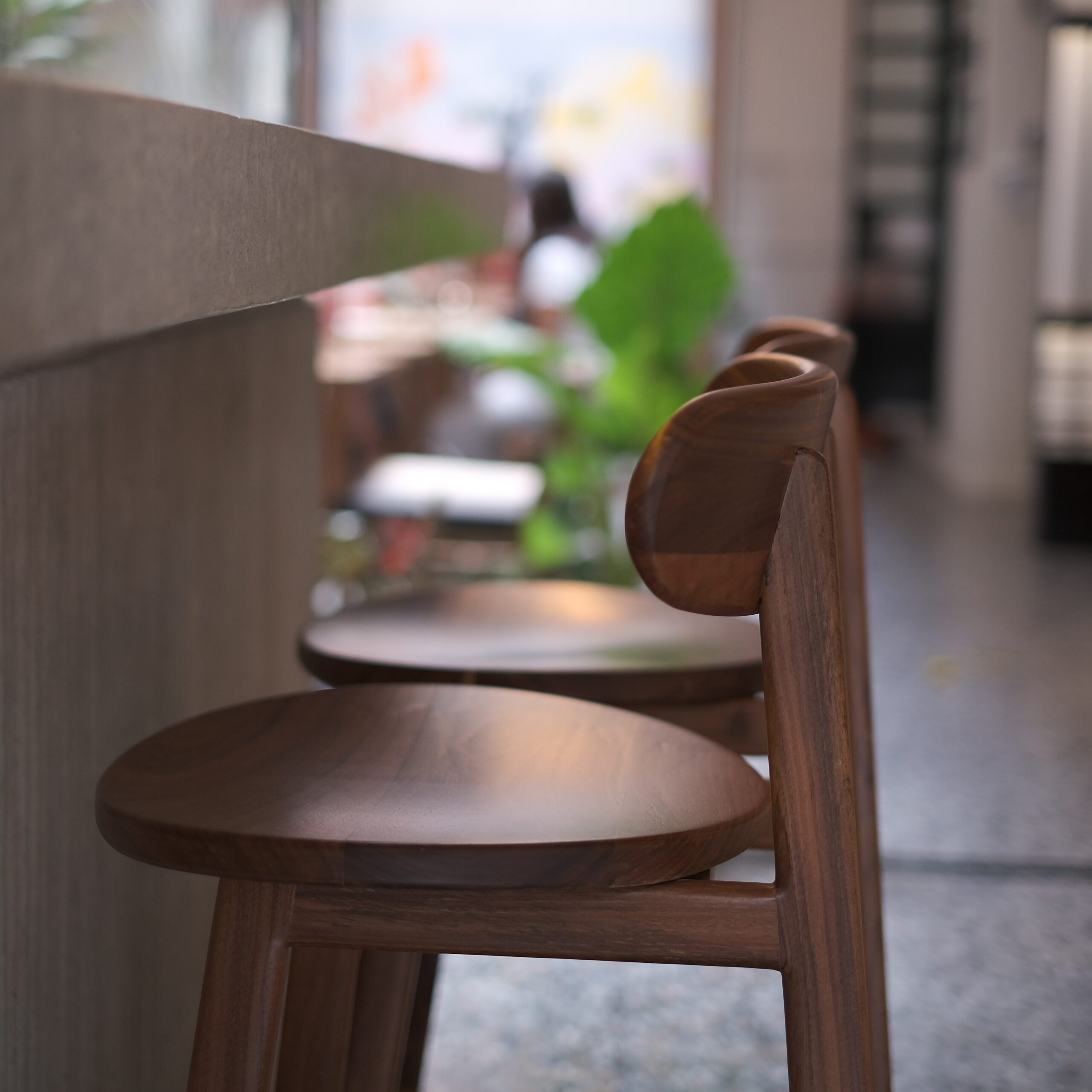 Finishes
Arguably one of the most important parts of designing a new space, you can't forget about the finishes!

There are a lot of major decisions to be made in this section, but it's also one of the most fun aspects of creating a new space within your outdoor living area.
The most prominent finish for your new bar area will likely be the countertop – so now's your chance to really make a statement! While concrete or stone options are the most typical, it's always exciting to use interesting materials in place of generic ones. For example, why not try a fun painted tile or a colorful mosaic inlay?
Another great (and cost-effective) option is to use a solid surface for your outdoor countertops. Most manufacturers today have outdoor-use options with a variety of visuals, from concrete to marble!
Want to stick to the classics? If you're set on the ease and low price tag of concrete countertops for your deck bar, consider staining portions or the whole slab to contrast the space. You can even add designs with stencils or freehand designs if you wish!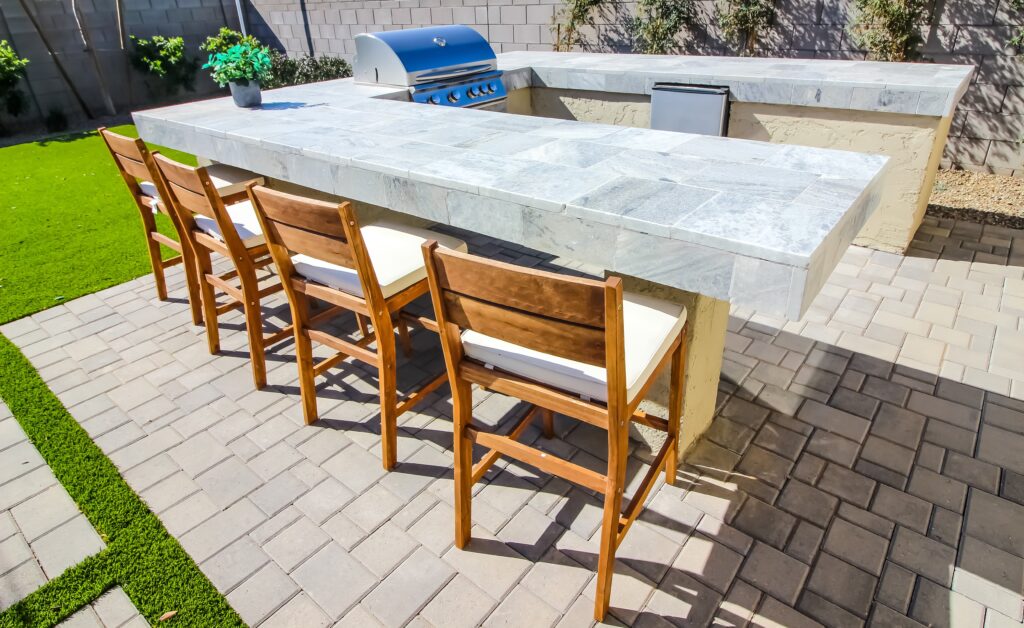 Lighting
At 3 Brothers Decking, we believe good lighting can enhance any outdoor space – including your new deck bar. From functional overhead lighting for counters to colorful accent lighting to draw the eye, the options here are just about endless.
For overhead lighting, you'll want to consider recessed cans or some other form of functional illumination. This will allow you to work and prepare ingredients safely on the countertop by ensuring you can see clearly regardless of the time of day.
Accent lighting is the fun part! Want to draw the eye to your stunning countertop or your expansive collection sitting in the bottle display case? Simple LED lighting with customizable color options are inexpensive, easy to install, and creates a seamless look.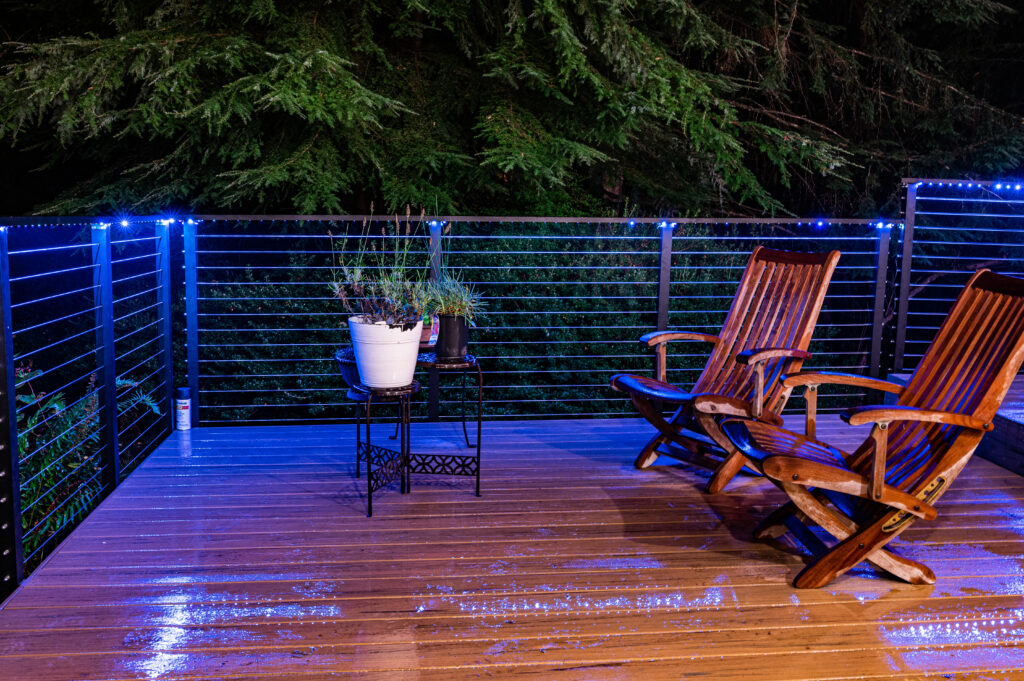 Clients also often ask for string lights, and we couldn't agree more – string lights are a timeless look that makes every outdoor space feel a little bit more cozy. This is also another cost-effective option to give your deck bar a bit more intimacy without a crazy price tag!
NOTE: While not technically a light, ceiling fans are an excellent addition to a covered deck bar as well. Keep the air moving, and install a small fan to keep you and your guests comfortable!
Appliances
No deck bar is complete without a few impactful appliances. It will be important to note your desired appliance installations with your contractor before the build phase so they know what power or plumbing needs to be run to the deck.
A few examples of appliances you could feature at your deck bar include:
Mini (or full-sized!) refrigerator
Ice maker
Wine cooler
Small Sink
TV Screen
Fireplace (electric or real!)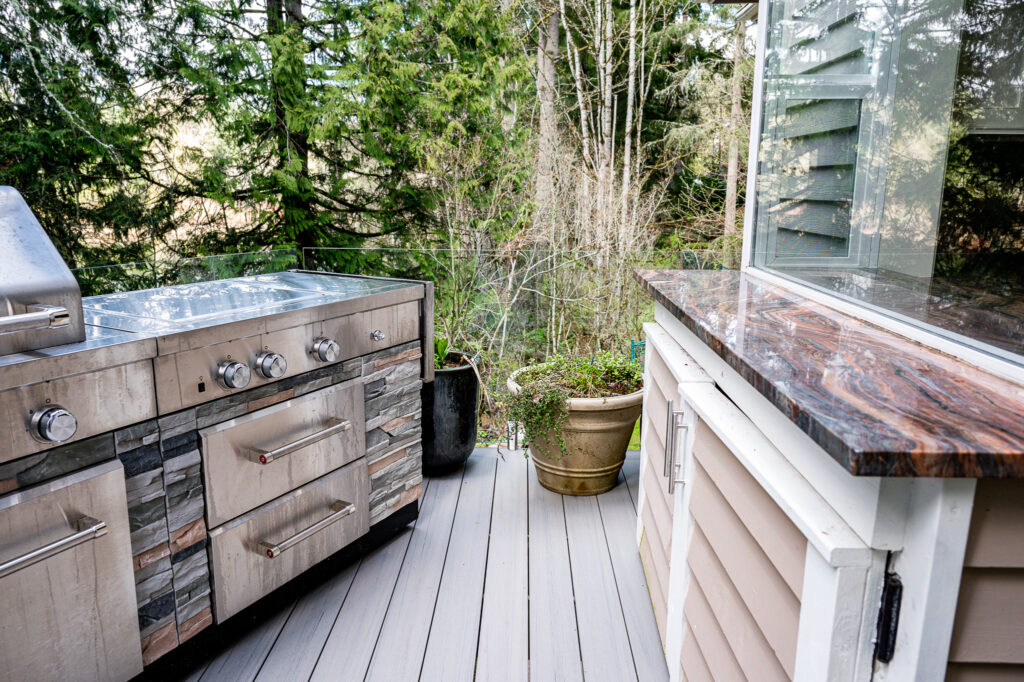 If you have any other ideas, be sure to let your contractor know! This is YOUR design – you can include just about anything.
NOTE: If this deck bar will double as an outdoor kitchen space, you may want to include a few other features, such as a grill, cooktop or a full-size sink.
Decor & Personalization
You've laid out your entire wishlist and design layout – now it's time to get personal. Start with the finishes you selected – what's the aesthetic or style that you've selected? If you didn't make that distinction just yet, don't worry. Start by collecting inspirational images of spaces that look similar to what you'd like to achieve for your deck bar, and narrow down your ideas from there!
You can really let your imagination run wild here and include all sorts of unique touches to make this space your own. If you have wood elements in your deck bar, consider painting them or including a pop of color elsewhere.
Add texture with fun outdoor upholstery to your furnishings and unique lighting to set the mood. You can even add rugs, lamps, and plants to help liven up the area!
Don't forget the barware: customize your barware selections to enhance the ambiance you're creating.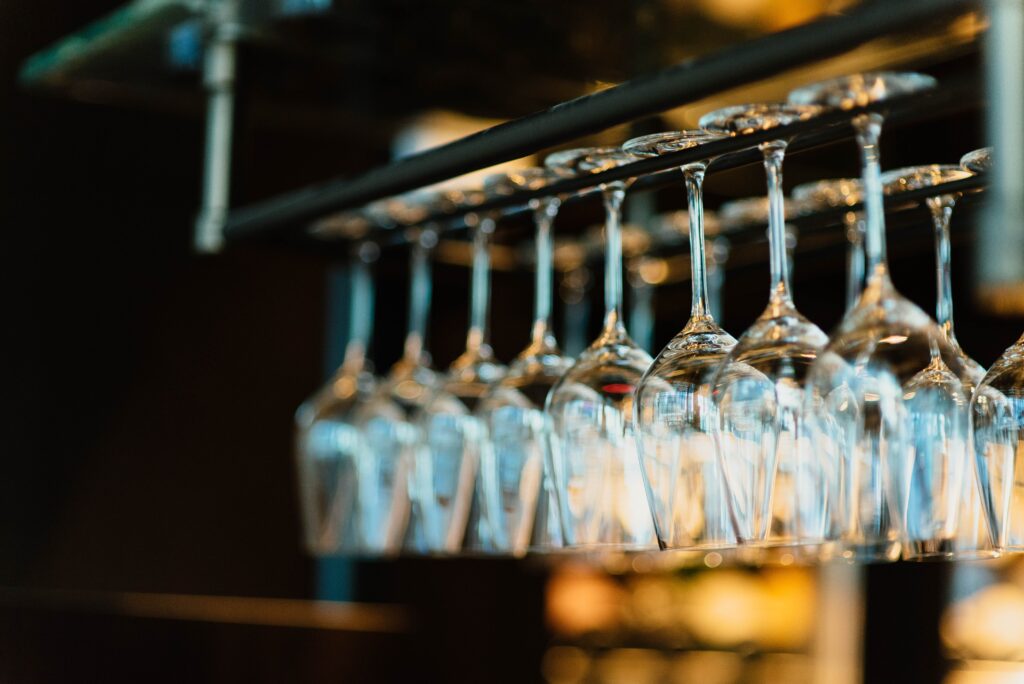 Want your future outdoor deck bar area to be the envy of all your neighbors? This is your chance to make your space really stand out! If you need additional ideas or inspiration, your contractor will likely have a few ideas as well.
---
We hope this guide has given you a few fun ideas to include in your new deck bar addition for the new season. Pro Tip: Remember to consider your local climate and any specific needs you have when designing your outdoor bar! Proper planning and close attention to detail will help you create the functional and inviting outdoor bar of your dreams.
At 3 Brothers Decking, we love helping you customize your outdoor living space to suit your specific needs and desires, from the initial structure to the finishing touches. The sky is the limit, and we can't wait to hear your unique ideas.
Ready to start designing your new deck or deck bar addition? Check out how we can help you get started!