If you want the clearest view, while maintaining the strength of steel in your railing, cable railing might be the choice for you. On this deck, we matched the home's red wall and white accent design with white Maisy Rail cable railing. The right shade of brown decking boards also compliments the color pair duo.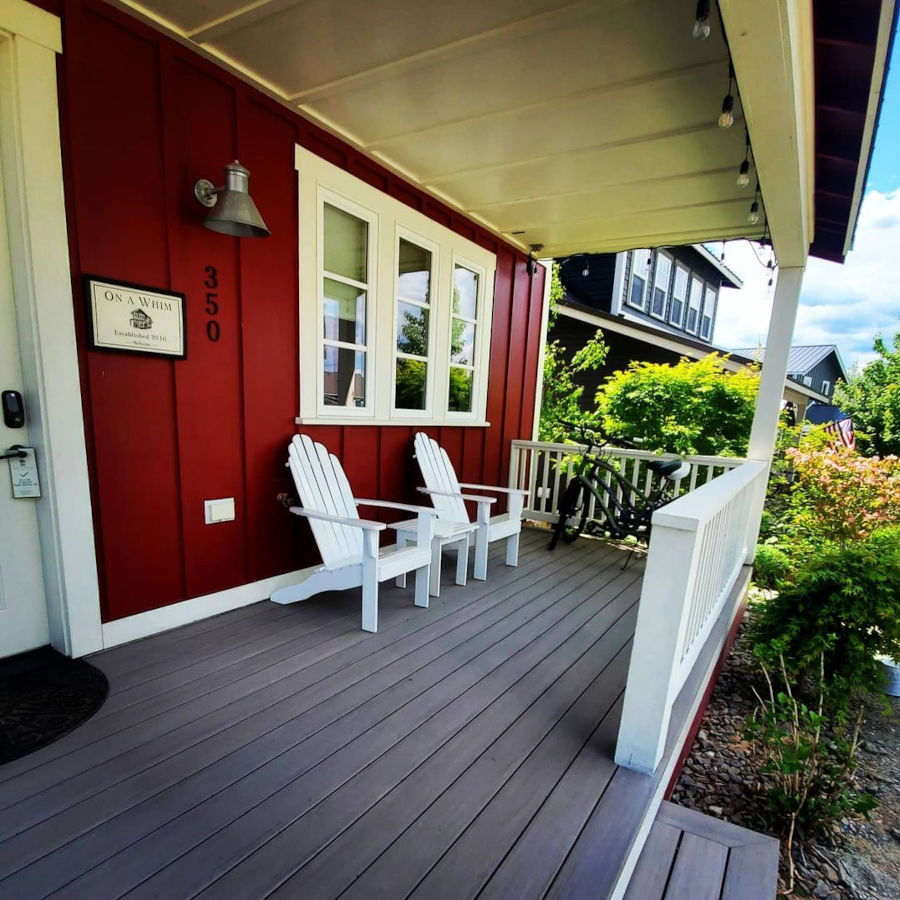 We recently completed a project on a home that boasted an exceptional view over a lake below. We were thoroughly looking forward to this job as we knew that the final product would offer the homeowner incredible landscape views from a high position.
Building The Perfect Deck To Match Your Home
There was no doubt in our minds that the best option for a railing system was cable railing. We didn't want to jeopardize the view in any shape or form. The thing cabling system would ensure that the homeowners would be treated to exceptional views without any obstruction.
The steel cable railing system not only provides great views but is also safe and secure for those who are enjoying the deck due to the strength of the steel.
Keeping it consistent
We focused on matching the home's red wall and white accent design with a white Mast Rail cable railing (an excellent product). As the decking boards were the right shade of brown, they also complemented the color mix of red and white.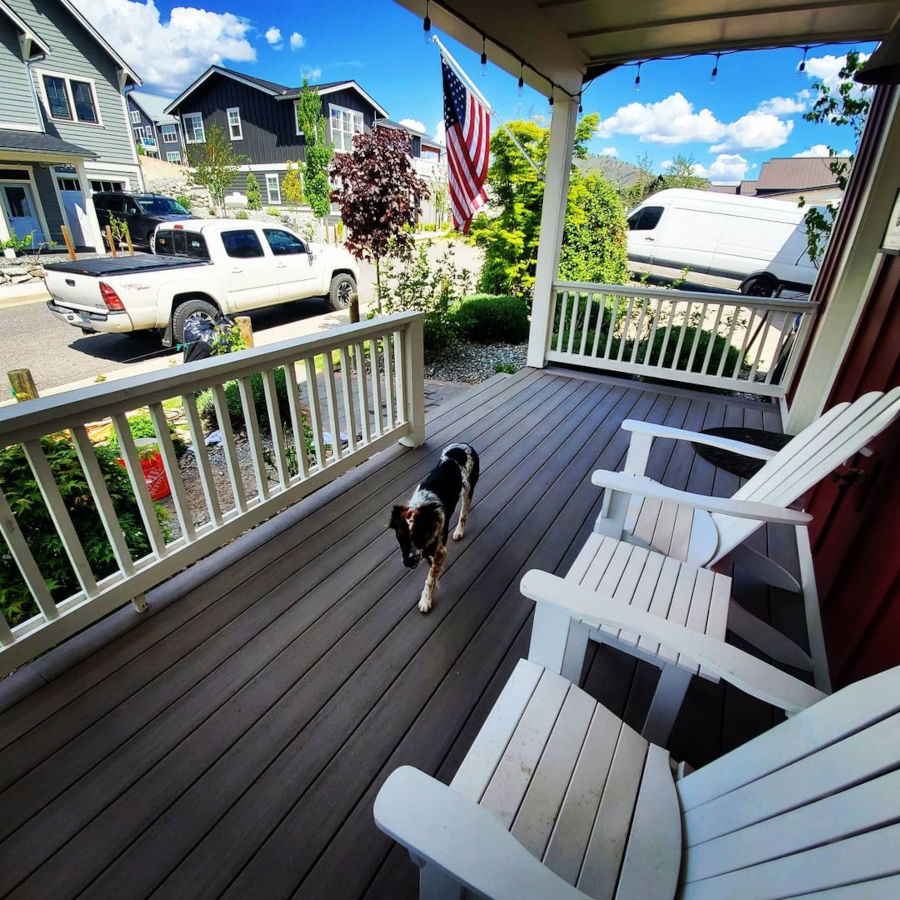 Here you can see how the colors sit perfectly alongside each other.
Why a Maisy Rail system?
Maisy Rail is a high-quality cable railing system that is easy to install and comes with a great warranty. The product is made in the USA, so you know it's trustworthy and built to last.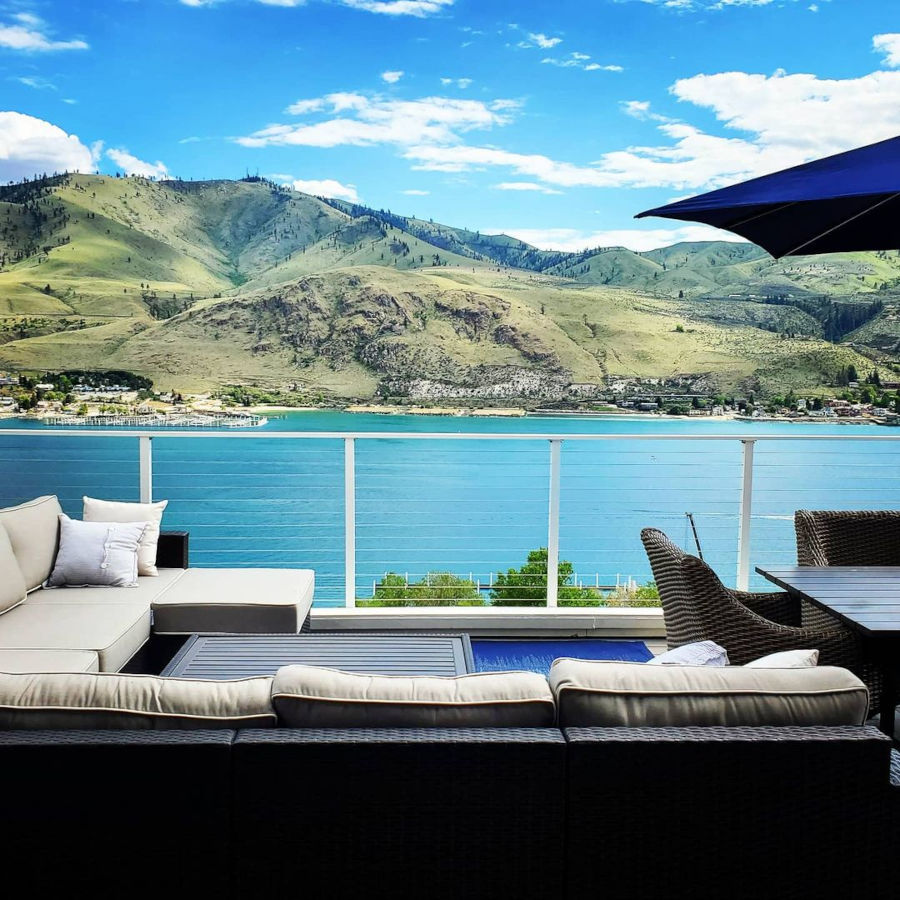 It's also renowned for its safety, which is always our number one priority when it comes to railing systems. With this system, you can rest assured that your family and friends will be safe when enjoying your deck.
If you're looking for a cable railing system that will offer you great views, safety, and durability, then we highly recommend the Maisy Rail system.
A return on investment
Did you know that home deck improvements can return 100% of the price you pay for your deck?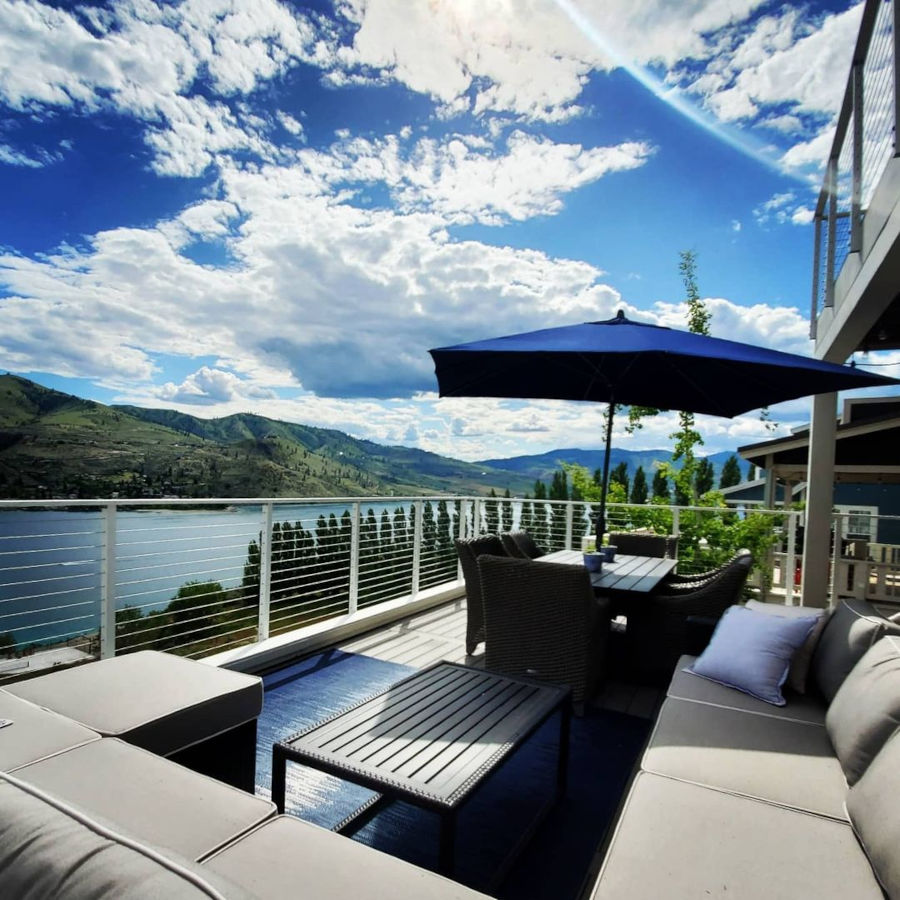 When we meet with our clients, we make sure that we inform them of the long-term investment benefits of a deck. Here's a few reasons why this is true:
It adds huge curb appeal: Decks are one of the first things people see when they drive up to your home. A beautiful and well-maintained deck will increase curb appeal and, as a result, the value of your home.
It's perfect for entertaining: A deck is the perfect place to entertain guests, which is often a big attraction to interested home buyers. Most are willing to pay extra for a property if it boasts a high-quality decking area.
It increases the living space: A deck essentially gives you an extra room in your house. This is especially valuable if you live in a smaller home or apartment. A lot of home buyers will see this as a huge benefit and will pay more for such a property.
Here's a statistic that you may like. The National Association of Realtors released a remodeling impact report completed in 2018 that showed that patios can recover over 102% of their building costs. Previous editions of this report showed similar figures, which highlights how much value a deck can actually add to your home.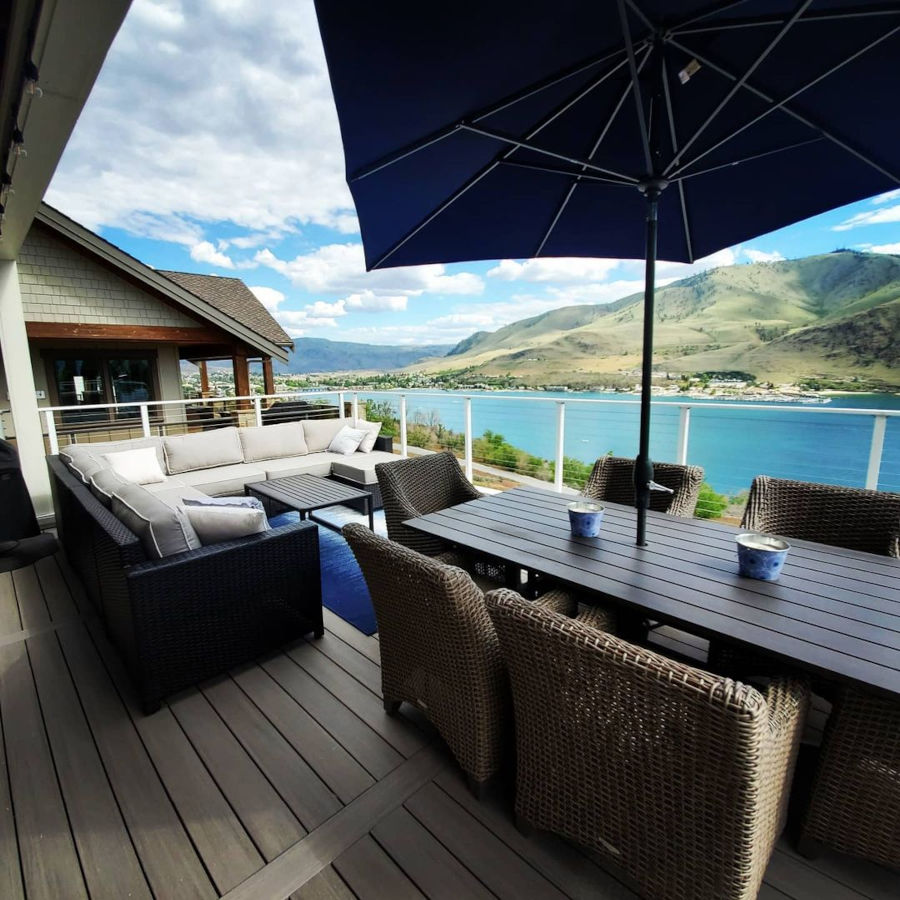 Stair cable railing system
As you can see from the images, we also installed a stair cable railing system. This is a great way to keep your views unobstructed while also providing a safe way to descend the stairs.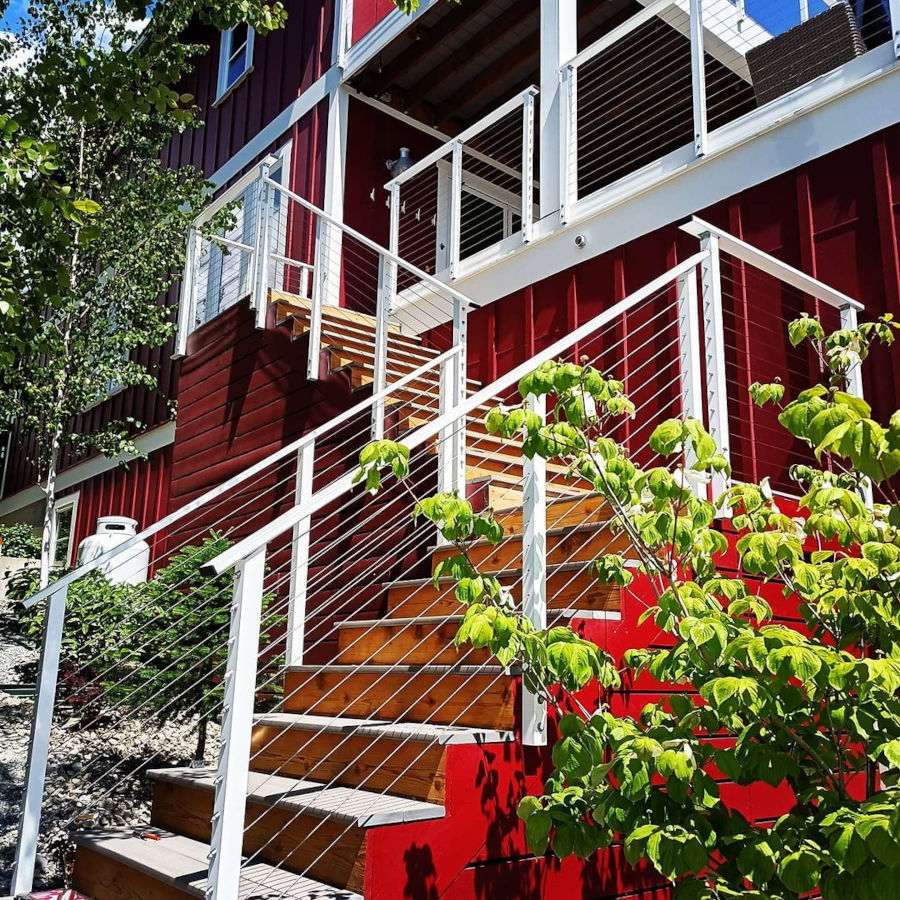 The stair cable railing system is similar to the one we used on the deck. It's made from high-quality steel and is very easy to install, which meant limited disruption for this client. Plus, it comes with an excellent warranty.
You can see how the colors of the stairs frame and the cabling system complement each other, a key look that this specific customer was looking for.
Overhang feature
You'll note in these pictures that the home features an overhang that sits above some of the deck. This is a nice touch as it provides some protection from the sun and weather for those using the deck. This not only looks great but also serves a practical purpose.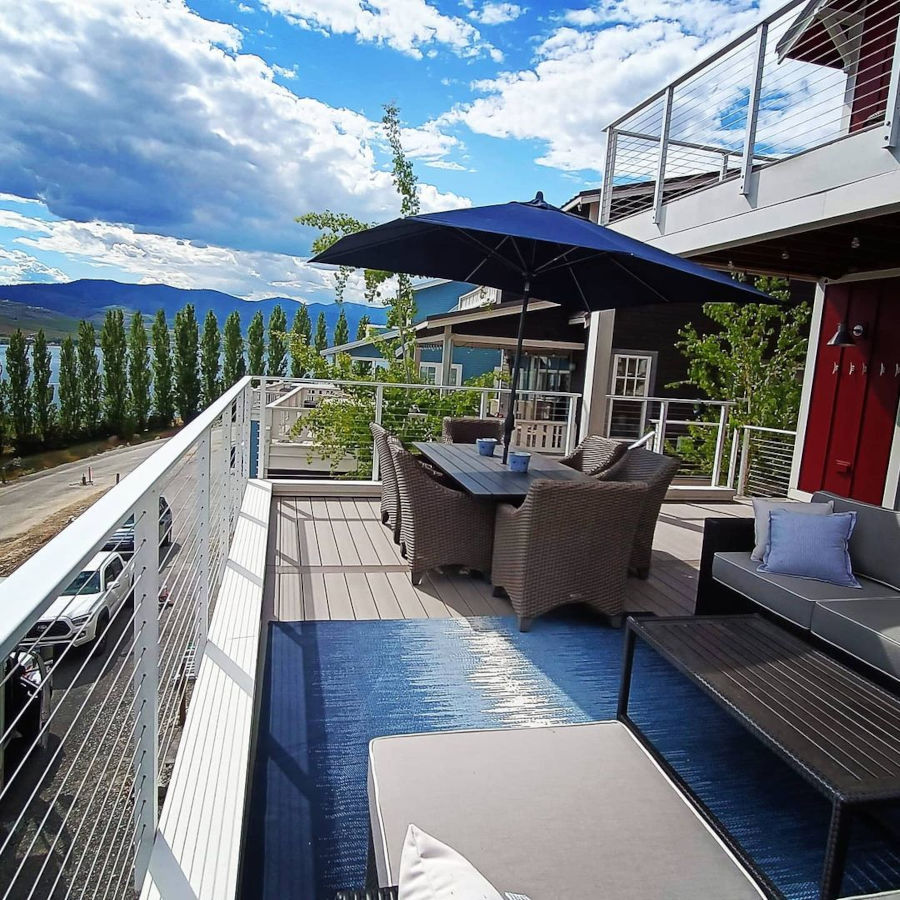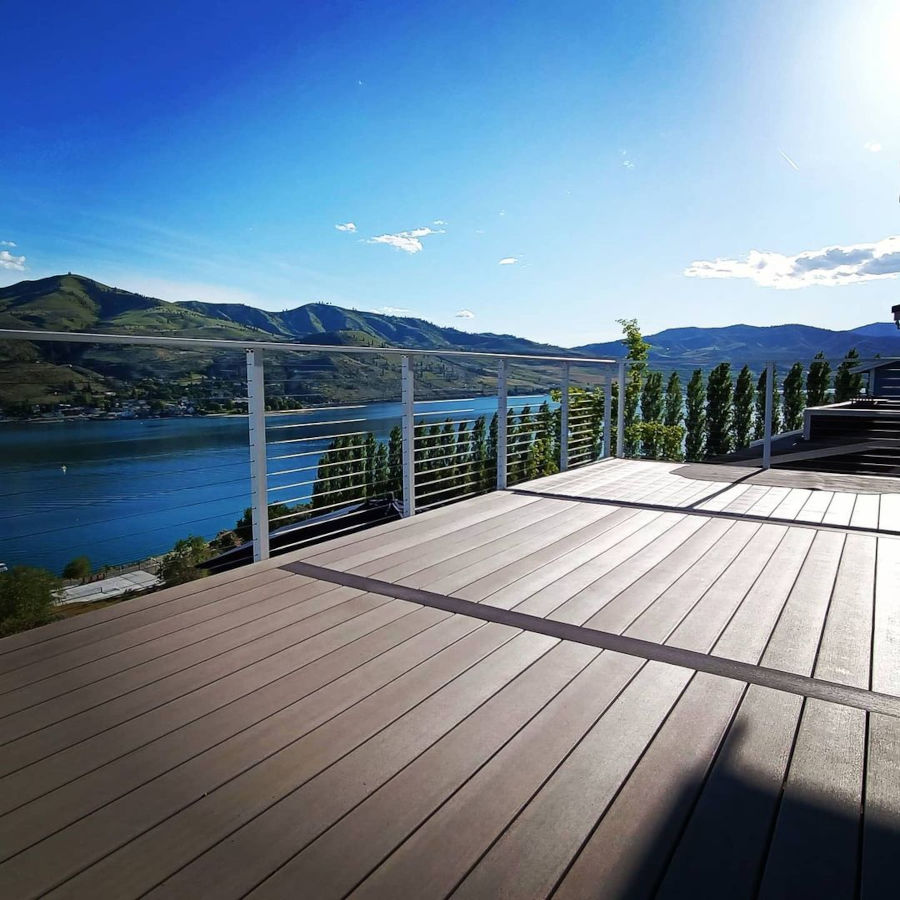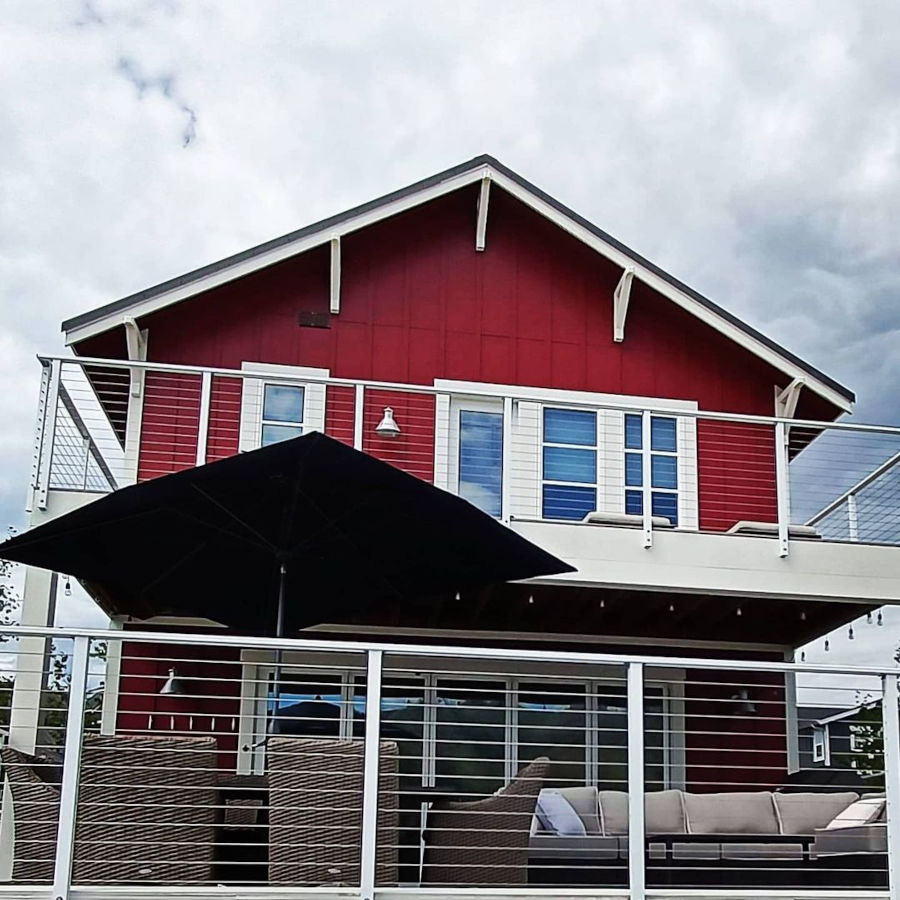 An added bonus
One final touch that we added was some lighting underneath the overhang. This created a lovely ambient light in the evening and really brought the deck to life.
How we did it
This specific client made use of each of these services that we offer to create their dream deck:
Deck construction: We built the deck from scratch, ensuring that it was the perfect size and shape for the home.
Railing installation: We installed a cable railing system to keep the view clear and unobstructed.
Deck cover/roof extension: As we mentioned above, we extended the roof over the deck to provide extra protection from the sun and rain.
Build your perfect deck with 3 Brothers Decking
If you're interested in building a deck, balcony, or overhang for your home, we'd love to help. We offer a free consultation so that we can discuss your specific needs and help you create a deck that's perfect for your home.
To view more projects using our deck construction services, view our project gallery or our blog feed.
To learn more about our deck services and to book your free consultation, contact us, or give us a call at (425) 505-5282 (Bellevue) or (509) 998-6522 (Spokane).
Invest in a high-quality deck today!