A wood-covered deck can be a beautiful and cozy addition to any home, providing a great place to relax and enjoy the outdoors — even when the weather isn't perfect. You can stay dry and comfortable while still enjoying the fresh air and beautiful views.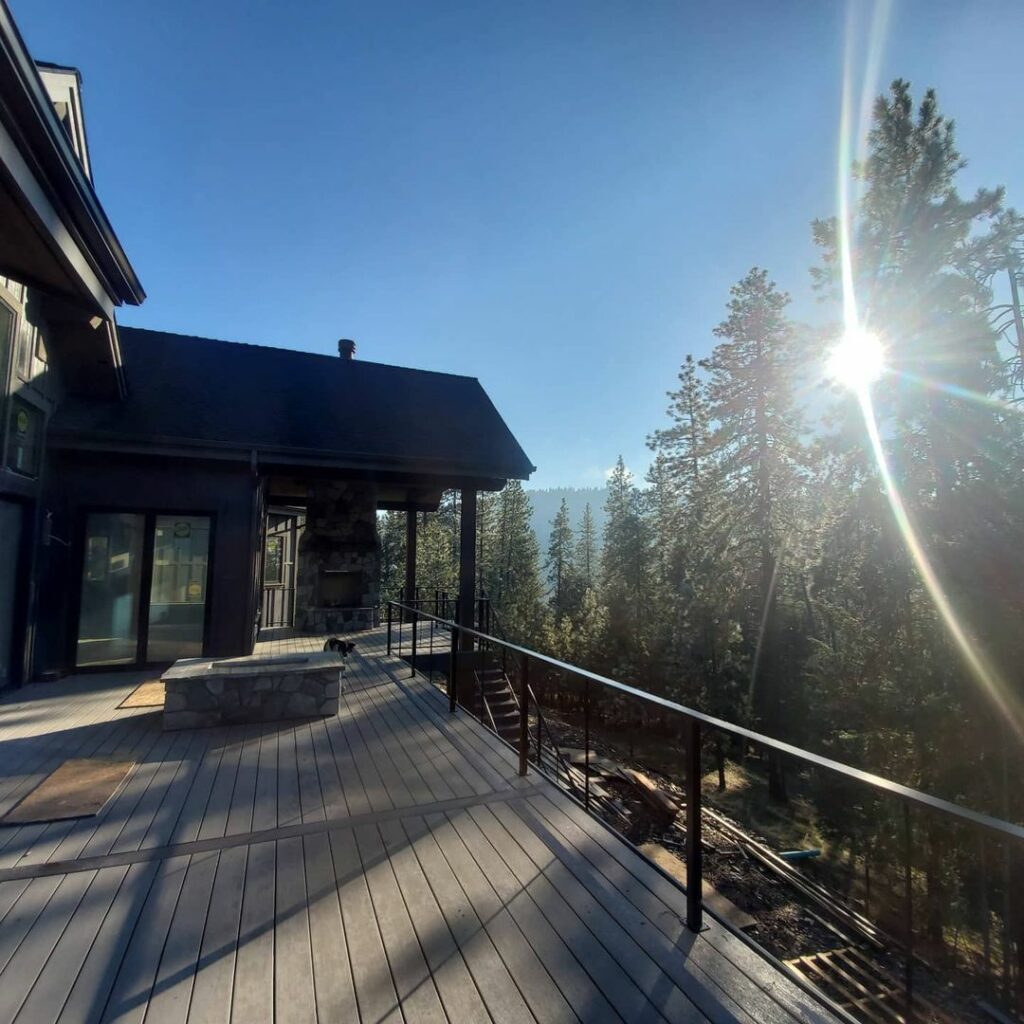 There are several factors to consider when designing your deck, such as:
How will you use the deck?
What accessories do you want on your deck?
How will the deck affect your home's value?
What materials should you use?
Here, we'll discuss how a good deck can not only achieve all your objectives but also make you and your family much healthier.
Are You Aware of the Health Benefits of a "Hygge" Lifestyle?
Current scientific research support the fact that time outside can reduce stress, blood pressure, heart rate, and relieve muscle tension — all of which are important for overall health and well-being. Sometimes these promising health effects are associated with the Japanese practice of "forest bathing." But how does this connect to hygge? What is hygge?
Hygge loosely translates as the Danish concept of coziness and comfort. It's a lifestyle most noticeable in the dark winter months. It's curling up under a blanket in front of a fireplace with a good book. It's playing board games with the family in a dimly lit room with no electronic devices or televisions. It's connecting with others without using social media.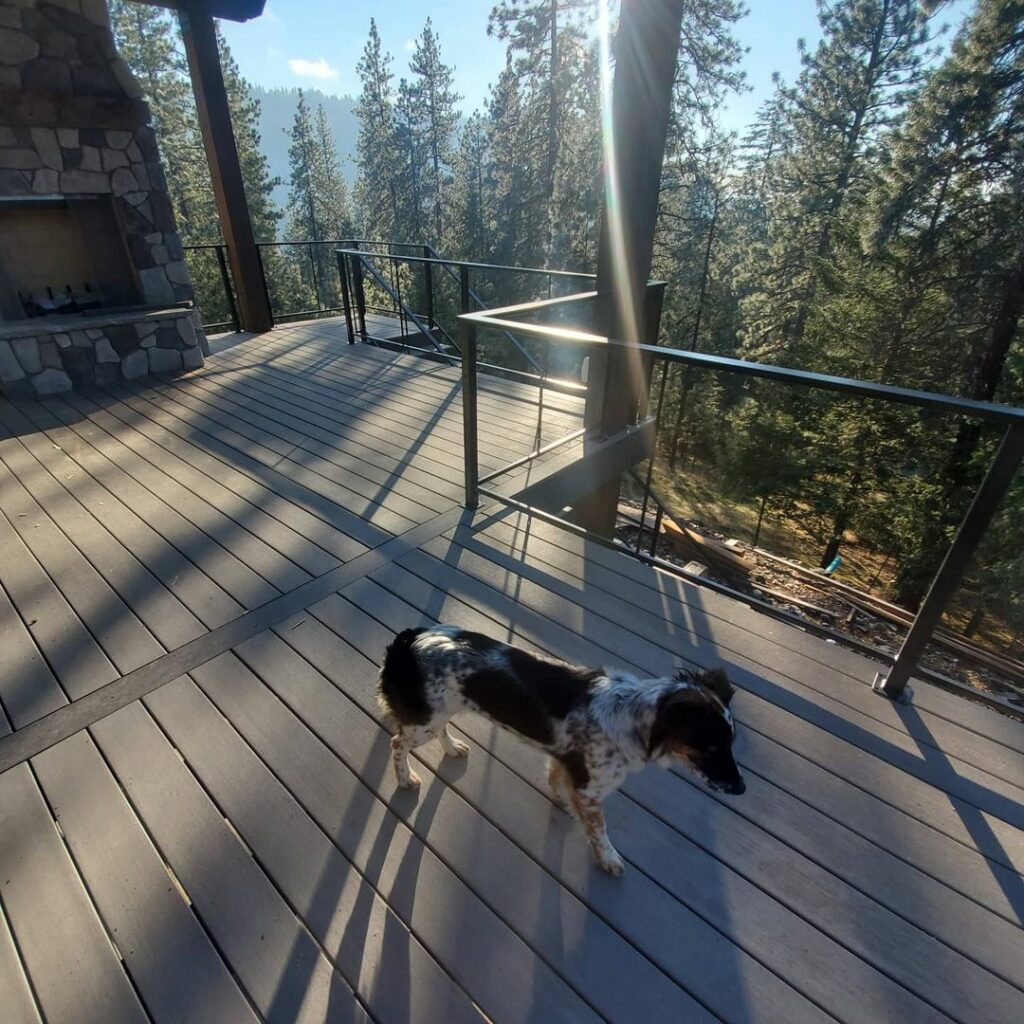 Surveys consistently rank the Danes among the happiest people on Earth. Many credit hygge as the source of this good feeling. So can you see how a deck fits in with this emotional and physically healthy experience? Your deck is where hygge and forest bathing intersects.
Someone once said, we don't buy things. What we're paying for is how a thing makes us feel. Now think about a covered deck with friends and family on a cold winter night. Connecting with people in the real world as opposed to through an electronic device. Now let's transform your wood covered deck to create a hygge + nature experience on steroids.
Ways To Customize Your Deck
What does your deck need to create just the right atmosphere? You have a lot of options to create your cozy outdoor space. But first, you need a wooden roof. Not only will it keep the snow and rain off of you. But it's also a place to hang a ceiling fan on those hot summer days and nights. You want to be outdoors, but you also want to be comfortable.
A fireplace is one way to stay warm on those cold, snowy afternoons and nights. A firepit can also set a great atmosphere. Some people can't decide which they would rather have, so they choose both.
Now that you have warmth and cooling on your deck, you need the right outdoor furniture to entertain guest in front of the fireplace. You need the right table to play cards and board games. Even though outdoor furniture should withstand the elements, it's better for it to be under a roof. The wooden cover will protect your outdoor furniture from the most severe effects of the elements.
That wooden extension of your home's roof can also cover an outdoor kitchen. Food and drink are key ingredients for the hygge lifestyle. Nothing beats hot cocoa at night on the deck or warm coffee at sunrise on the deck. And we haven't even mentioned afternoons with the grill. Or space for a wine cooler.
Have we left anything out? To have the perfect outdoor relaxation spa (also known as your deck), you might want one more accessory — a hot tub. Nothing can soothe tired aching muscles like bubbling hot water on a cold winter night. Of course, it's better to be under a roof so you're not being rained on while in the hot tub!
Now that you have this super outdoor family relaxation area, will you ever go back to watching the Kardashians on television? We get it. Sometimes you may want to be transported to another world by binge watching a TV show. But you'll be healthier if you spend the greater part of your time bathed in the coziness of nature that only a deck can provide.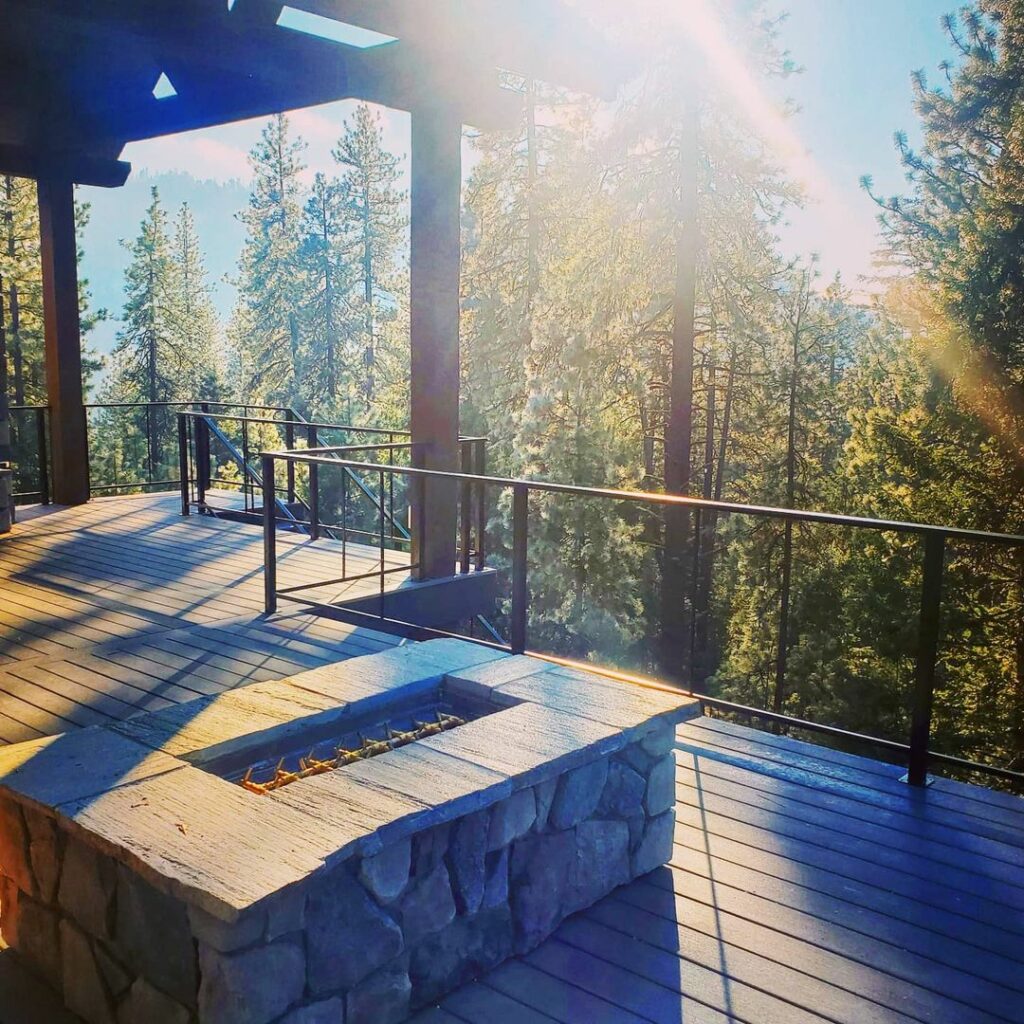 What Will a Deck Do for My Home?
Okay, it's time to open your eyes. Let's consider some cold hard facts. What will the deck do for your property's value? Consider the pictures in this article. Would you pay more for the home with the deck or without the deck? It's a fact that a well-designed and well-built deck will increase your property's value.
If you ever decide to sell the house, the value of the home with the deck will probably have appreciated far more than the cost of the deck. When you consider property appreciation, you may well get all the benefits of your deck with no economic costs. And, of course, if the deck adds to your health and well-being, you'll probably avoid some medical bills down the road.
Considerations When Planning Your Deck's Construction
First, do you need to remove any trees before building your deck? It's your choice. You can cut trees or leave the trees in place and we can build your deck around the trees.
Second, what kind of lumber do you want to use? You have several options. Pressure-treated lumber is often a good choice. This is lumber that's pressure injected with preservatives that prevent rot, decay, and insect damage.
Cedar is an option that naturally resists decay and insects. It's also a beautiful wood to use. Composite decking is a mix of wood fibers and plastics. It's popular because it requires less maintenance than wood decking.
Maintenance requirements are an important consideration. Your deck is for your enjoyment. It's not for you to put a lot of work into. We recommend you power clean your deck at least once per year and apply a fresh coat of sealant or stain every few years. With this small bit of maintenance, your deck should easily last 20 years. As you can see, deck maintenance requires much less effort than yard maintenance.
Whether You're in Seattle, Sandpoint, Bellevue, Coeur d'Alene, or Some Points In Between, 3 Brothers Decking Can Build the Right Deck for You
We're a family-run business that has built hundreds of decks over many years in Western Washington and Northern Idaho. We will help you design your dream deck that will meet all your expectations.
We'll help you pick the right materials. We'll also build a railing system to help prevent your children and pets from falling off the deck while not obstructing your view. And we have an array of design options for you.
If you're wondering how much the deck will cost, the best way to find out is through a free deck consultation with one of our experts. We'll listen to you to determine what will best meet your goals. Then we'll discuss options and prices with you.
Contact us today to see what we can do for you. Or call us at (425) 505-5282 for Bellevue and (509) 998-6522 for Spokane. We look forward to transforming your life with your new dream deck.