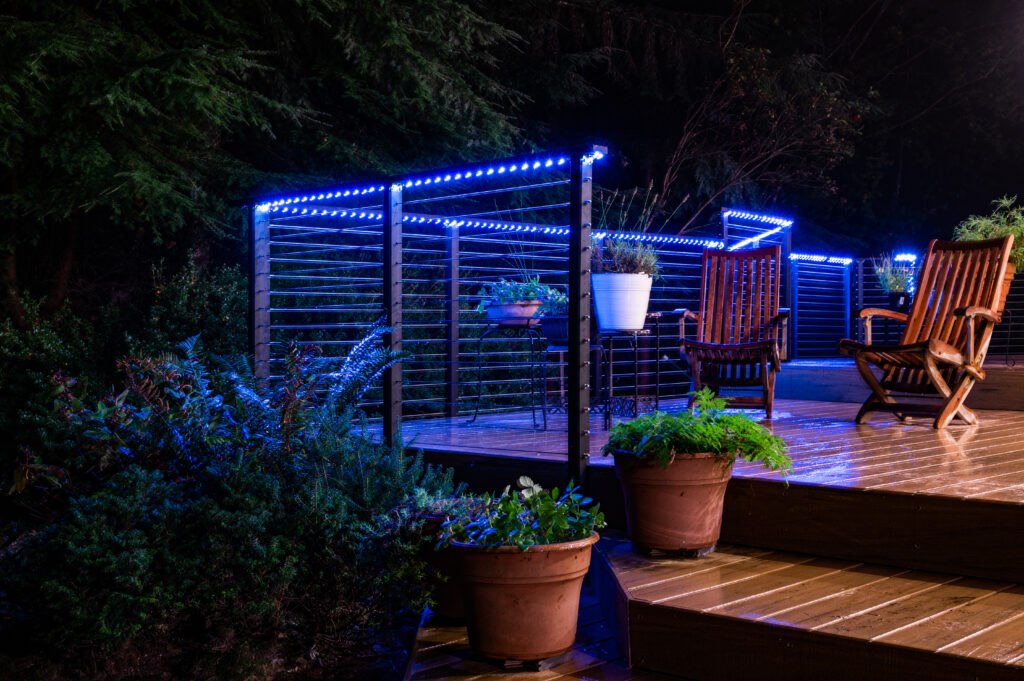 Illuminate Your Outdoor Living Space with Smart, Stylish, and Sustainable Lighting Solutions
When the sun dips below the horizon, your deck doesn't have to disappear into the night. With the right lighting, your deck transforms into a welcoming outdoor retreat, setting the stage for evening gatherings or quiet moments beneath the open sky.
Deck lighting is not only a matter of safety but also an opportunity to enhance the ambiance of your outdoor area. In this blog, we'll explore a range of deck lighting ideas that balance function with aesthetic appeal, helping you to illuminate your deck in style.
Understanding the Spectrum of Deck Lighting
Deck lighting does more than just brighten; it shapes the mood for every outdoor event. Here are some lighting options to consider:
Post cap lights: The crowning jewels offer a soft, downward glow that marks the boundaries of your deck.
Recessed deck lights: Subtle and modern, they blend seamlessly into the floor or steps for a contemporary look.
Pathway lighting: Guiding steps with illumination ensures safety with a stylistic touch.
To maximize the potential of these lighting options, try experimenting with different arrangements and levels of brightness to find the ideal setup for your deck. It's an opportunity to personalize your space further while ensuring comfort, safety, and style.
Strategic Placement for Maximum Impact
Illuminating your deck is akin to painting with light; each stroke is purposeful, and each placement is intentional. It's about creating a masterful balance between shadow and light, ensuring every nook of your outdoor space is thoughtfully considered. Here are some tips for illuminating key areas:
Highlight architectural features with spotlights for a dramatic effect
Use ambient lighting to create a soft glow around seating areas
Ensure all pathways and stairs are well-lit for safety and functionality
Color Temperature and Your Deck's Ambiance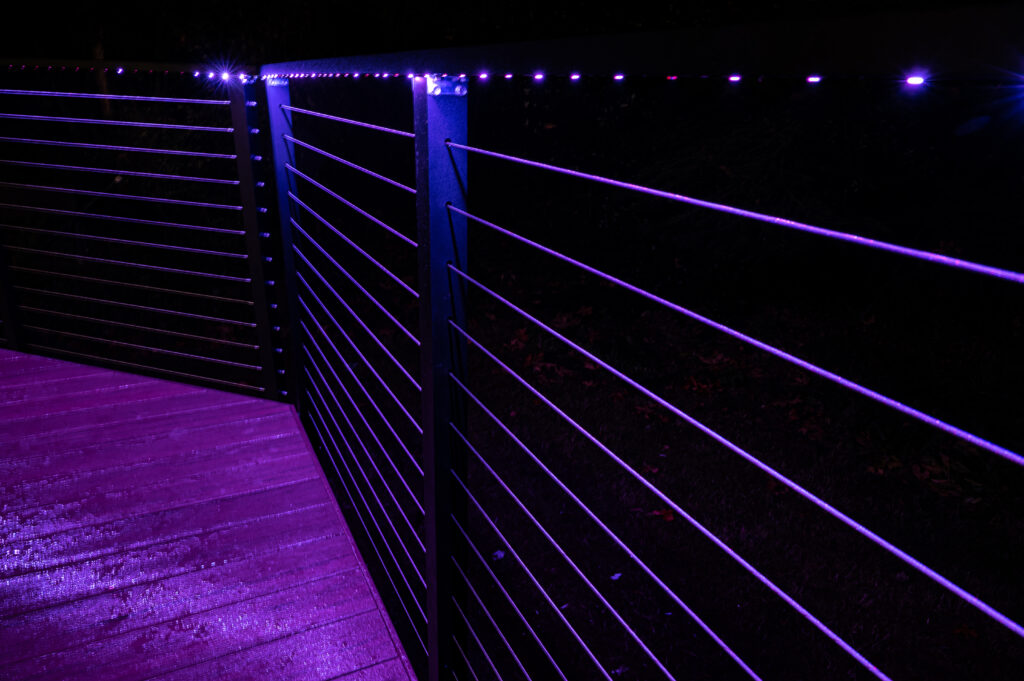 Light color temperature isn't just a detail—it's a design decision that affects the soul of your space. Warm lights invite a cozy, intimate atmosphere, while cool tones bring a clear, modern vibe. Here are some lights you can consider:
Accent Colors: Purple tints for fancy, perfect for festive vibes
Warm White (2000K-3000K): A golden hue for a tranquil, inviting space
Neutral White (3100K-4500K): Crisp light, ideal for daily deck activities
Cool White (4600K-6500K): Bright, sharp lighting for focus or a sleek look
Seasonal Lighting Themes
Deck lighting doesn't need to be static; it can evolve with the seasons, allowing your outdoor space to celebrate the time of year.
During summer months, vibrant, cool-toned lighting can complement the lively atmosphere of pool parties and social gatherings. As autumn arrives, warm, soft lights can echo the cozy ambiance of the season, inviting you to wrap up in a blanket and enjoy the crisp air.
While your deck may take a backseat during the chill of winter, there's no reason it can't still sparkle under a layer of frost. Consider energy-saving LED lights that come on with a timer, lending a cozy glow and making sure walkways are safely lit.
As the frost gives way to budding blooms, it's time to refresh your lighting setup. Check your fixtures as you transition into spring, swapping in brighter bulbs to match the lively vibe of the season, and maybe add motion sensors to welcome guests during those spontaneous get-togethers as the evenings grow warmer and longer.
Navigating Installation and Wiring
Deck lighting installation doesn't need to be daunting. Here's how to get started, keeping it manageable and neat:
Safety First: Before any work, cut off power to the area to avoid accidents.
Map Your Project: Use a diagram of your deck to determine the placement of lights and route of wires, planning for the least obtrusive paths.
Select Outdoor-Rated Materials: Ensure that all wiring and fixtures are suitable for outdoor use and can withstand weather conditions.
Concealment Strategies: Run wires behind structures or within protective coverings to maintain your deck's aesthetics.
Centralize Connections: Aim for a single hub where all wires converge, simplifying connections and future troubleshooting.
Smart Systems: Consider investing in a smart lighting system for convenience, allowing you to adjust settings with a smartphone or remote.
Professional Advice: Even if you're installing the lights yourself, a quick consultation with an electrician can ensure everything is up to code.
Bringing Your Deck Dreams to Light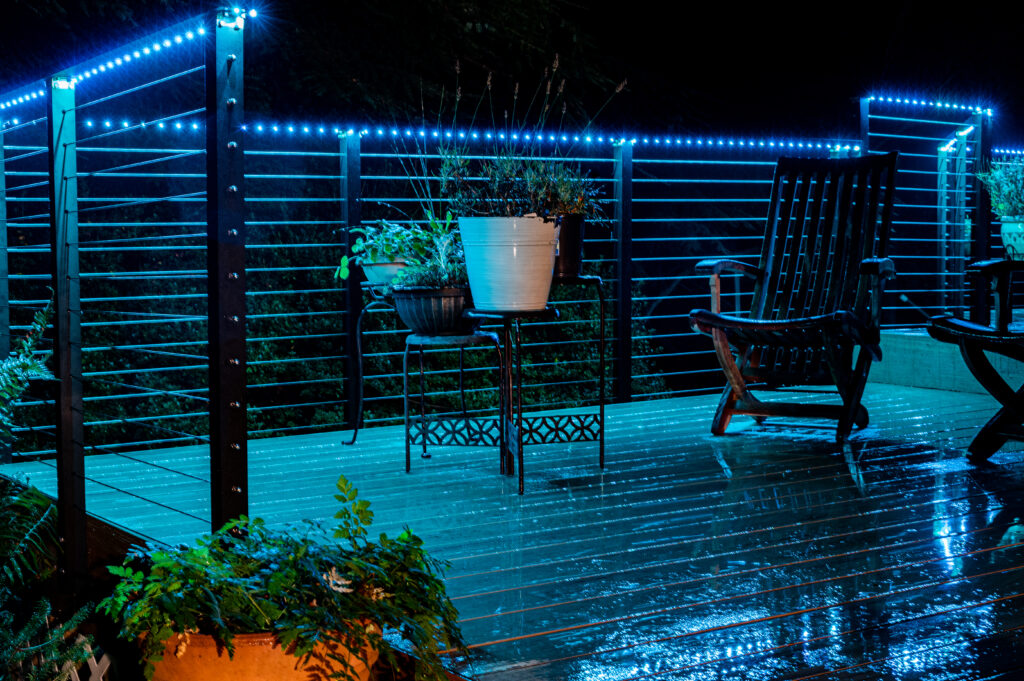 The stage is set, your deck awaits, and the right lighting is the finishing touch that turns any ordinary evening into an experience.
With 3 Brothers Decking, your lighting project becomes a personal journey. We don't just install fixtures; we bring your unique vision to life with each strategically placed beam.
We understand that your deck is more than a structure; it's where stories unfold and life is celebrated.
Ready to make your deck glow? Explore 3 Brothers Decking today!