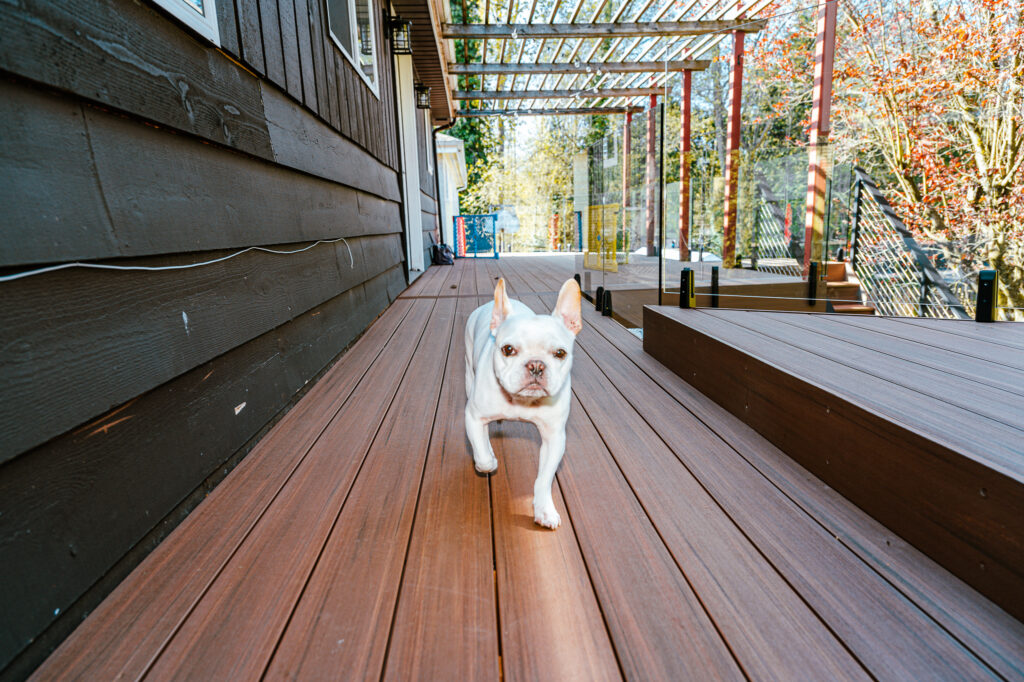 If you're thinking about sprucing up your outdoor living space with a deck or patio, it's essential to consider your four-legged family members.
After all, your pets are part of the family, and their needs and safety should be a top priority when planning your new outdoor oasis. In this article, let's explore some important considerations for creating a pet-friendly deck or patio space that your furry companions will love.
Safety First
When designing your deck or patio, safety is always the number one priority. That includes the safety of ALL users – even your pets! It's critical to ensure your pets can roam freely (or within designated areas) without any risks. Here are some key safety features to consider adding to your new deck's design:
Railing
Make sure your deck or patio is equipped with sturdy railings or balustrades. Cats, small dogs, or adventurous larger dogs might try to squeeze through openings or take a leap off the edge. We recommend going for materials and designs that prevent these escape attempts, while still maintaining a clear view.
Non-Slip Surfaces
Consider using non-slip materials for your deck or patio surface. This can be extremely beneficial for humans just as much as our canine companions! 
Pets, especially dogs, tend to run during excitement or play, and they can easily slip and injure themselves on smooth, slippery surfaces like polished tiles or damp/wet composite decking. Textured or rough surfaces provide a better grip for paws. You could add textured mats at heavy traffic areas, or opt for a rougher-textured material for your deck or patio. 
Secure Gates and Fencing
If you plan to have designated areas where your pet is or is not free to roam, ensure that the gates securing these areas are strong, and tall enough to prevent your pets from jumping over. 

NOTE: Double-check your existing gates and latches to make sure they are pet-proof!
Pet-Friendly Plant Choices
Be mindful of the plants you choose for your outdoor space. Some plants can be toxic to pets, so research pet-friendly options to keep your furry friends safe. You'd be surprised how many common house plants are actually poisonous to our furry friends!
Heat Considerations
In the scorching summer months, decks and patios can become quite hot. Make sure there are shaded areas or cooling options for your pets to retreat to. Raised decks can be particularly hot, so be cautious when the sun is blazing. It may also be helpful to avoid darker decking material options to help keep temperatures down.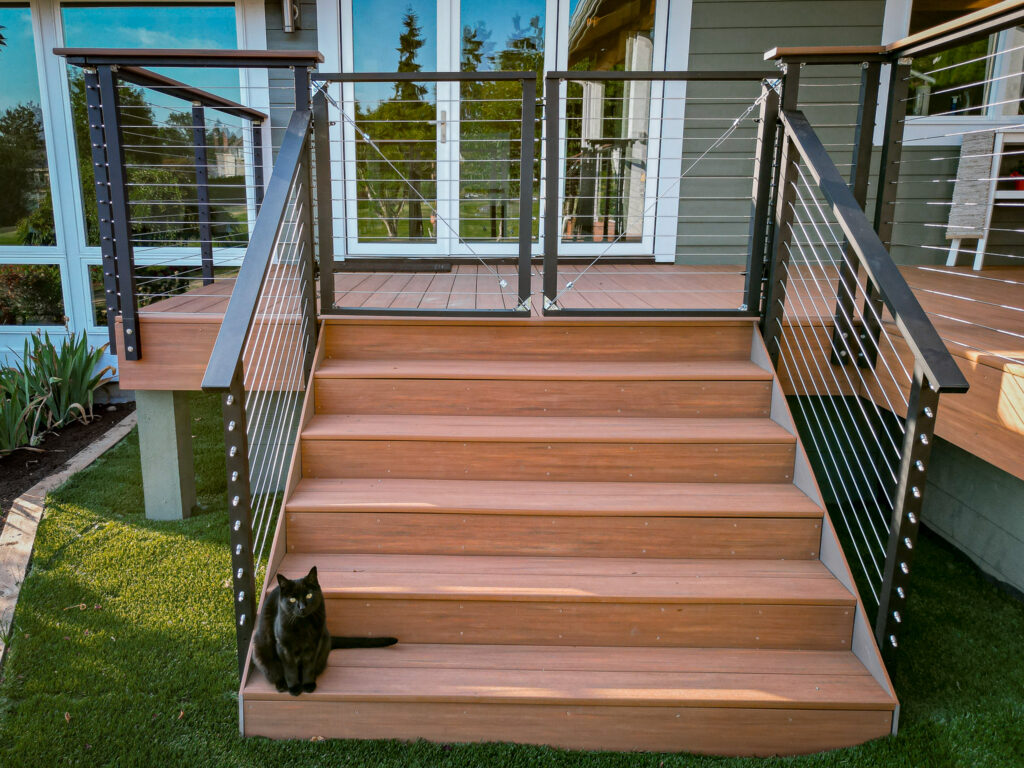 Built-In Elements
Designing your deck or patio space with your pets in mind doesn't just mean thinking about safety. Consider incorporating pet-friendly built-in elements that will make life easier for both you and your furry companions:
Built-in Pet Beds or Dog Houses
Create cozy spots for your pet to relax by integrating built-in pet beds or alcoves into your deck or patio design. These can be elevated or at ground level, depending on your pet's preferences. 
Dog Shower Station
If you have a dog, a convenient doggy shower station can be a game-changer. It makes cleaning up your pup after a muddy adventure quick and easy, preventing them from tracking dirt all over your home.
Food and Water Stations
Design a designated area for your pet's food and water bowls, so they can enjoy a meal outside in the fresh air. Make sure it's protected from the elements to keep their food dry.
Storage for Pet Supplies
Install storage cabinets or bins for pet supplies like toys, leashes, and grooming tools. This keeps everything organized and within reach for your convenience.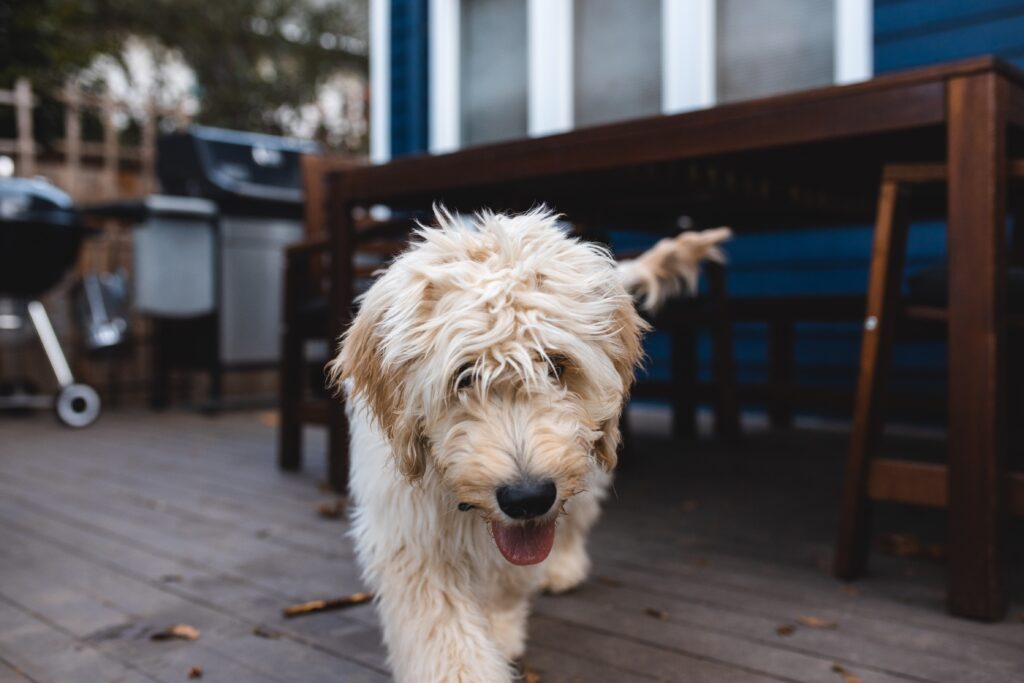 Accessibility
No two pets are the same – that's why it can be extremely important to consider your pet's age, mobility, and size when planning your new deck or patio design. To make sure your new outdoor living space will be fully functional for every member of the family (furry or not!), accessibility is a vital factor in your new deck's overall design.
Ramps or Steps
If you have pets with limited mobility, like older dogs or cats, consider adding a ramp or a few small steps to make it easier for them to access the outdoor space. Ramps are great for dogs with arthritis or joint issues, while steps can be an alternative for cats or smaller dogs.
Pet Doors
If your deck or patio is attached to your house, installing a pet door can be a fantastic addition. It allows your pets to come and go as they please, giving them more freedom and independence.
Fencing and Gates
Install pet-friendly fencing around your deck or patio to create a safe boundary for your pets. Make sure there are secure gates for easy access to the yard.
Designing a pet-friendly deck or patio space is all about creating a safe, enjoyable, and accessible outdoor environment for your furry friends. Remember that pets have different personalities and needs, so you should always tailor your outdoor space additions to suit their individual preferences.
With some planning on the front end, your deck or patio can become a haven for both you and your beloved companions. Let 3 Brothers Decking be your guide to designing and building the outdoor living space that functions effortlessly – not just for you, but for your pets, too! What totally unique considerations will YOU include for your pet in your deck design?
Check out our full list of services & how we can help you create the deck of your dreams!