Horizontal Cable Railing Installation
Safe and stylish glass deck railing
Horizontal cable railing is a great way to provide the safety of railing with a minimalist style. The sleek and modern look of these rails will wow your guests and neighbors. And unlike vertical pickets or vertical cables, they won't obstruct the wonderful views we have in Washington and Northern Idaho.
Here, we'll discuss the advantages of horizontal cable railing and the options we have to provide the perfect fit for your deck and home. And we will explain what to expect in the installation process and show how little maintenance these railing systems need.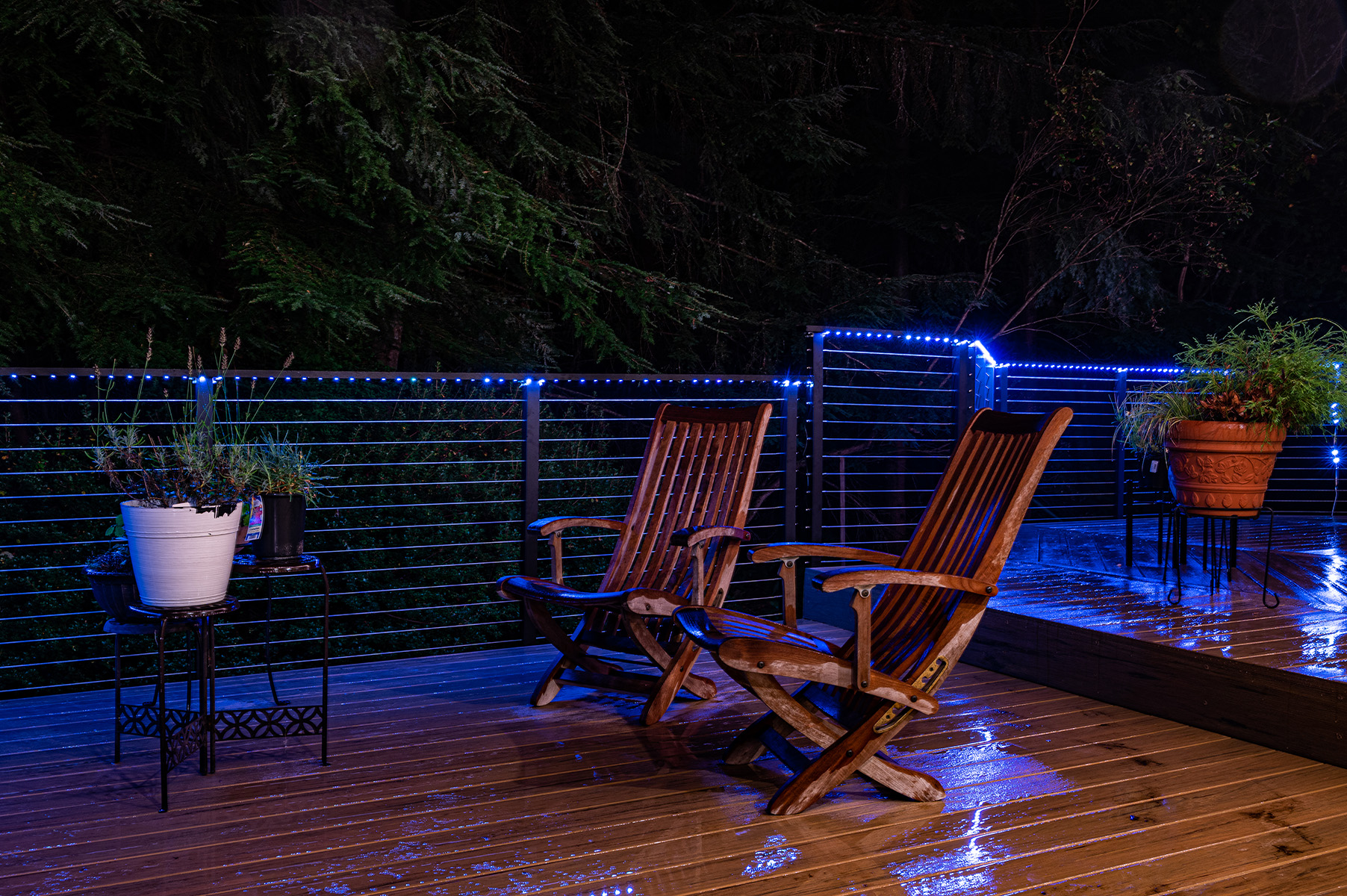 Advantages of Horizontal Cable Railing
You may enjoy lying in a hammock on your deck on lazy summer afternoons. Or your favorite deck activity may be sitting in front of your deck's firepit with your significant other on a chilly winter afternoon. Regardless of your favorite activity, the reason you're out on the deck is to experience the great outdoors. And the prime experience in our part of the country is to enjoy the beautiful scenery.
Having an unobstructed view is important for those chilly winter afternoons while drinking hot cocoa with your significant other. Unlike vertical cables or pickets, horizontal cable railings are barely noticeable.
Even though the cables are almost unseen, they are very strong. The primary purpose of railing is for the safety of your pets, children, and guests. Horizontal cable railing has more than enough strength to provide these safety benefits. And we space the cables close together, making it difficult for children or pets to squeeze through.
You'll want your railing to be durable. We don't have to tell you that Seattle gets 150 days of rain each year. You know this. While Northern Idaho gets significantly less precipitation than Seattle when considering inches per year, it does rain, sleet, or snow on 122 days in the average year.
For these reasons, it's important to use the right material for your railing. Our stainless steel cables are 11% chromium while the rest is iron. This means it resists corrosion that's common with other metals in our area. This also means these railings need less maintenance than most other types of deck railing.
With horizontal cable railing, you have all these benefits — safety, durability, low-maintenance, and an unobstructed view. But there's more. A sturdy deck with a great-looking railing system can boost the value of your home should you ever decide to sell
Options Available for Our Horizontal Cable Railing
Your horizontal cable railing system doesn't have to be all metal. Many customers prefer natural wood for their top rail. This fits nicely with a natural wood deck. Of course, you probably want the deck railing wood to match the type of wood you're using. And you don't have to go with natural wood. You may prefer composite.
With a wooden top on your cable railing system, the railing won't feel so cold like metal does on a cold winter day. The same applies to the heat metal retains on hot summer days. Another advantage to a wooden top rail is that they're wide enough to place beverages on while standing with friends near the rail. Even with a wood top, it's best to use metal posts because of their durability.
Now that you've decided on the materials to use for your railing, you'll need to decide what kind of lighting to use. That's right, we can integrate multi-color LED lighting systems into your horizontal cable railing system.
Imagine the cozy atmosphere you can experience with friends or family when you can set the scene on your deck to any color of lighting you want. And this lighting is a great complement to other accessories that are important for you to enjoy the full outdoor experience.
These essentials include hot tubs and outdoor fireplaces or firepits. What could be more relaxing than getting out of the hot tub on a chilly night and putting on a warm, heavy robe before sitting by the outdoor fireplace with your significant other? Well, one way to make it a little better is to set the lighting color and brightness to fit your mood.
Some customers wonder if the unobstructed view your horizontal cable railing system provides during the day is a privacy concern after dark. By changing the LED rail lighting to darker shades, it makes it more difficult for neighbors to see you on the deck at night.
Now you really have it all — a sleek modern railing system that provides safety, durability, low-maintenance, and an unobstructed view. But there's still more. With LED lighting, this railing system also provides just the right atmosphere and a degree of privacy at night.
And there's one more thing. This low-voltage LED lighting uses very little electricity. And, with our solar option, the power for the lighting is free. The solar option also gives you freedom from having to wire your lighting to your home's electrical system.
Is Horizontal Cable Railing the Best Choice for Your Deck?
Horizontal cable railing is one of the best choices you can make for any deck. But what really matters is whether it's your favorite choice. Is it what you want for your deck and your home? At 3 Brothers Decking, we're the deck builders that listens to and understands our customers. That's why we know people have a variety of preferences for deck railing. So we provide a wide selection of railing systems. Our railing systems include:
Frameless glass railing
Vertical cable railing
Glass railing with frames
Horizontal rod railing
Aluminum picket railing
Composite picket railing
Wooden picket railing
Wood wall railing
Now it's really hard to decide, isn't it? We have a solution to help you make your decision. You can use our own interactive application to help you decide on the railing system that's the best fit for you and your home.
What To Expect When We Install Your Horizontal Cable Railing
The first step for our horizontal cable railing installations is to measure your deck or balcony. Then we can have the Maisy Rail custom-build the railing for your deck, balconies, or stairways. We rarely have to wait long for our orders since their manufacturing facility is right here in the Seattle area.
After we have your railing, we will come out and install it on your deck. We go through a few installation steps. First, we secure the posts to your deck, balcony, or stairway. Then, we run the cable. The last steps are when we make sure the cables are tight and perform a safety check.
Another great thing about horizontal cable railing systems is that they're quicker to install than many other types of railing.
How To Maintain Your Horizontal Cable Railing
There isn't much to maintaining a horizontal cable railing system. The stainless steel cables will probably last at least as long as your deck. It is still a good idea to check the cables, posts, and deck attachments periodically to make sure none are loose or worn.
Horizontal Cable Railings in Seattle, Bellevue, Spokane, and North Idaho
Having horizontal cable railing is a great way to give your home and deck a sleek, modern look. These railings are strong, durable, and are almost maintenance-free. And you have several options to make this railing the perfect match for your deck. You also have the choice of adding integrated LED lighting to your horizontal cable railing system that will give your deck the perfect atmosphere at night.
Whether you're looking for new railing for your existing deck or a new deck and railing system for your home, 3 Brothers Decking is the deck builder that can make your dream a reality. Contact us today for a free consultation! You can reach us at (425) 505-5282 in Western Washington or (509) 998-6522 in Northern Idaho. We believe everyone should have the exact deck they want — and with 3 Brothers Decking, you can!
Frameless Glass Railings in Bellevue, Seattle, Spokane, and Northern Idaho
If you are looking to get the most out of your balcony or deck, consider installing frameless glass railing. It's strong, lasting, and requires very little upkeep. It is also obtainable in a variety of sizes, meaning you can have the perfect railing for your deck. And you have the option for LED lighting-enhanced glass railing that can create a fantastic atmosphere for your deck.
3 Brothers Decking can make your outdoor dreams a reality, no matter if you are looking for renovation or new construction. Reach out to us for a free consultation. In Western Washington, contact us at (425) 505-5282, and for Northern Idaho, call us at (509) 998-6522. We believe everyone should be able to enjoy their outdoor area just the way they like it, and 3 Brothers Decking can help you do that!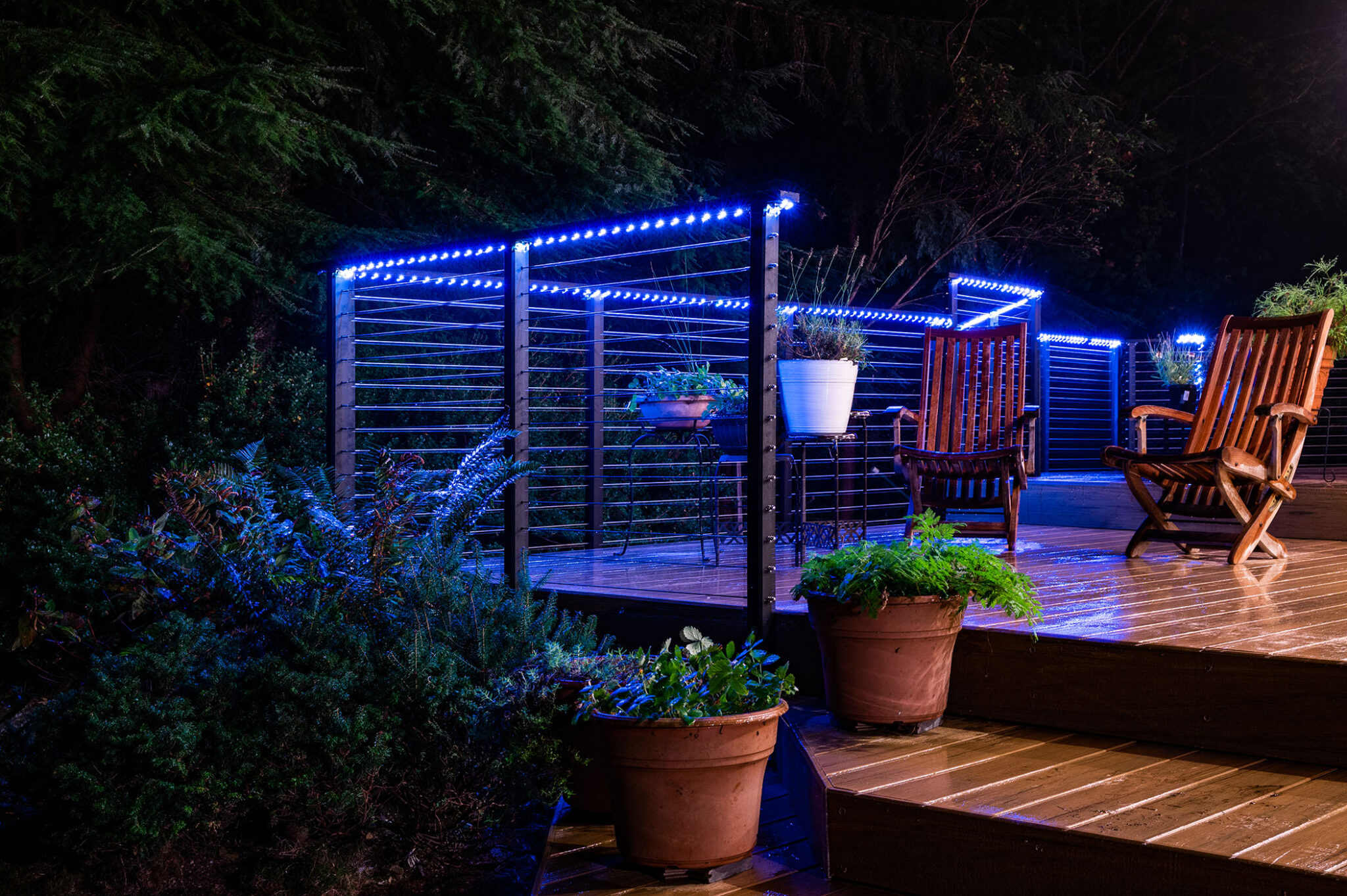 We're your deck builder and exterior renovator
When it comes to building a deck, you want 3 Brothers Decking. We proudly serve Western Washington, including the Greater Seattle Area, and Northern Idaho with deck installation that brings safety, strength, and style to your outdoor living space. Our design and build services bring knowledge, experience, and top-notch service to you at a competitive price.
We'll be there for you every step of the way: we can help you budget, design, build, and decorate the outdoor space of your dreams!
With a 3 Brothers deck, your home's value, function, and style will be significantly improved.