Check out this deck we built with Frameless Glass Railing.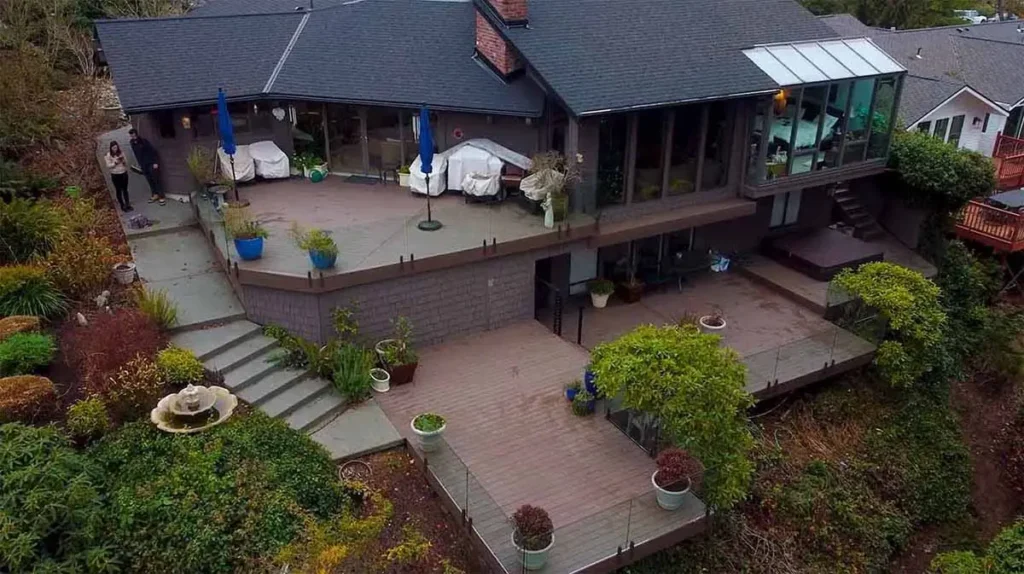 Are you looking for a modern and safe way to spruce up your deck or balcony? Installing frameless glass railing is an excellent option for anyone looking to add a touch of style and elegance to their outdoor space. Whether you're looking to upgrade your current deck or install an entirely new one, this type of railing is sure to make a statement.
Watch our deck showcase video!
Frameless glass railings are a modern, minimalist, and elegant way to spruce up your deck or balcony. For our glass railings, the glass manufacturer provides specially treated, tempered glass that is strong enough to withstand the test of time and weather.
Here, we'll discuss the benefits of installing frameless glass railing, the features of our frameless glass railing, the installation process, and maintenance tips. Read on to learn more about what frameless glass railing can do for your deck.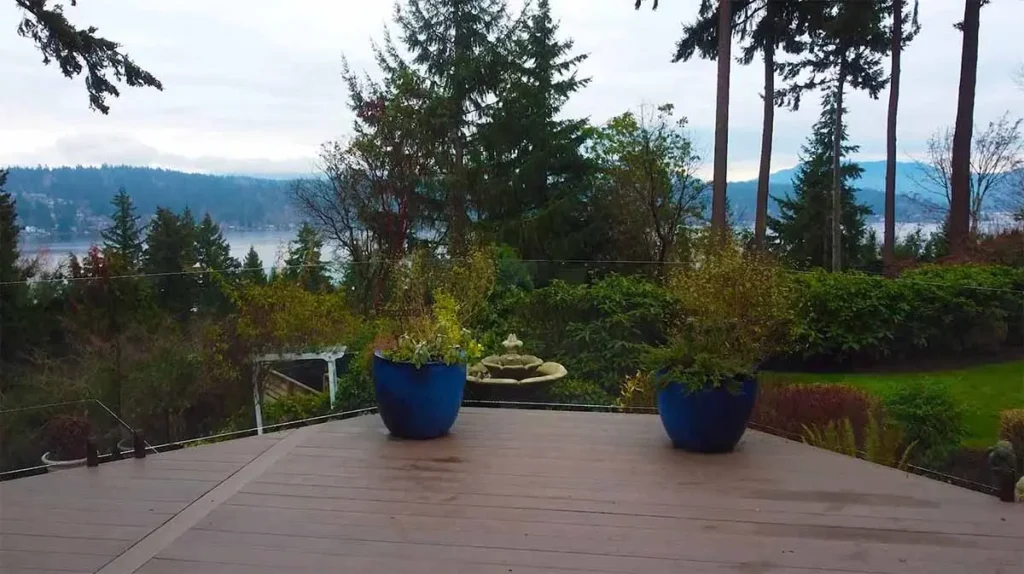 Benefits of Frameless Glass Railings
You want a deck as a place to enjoy time outdoors. It's a great place for coffee as you wake up in the morning. It's where you can grill burgers or have a glass of wine on lazy summer afternoons. While you're doing these things, you want to watch the sunrise or the sunset. And you would prefer to do this without watching these daily events through pickets or cables.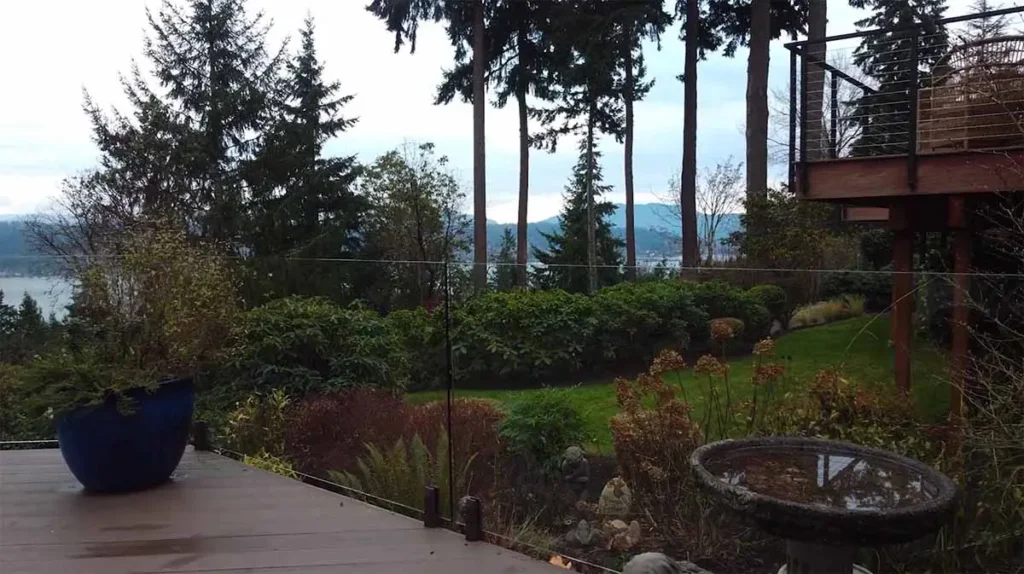 You want your deck to be a place where you can enjoy the outdoors. You want to be out in nature and enjoy your view — your unobstructed view. You don't want to look at your railing. That's the great thing about frameless glass railing. It does everything a rail should while remaining nearly invisible.
Do you need privacy? Our frameless glass railing can help. Not only can our glass railing provide some privacy after dark, it can also set the perfect atmosphere. We can build multi-color LED lighting into your frameless glass railing to give you the perfect cozy nighttime setting.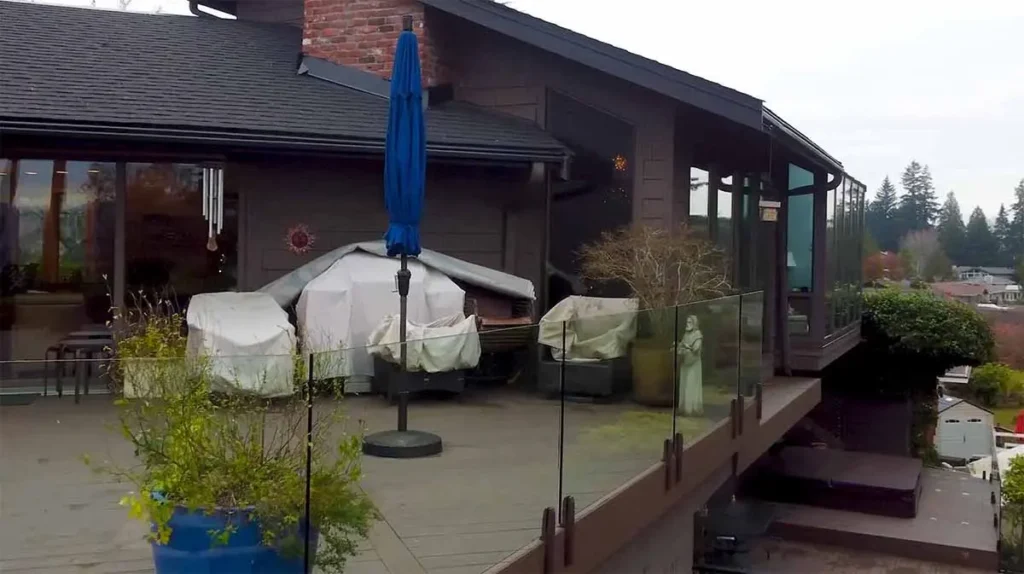 By changing to some dimmer light colors at night, people off the balcony will have a difficult time seeing you. These dimmer colors provide plenty of light for people sitting close together. Of course, changes in lighting won't afford the same privacy as wooden wall railings do, but some people believe walls are most appropriate indoors — not out in nature.
Friends and family can enjoy sitting by the fire drinking hot cocoa on a chilly winter night. Later, you may prefer a dip in the hot tub while shrouded in dark red light. With our frameless glass railings, you'll have full control of your atmosphere. We provide a controller where you can switch the lighting between 16 different colors and three modes.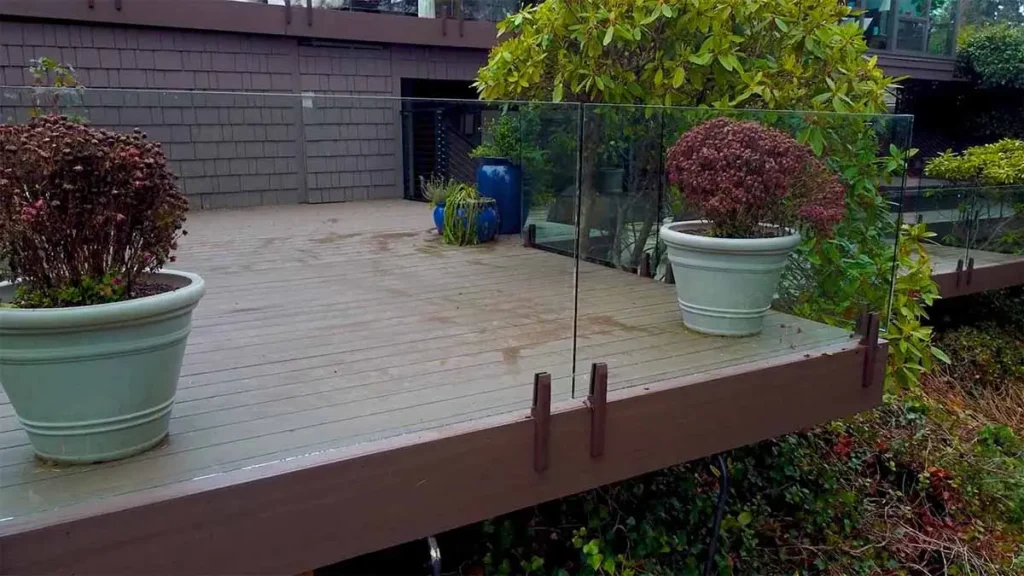 Features of Our Frameless Glass Railings
Why do you need deck railing? The answer is obvious. You prefer that your guests, children, and pets not accidentally fall off your deck. But, most people don't purchase deck railing to look at. Besides, the views in Bellevue, Seattle, and Northern Idaho are far too beautiful to be obstructed by the railing.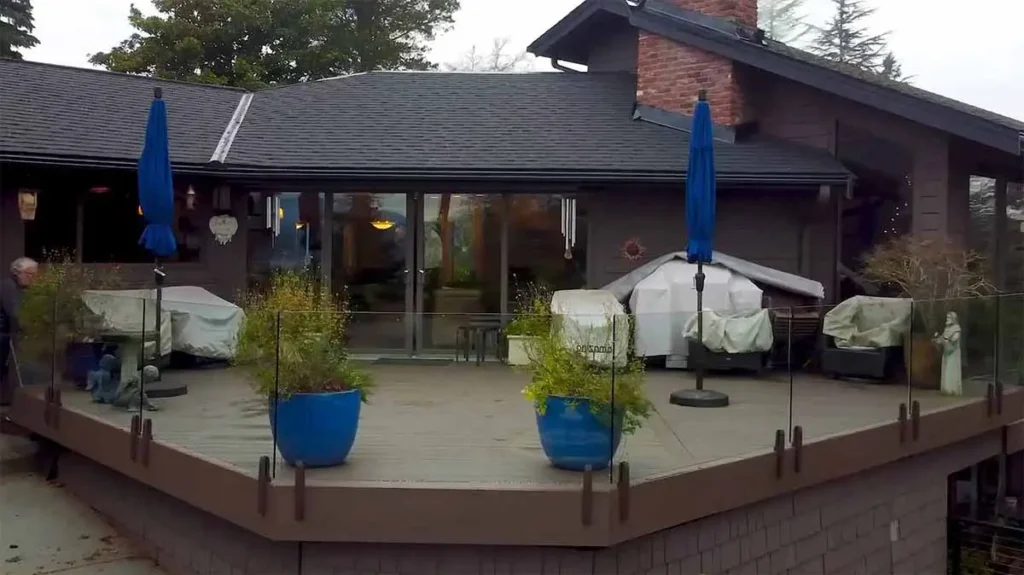 You like the idea of an unobstructed view, but you may wonder if frameless glass railings are safe. People also ask if glass railing can provide privacy. The answers are that glass railing is safe and can even provide a degree of privacy.
The International Code Council's Evaluation Service (ICC-ES) tested and approved the frameless glass railing systems we use. These railings are as safe as the more common railings available. People often think twice about the strength of glass until we remind them that offices in many skyscrapers have only glass walls. You never hear of anyone falling through skyscraper walls.
We use half-inch thick tempered glass in our frameless glass railings. We attach the railing sections to your deck with strong stainless steel mounts. The manufacturer had these mounts subjected to the strenuous tests required for certification by the National Association of Testing Authorities (NATA).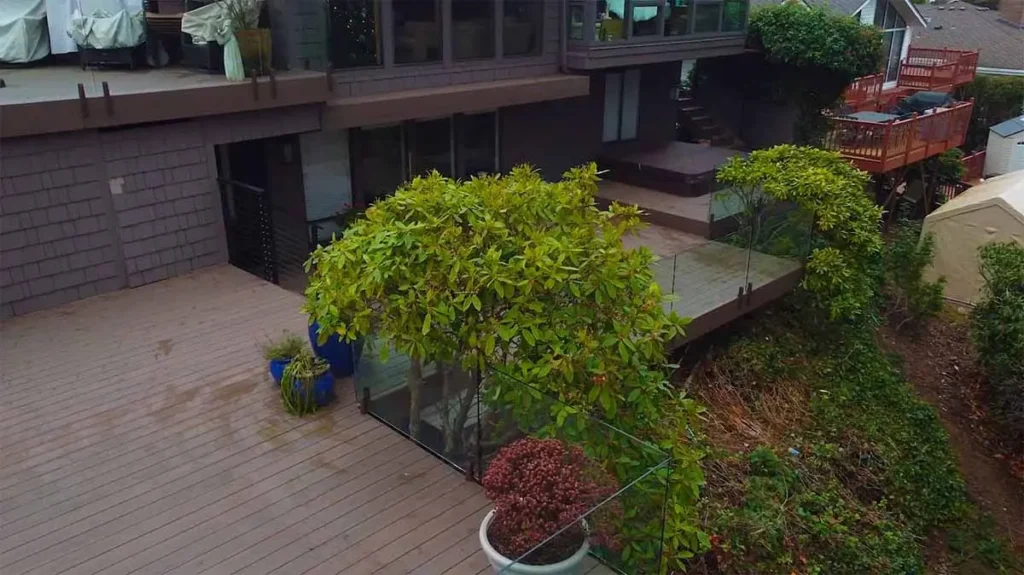 Unlike mounts made from other materials, our 2205 stainless steel mounts are extremely resistant to corrosion. That means you can look forward to your railing system lasting a long time.
Other materials will erode or suffer from corrosion after years of exposure to the elements. Wood rots, aluminum corrodes, and steel rusts. But glass and 2205 stainless steel last year after year. When was the last time you had to replace windows? And remember that our glass railings are much stronger than your windows.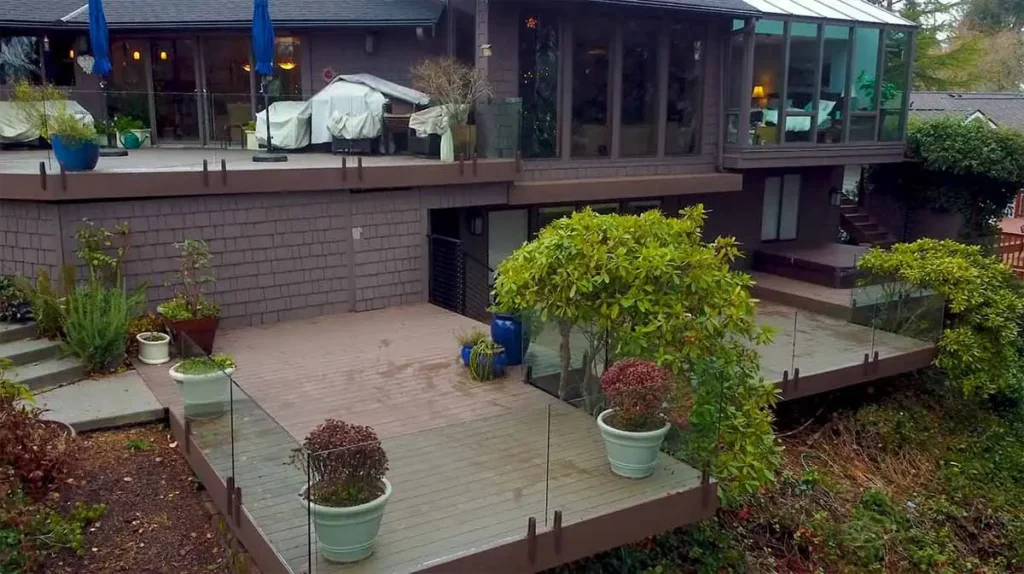 So they're safe and durable. And, of course, we can build LED lighting into them. So what are you waiting for? Get your free consultation with 3 Brothers Decking today!
Installation Process for Frameless Glass Railings
Installing a frameless glass railing can be a complex process, so it's important to hire a professional to handle the job. 3 Brothers Decking offers a team of experienced professionals with extensive knowledge in constructing frameless glass railings.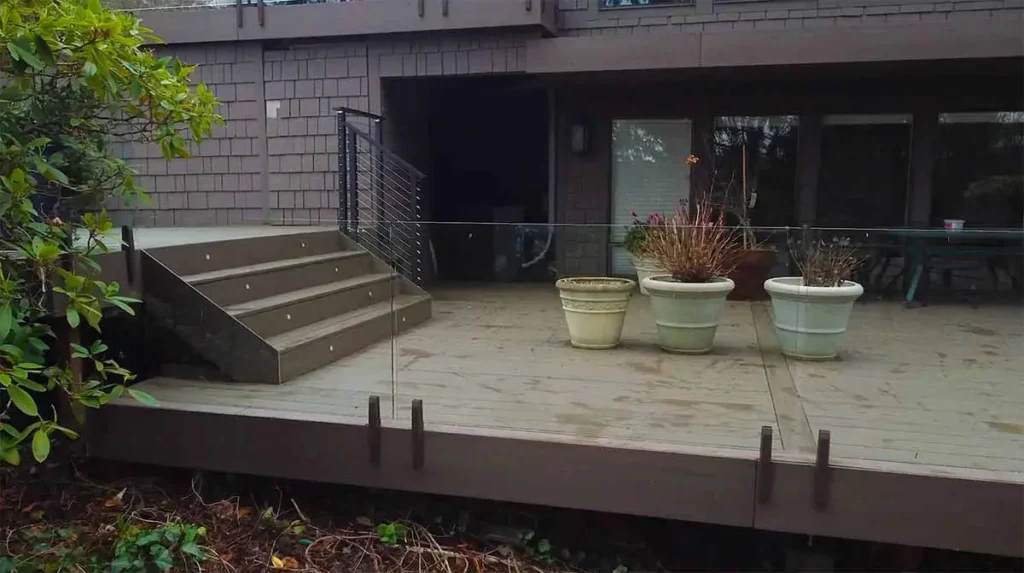 The installation process begins with the team taking precise measurements of the outdoor space. Once we take the measurements of your deck, the team creates a custom design for the railing and orders the materials. After we receive the glass and mounts, the team prepares it for the installation process.
The installation process typically involves drilling holes into the decking or balcony floor and securing the mounts in place. Once we secure the mounts, we fit the glass panels into place. The entire process usually takes a few days, depending on the complexity of the job.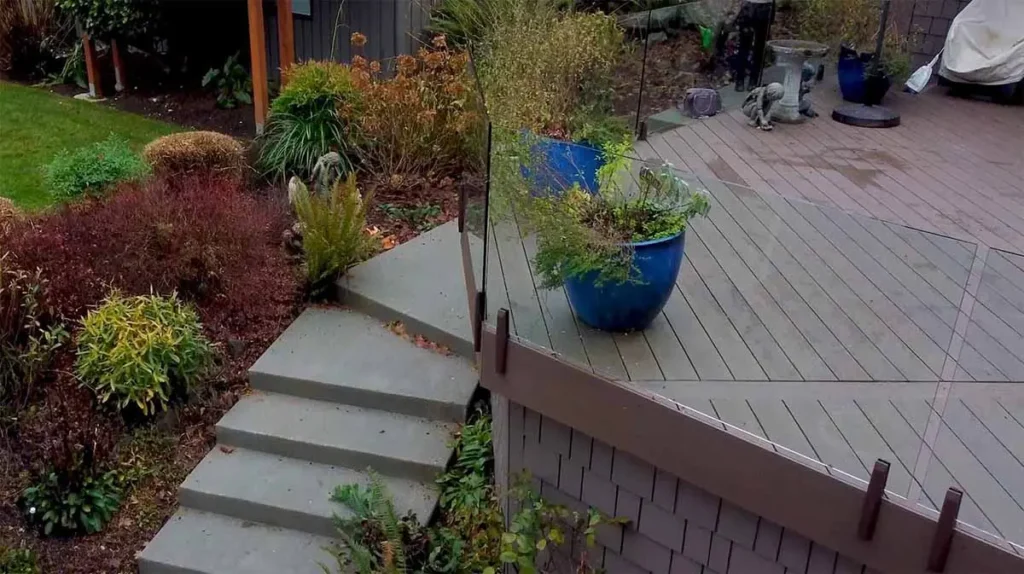 Maintenance Tips for Frameless Glass Railings
Maintaining your frameless glass railing is a breeze. All you need to do is give the glass a quick wipe down with a damp cloth to keep it looking its best. We suggest mixing a little dish soap into warm water and using a squeegee. Then rinse the railing and dry it with a reusable microfiber cloth.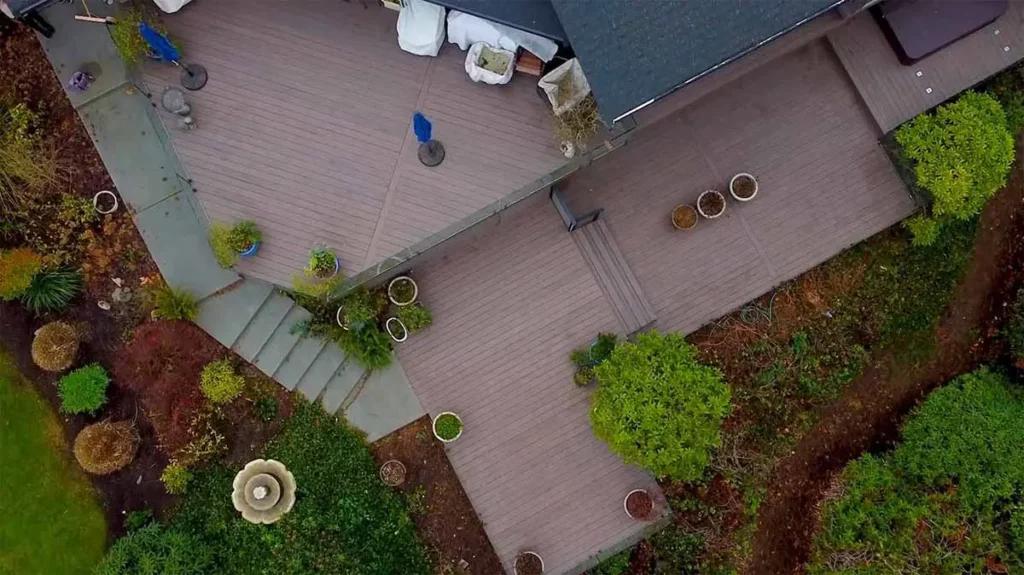 Are Frameless Glass Railings Best for Your Deck?
If frameless glass railings aren't the best choice for your deck, we have several other options for you. We can install all the most popular railings on your deck. Check out our railings page for information on the many types of railing we provide, from wooden walls to horizontal cables to aluminum picket railings. Whatever you desire, we have a railing solution for you. If you're still not sure which is best for you, try our deck railing recommendation app.
Frameless Glass Railings in Bellevue, Seattle, and Northern Idaho
Installing frameless glass railing is a great way to make the most of your deck or balcony. Frameless glass railings are strong, durable, and require very little maintenance. Plus, they're available in a variety of sizes, meaning we'll have an option that's perfect for your deck. And don't forget the great mood LED lighting enhanced glass railing can set for your deck.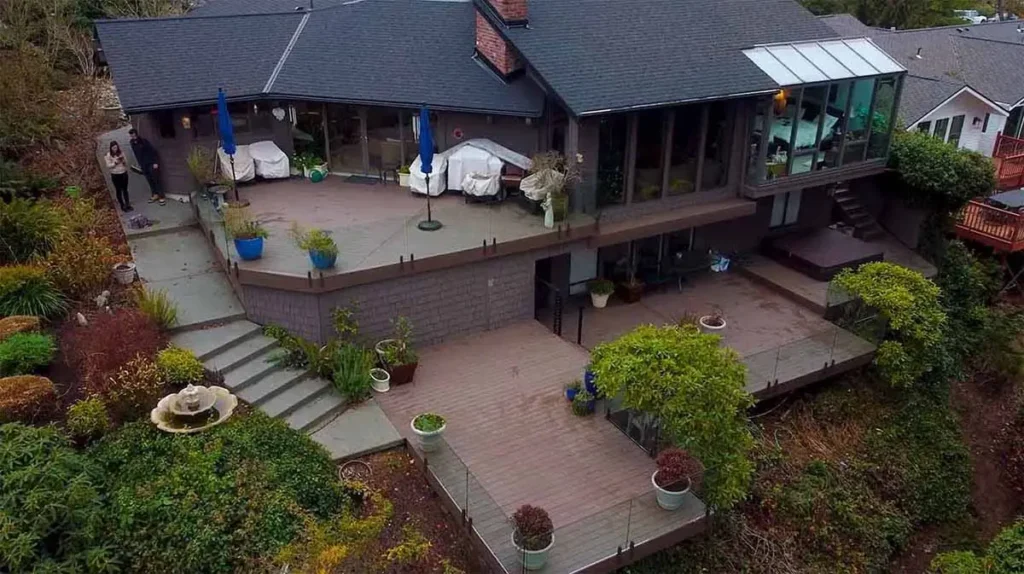 Whether you're looking for deck renovation or entirely new construction on your property, 3 Brothers Decking can make your dream a reality. Contact us today for a free consultation! You can reach us at (425) 505-5282 in Western Washington or (509) 998-6522 in Northern Idaho. We believe everyone should be able to enjoy their outdoor space without compromise — and with 3 Brothers Dec