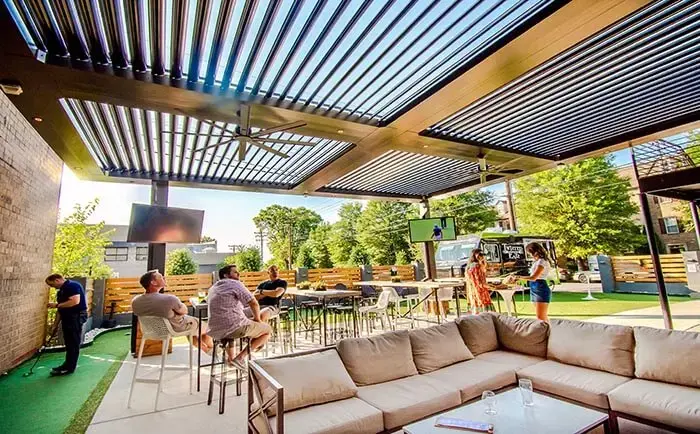 Transform your deck into the ultimate gathering spot where memories are made, laughter is shared, and life is celebrated.
Imagine stepping onto your deck and entering an outdoor haven crafted for connection, celebration, and relaxation. The secret to hosting unforgettable gatherings under the sky lies in the details — the thoughtful touches and smart additions that turn a simple deck into an entertainment oasis.
In this exploration of outdoor hosting essentials, we'll walk you through how to create that ultimate entertainment space where every gathering is an event to remember.
Setting the Scene
Begin by envisioning your deck as a stage set for the stories that will unfold. This is where the architecture of your home extends its warmest welcome, mingling with the natural beauty of the outdoors to offer a sanctuary for celebration.
Flow and Functionality: Ensure your layout accommodates movement and interaction, with open areas that invite guests to mingle and cozy nooks for more intimate conversations.
Aesthetic Continuity: Choose materials and styles that complement your home's design, fostering a sense of harmony between indoor and outdoor spaces.
Comfort with Durability: Select furnishings that offer the coziness of indoor seating while withstanding the elements, ensuring lasting allure through seasons of use.
A deck that's both functional and inviting sets the stage for gatherings that are as effortless as they are enjoyable, paving the way for a perfect hosting experience.
Light Up the Ambiance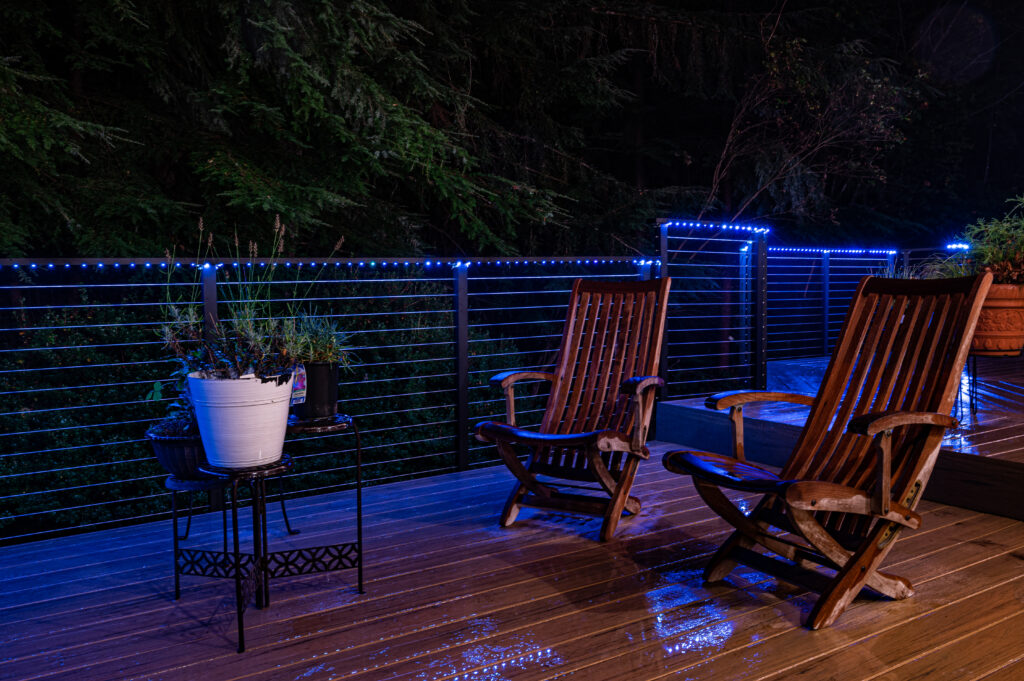 Lighting is the invisible thread that weaves atmosphere throughout your deck. As daylight fades, the glow from your chosen illumination will gently cradle your evening soiree, ensuring that every handpicked detail is seen and every smile felt.
Strategic Illumination: Incorporate a combination of overhead, task, and accent lighting to cater to all aspects of your event, from dining to dancing.
Energy and Efficiency: Utilize LED options and solar-powered lights for a sustainable celebration that's as kind to the environment as it is to your guests.
Mood Setting: Dimmers and colored lights can adjust the ambiance, creating a lively or relaxed mood to match the tone of your gathering.
The right lighting not only ensures safety as the night deepens but also helps create an enchanting setting that keeps the party going.
Outdoor Dining Essentials
As the evening unfolds, let's shift our focus to the heart of any gathering—the cuisine. Your deck can effortlessly transition into an interactive dining haven with a grilling station that's not just for cooking, but for engaging. Place your grill and prep spaces strategically, where the action is visible and inviting, encouraging guests to gather and converse as the feast takes shape.
With your grill sizzling, arrange your deck to make serving and socializing seamless—place seating and tables to encourage easy interaction, turning meal preparation into a collective experience.
This layout not only makes dining convenient but also enriches the social atmosphere, ensuring your deck is the scene of enjoyable gatherings.
Interactive Entertainment: Beyond the Table
As the plates clear and the twilight deepens, your deck becomes a stage for the night's second act: entertainment.
It's time to transition from dining to delight, offering a variety of activities that cater to all tastes. A thoughtfully placed sound system can set the mood with music or transform your deck into an outdoor cinema for those movie nights that twinkle as much as the stars above.
In one corner, you might spot guests engrossed in a game of cards, laughter spilling into the night air. In another, a mini-golf setup or a cornhole game invites a friendly bout of competition. It's these carefully chosen elements that turn your deck into a mosaic of entertainment options, ensuring that each guest can find their nook of joy.
Remember to craft spaces with intention, from a cozy, cushioned bench tucked away for heart-to-hearts to a vibrant, open area where guests can move and mingle.
Personal Touches: The Heart of Your Deck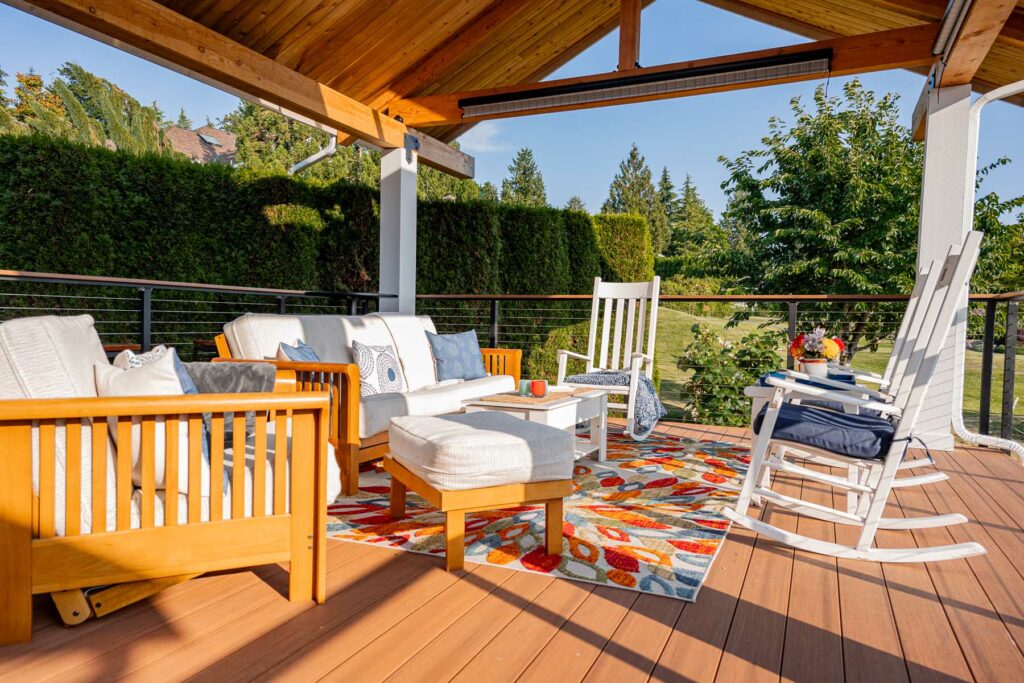 Personalization is key to creating an environment that feels like an extension of your inner world, inviting guests into your narrative.
Thematic Decor: Adorn your space with elements that reflect your personal style or the theme of your event, creating an immersive experience.
Seasonal Adaptability: Swap out decorative elements to suit the season, maintaining a fresh and timely ambiance that celebrates the time of year.
Signature Flair: Let your interests and passions shine through in the details, from a collection of potted herbs to a display of vintage lanterns.
The heart of your deck lies in the personal touches that mark it unmistakably as your space, a haven for hospitality that resonates with your unique essence.
Your Deck, Your Stage
In crafting your deck into an entertainment paradise, every element plays a part in curating the perfect ambiance for connection and joy. From the flicker of well-placed lights to the comfort of a personalized space, your deck becomes a living canvas for the memories you'll create.
At 3 Brothers Decking, we're committed to helping you realize the vision of your ideal outdoor setting. With your inspiration and our craftsmanship, your deck will not just host your events—it will enhance them.
Let's build a space where laughter and stories fill the air, where every gathering is an occasion to remember.
Ready to create the ultimate entertainment spot?