Unlock the hidden potential of your deck with these essential maintenance routines, and bask in the long-lasting beauty and functionality of your outdoor haven.

Why Deck Maintenance is a Long-term Commitment
Your deck is not just an outdoor space; it's a living, breathing part of your home that offers countless memories and experiences. However, like any treasured asset, it requires consistent care and attention to age gracefully. Think of it as an investment—what you put in, you'll undoubtedly get out in durability, aesthetics, and functionality.
This comprehensive guide will explore nuanced methods and insider tips to preserve your deck's beauty and extend its life. The focus is not just on surface-level cleaning, but on understanding how each maintenance step adds years to your deck's life.
The Foundation: Routine Inspections
Think of routine inspections as the regular health check-ups you'd give a prized pet. At least twice a year, roll up those sleeves and conduct a thorough examination of your deck. This should include:
Checking for loose or corroded fasteners and hardware Identifying any wood that's started to rot Looking for cracks that could indicate structural issues
Tackle these problems head-on; replace fasteners, remove rot, and consult professionals if you suspect structural damage.
These proactive steps significantly cut down on long-term expenses.
Sweeping and Cleaning: The Basics and Beyond
The importance of basic cleaning can never be overstated. Leaves, dirt, and other debris can accumulate and trap moisture, which can lead to mildew or even rot. But sweeping and washing offer more than just superficial benefits; they also prepare your deck for further maintenance steps, like staining and sealing, allowing for optimal absorption and a more effective finish.
Consider investing in a power washer to remove stubborn grime and reveal the natural wood underneath.
Advanced Cleaning: Deep Dive into Detailing
To go the extra mile in cleaning, you can use specialized wood cleaners or brighteners. These products restore the wood's pH balance, renewing its original look while improving stain penetration. Wood brighteners are particularly useful for removing tannin stains or rust from nails. Don't forget corners and hidden spots—they deserve your attention too.
Staining and Sealing: Protection and Aesthetics
Staining isn't just about giving your deck a facelift. It also provides an essential layer of protection against water and UV rays. Deck stains come in multiple types, including clear, tinted, and solid colors, each offering different levels of protection and visual effect. Make sure to select a stain that complements your deck's wood type and climate conditions.
Sealants, on the other hand, offer a transparent layer that locks in the wood's natural beauty while warding off moisture. You'll want to restain and reseal your deck every couple of years or as soon as the water stops beading on its surface.
The Hidden Enemy: Water Damage
Water is a slow poison to wooden decks. Standing water can warp boards, while consistent moisture encourages mold and mildew. A proper drainage system is your first line of defense against water damage. Keep an eye on your deck during rain; if you notice pooling, it might be time to reevaluate your deck's slope.
Additionally, make gutter maintenance a part of your deck care routine; a blocked gutter can result in water spillage that seeps into your deck, accelerating its degradation.
Unseen Threats: Pest Control
Termites and carpenter ants are insidious invaders that can wreak havoc on your deck from the inside out. These pests often go unnoticed until it's too late, so preventative treatment is key. Use insecticides that are specifically designed for outdoor wooden structures to keep these nuisances at bay.
Furnishing and Equipment: Choose Wisely
Did you know that even your choice of furniture can affect your deck's lifespan? Heavy metal furniture or poorly designed grills can cause physical damage and stains. Opt for furniture with rubber stoppers, and ensure your grill has an insulating mat beneath it. This doesn't just protect the wood; it also makes your deck a safer place to hang out.
Seasonal Care: Adapt and Overcome
Your deck's needs change with the seasons. In summer, your focus may be on UV protection, while winter will require a focus on moisture and snow load. Adapt your maintenance routine to seasonal challenges for the best long-term results.
Your Deck—A Lasting Legacy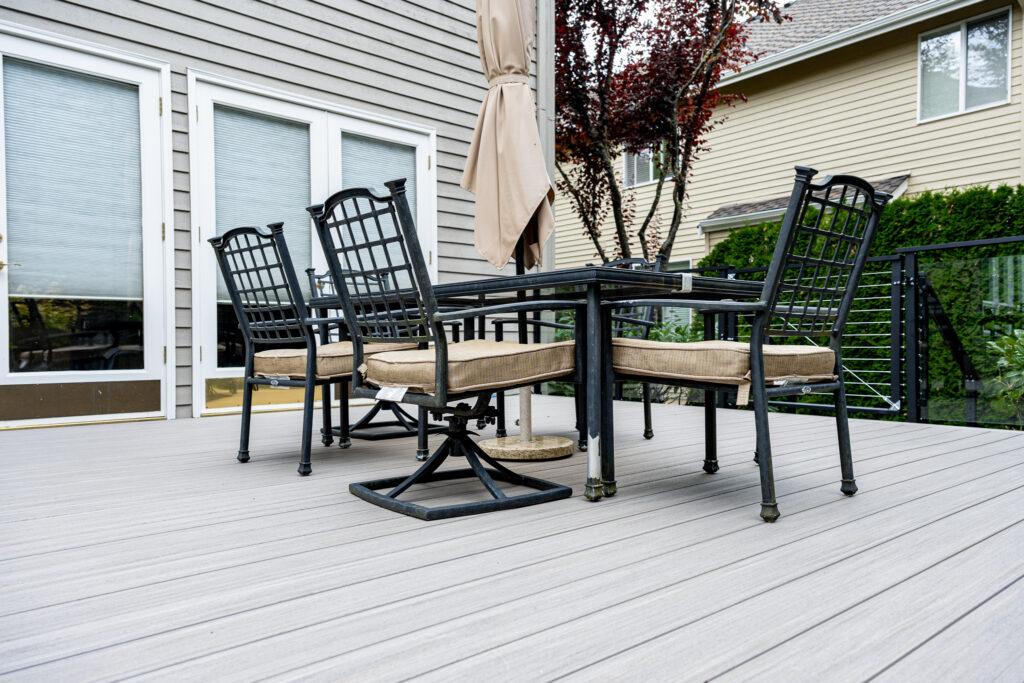 The ultimate objective of deck maintenance is to create a durable, aesthetically pleasing space that you can enjoy for years. Armed with this comprehensive guide, you're well-equipped to face any challenge.
If you're looking for professionals to help guide you through your deck's lifecycle, from inception to ongoing care, consider partnering with 3 Brothers Decking.
With our wealth of experience and services, we provide unmatched quality, ensuring your deck remains an integral part of your home for years to come.
Ready to embark on this decking adventure?
Preserve your deck's beauty with 3 Brothers Decking, and connect with us today!