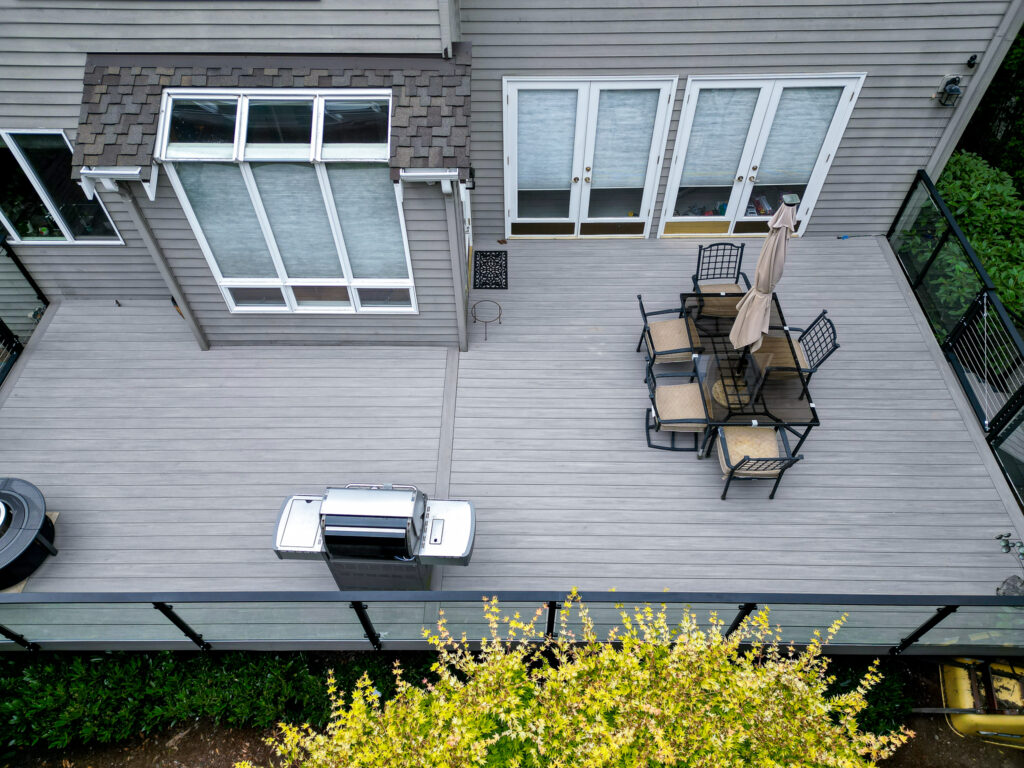 Equip yourself with the knowledge to choose the best deck material, adapt to your climate, and budget wisely
In this guide, we empower you with crucial insights to navigate the myriad of decking choices, ensuring your final decision resonates with your aesthetic preferences, stands strong against the whims of the weather, and aligns with your financial planning. With every line, visualize the material that not only elevates your home's charm but also promises years of joy and comfort underfoot.
Let's embark on this path together, turning your vision into a tangible, treasured extension of your living space.
The Importance of Choosing the Right Decking Material
Picking the right material for your deck is more than just a one-time decision; it's a long-term investment in your home's value and your quality of life. Choose a less-than-ideal material, and you might find yourself grappling with issues like premature fading, warping, or even rotting. On the flip side, a carefully chosen material can keep your deck looking gorgeous and virtually maintenance-free for years to come.
Choosing the right material also affects safety. Certain options provide better traction to prevent slips, while others excel in weather resistance, minimizing the chance of structural issues down the line.
So, don't cut corners when choosing your decking material. Consider it a cornerstone decision that will influence everything from your deck's aesthetics to its durability and safety features.
Believe us, a little thoughtful planning now will make for countless relaxed, worry-free evenings on your dream deck in the future.
Aesthetics, Function, and Durability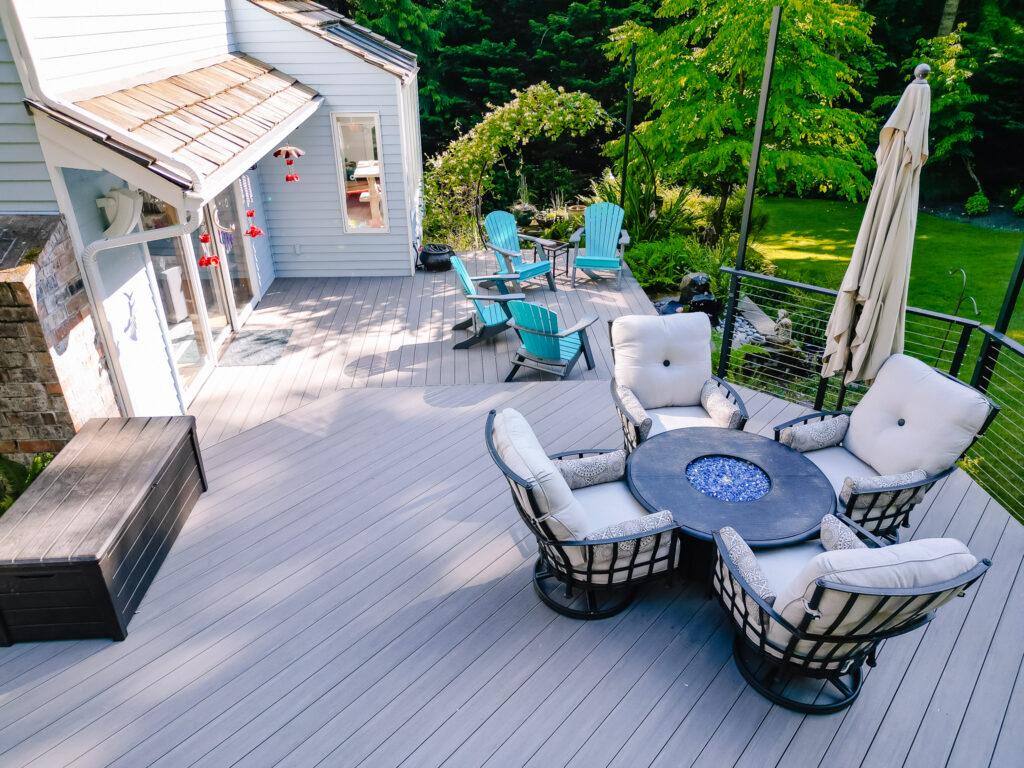 Constructing the ideal deck is like assembling a jigsaw puzzle: every piece should fit together seamlessly, but each plays a unique role. Let's zoom in on the big three: aesthetics, function, and durability.
Overlook one, and you may end up with a deck that's a feast for the eyes but a drain on your time and wallet.
Aesthetics: Sure, you want your deck to be the envy of the neighborhood, but what does that actually look like? Are you envisioning sleek modern lines or something more rustic and cozy? Your choice of material and color can significantly influence your deck's overall vibe, not to mention how it complements your home's exterior.
Function: What's the primary use of your deck? Whether it's for sipping morning coffees, hosting weekend BBQs, or serving as a playground for your kids, the function should dictate the layout and features. Think built-in seating, planters, or even an outdoor kitchen.
Durability: Selecting a material that can withstand your local climate while requiring minimal upkeep is crucial. Do you want to invest in something that may be pricier upfront but saves you maintenance headaches down the line?
By keeping these three pillars—aesthetics, function, and durability—in mind, you're not just building a deck; you're crafting an outdoor sanctuary tailored to your lifestyle.
Types of Decking Materials
Choosing the right material for your deck is like laying the foundation for a home; it sets the stage for everything else to come. The good news? You're spoiled for choice! From pressure-treated to composite, the world of decking materials is rich and varied. Let's break down the frontrunners:
Composite Decks: These are popular for their low-maintenance nature and sustainable materials. They also offer a modern aesthetic that appeals to a wide audience.
Pressure-Treated Wood Decks: These are a budget-friendly option many homeowners consider, especially for a first-time decking project. The pressure treatment gives them a durability boost, making them more resilient than untreated wood.
Hardwoods and Premium Softwoods: This category offers that timeless, classic look that some people absolutely love. With options like ipe and cedar, these types of wood offer a luxury appeal but require more maintenance.
Climate Considerations: Material Behavior in Various Weather Conditions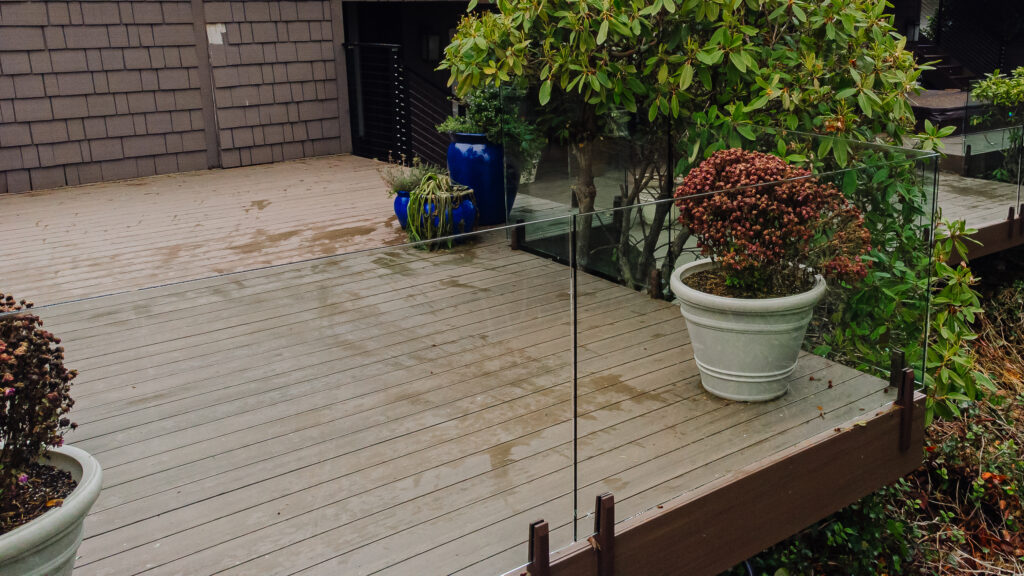 When it comes to building your dream deck, your local weather isn't just small talk—it's a crucial factor that can make or break your decking material choice. Let's break it down by material type:
Composite Decks: These champs can handle a range of weather conditions. Unlike wood, they won't warp or crack in extreme temperatures. However, darker shades can get scorching hot under intense sunlight, so consider lighter tones if you're in a sun-drenched locale.
Pressure-Treated Wood: This wood is a good pick for humid or rainy regions and is fairly resilient to moisture thanks to its chemical treatment. But keep in mind it can be prone to cracking in dry climates unless regularly moisturized with sealants.
Hardwoods and Premium Softwoods: A natural choice for durability, but there's a catch—certain hardwoods like Ipe can be quite heavy, making them less ideal for areas prone to heavy snowfall as the added weight could be an issue. Also, woods like cedar are more susceptible to moisture and may require extra care in humid conditions.
So, think of your climate as a silent partner in your deck-building project. Pairing the right material with your local weather can extend your deck's lifespan and reduce maintenance, giving you more time to enjoy those perfect, weather-friendly days and nights.
Budget Breakdown: Understanding Cost Over Lifespan
When considering the cost of your dream deck, it's tempting to focus solely on initial expenses, but it's the ongoing costs that can catch you by surprise.
Composite decking could seem expensive at first glance, but its minimal maintenance needs save you money in the long run. You'll rarely need to invest in things like stains or sealers, giving it cost-effectiveness over time.
Pressure-treated wood, although cheaper upfront, can actually rack up costs due to its higher maintenance requirements, such as staining and board replacement.
Then there's the realm of hardwoods and premium softwoods like ipe and cedar. These offer a high-end, durable finish but require a consistent maintenance routine, including specialized cleaning or even professional care.
Therefore, when choosing your decking material, it's wise to look beyond the initial price and consider the long-term financial implications. This holistic view helps ensure you make a choice that's both budget-friendly and suited to your lifestyle.
Making Your Final Decision with Confidence
Crafting the perfect deck is like writing a story, with each material and feature adding to your home's narrative. This story considers everything from your local climate to lifestyle and even adds a touch of luxury.
By harmonizing what you've gathered from this blog, you're paving the way for years of outdoor bliss, filled with memorable gatherings and serene moments of solitude.
At 3 Brothers Decking, we're committed to helping you make these critical choices with clarity and confidence. From the first sketch to the final nail, we're here to ensure your decking dream becomes a long-lasting reality.
Ready to stop planning and start enjoying your outdoor living space in confidence?
Explore our services, and let's create your perfect outdoor sanctuary!