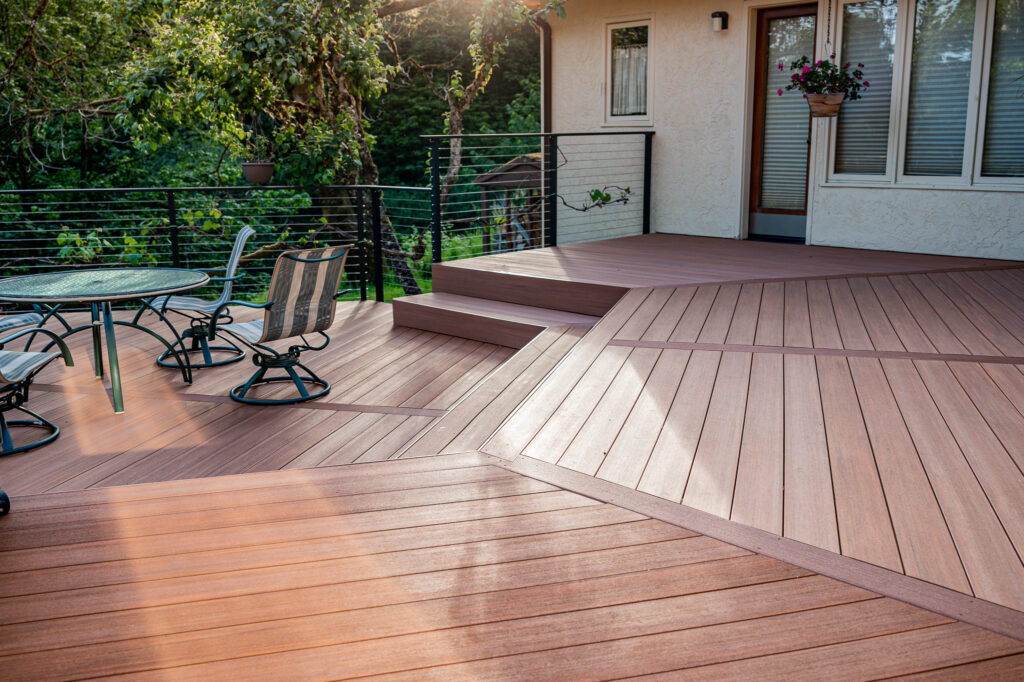 The decision to start a household project like building a new deck (or repairing/modifying an existing one) is no small task. There are many crucial factors you'll want to consider before you get started!
This blog post will give you the inside scoop on the best tips and tricks you'll want to know before you get started…

PLUS, we're sharing our recommendations on how to ensure you get the perfect outdoor oasis you've been dreaming of – without the hassle.
Read on to dive into your deck or patio-building journey with confidence and peace of mind!
Step #1: Map Out Your Project Needs & Budget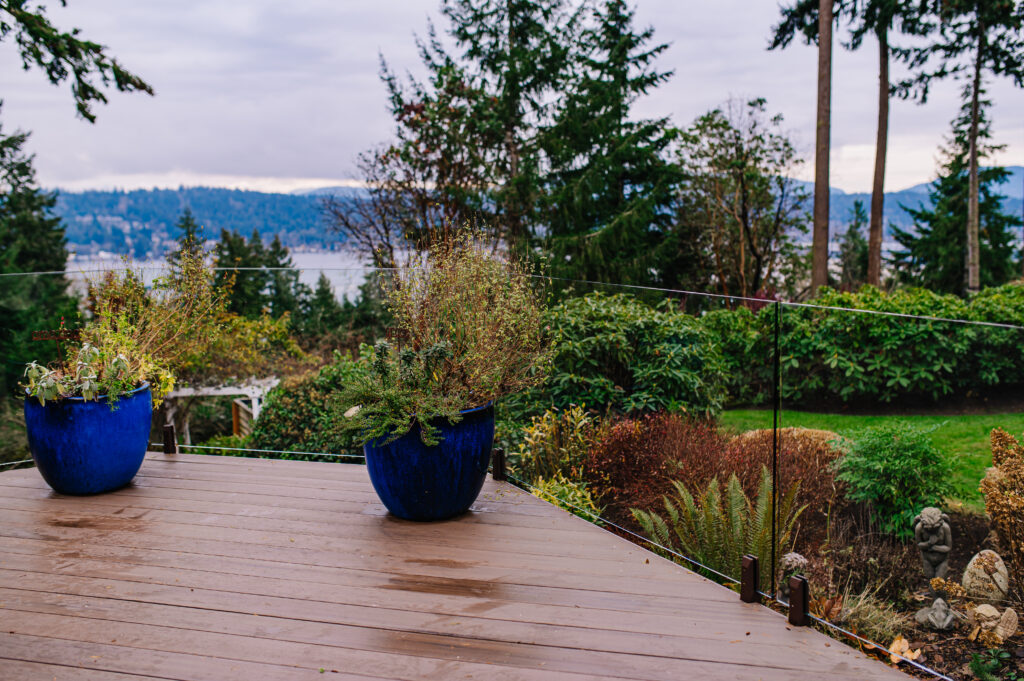 Before you embark on your journey, you'll need a roadmap on how to get there. This step is all about defining your wants, needs, goals for your future outdoor living space and the budget you'll dedicate to the project.
NOTE: We recommend you whip out a notepad and pen as you get started in your planning phase! It will be extremely helpful to be able to revisit your notes and research later.
Here are a few important factors you'll want to consider at this stage:
Size, Style, and Design
What style of deck are you envisioning? We recommend collecting inspirational images, putting together your likes and dislikes, and doing research to discover your unique style so that we can allow your personality to speak through your outdoor space.

Are there specific design elements you want to include? Multi-level areas, built-in seating, or maybe a custom pergola or porch swing? Get creative!

Materials
Do you have any preferences on what materials your deck will be made out of? Whether you choose wood, composite, or another decking material, this is a crucial element of the design that will impact the final overall look of your deck.

If you're looking for suggestions, try researching which materials typically perform the best for your specific region or weather conditions. Your choice of materials can also impact both the cost and long-term maintenance requirements for your deck.
Budget
How much are you willing to spend on your deck project? Establishing a clear budget early on in the planning process will help you narrow down your options when seeking a builder later on.
NOTE: Construction costs can sometimes exceed a client's original budget due to unforeseen circumstances, delays, and labor costs.

We consider it a best practice to include an extra 10-15% in your budget for unexpected hiccups!
Step #2: Phone A Friend (Ask for Recommendations!)
You've mapped out how you want your deck to look, feel and how much you plan to spend. Now, we can start looking into finding the perfect contractor or builder to help us get started!
The best place to find a reputable, trustworthy deck builder is by asking around your community. Do you have friends or neighbors who recently built a deck or outdoor living space? We always recommend phoning a friend first to get the most honest and dependable advice on local contractors.
If you're not having any luck asking friends, colleagues, or neighbors, you can also check social media or review websites like Angi (Angie's List) to find information on other customers' past experiences with builders in your area.
Step #3: Research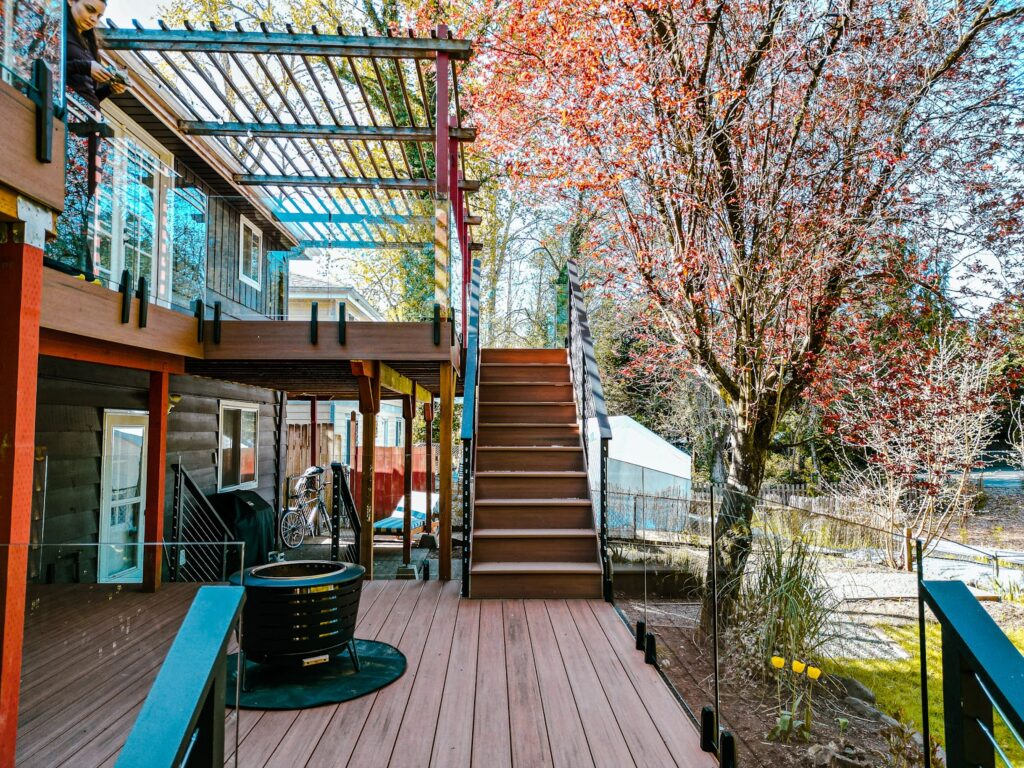 Once you have a list of potential deck builders in your area, you'll want to start your thorough research on each one. We recommend taking detailed notes on this step and keeping them easily accessible – this will be invaluable throughout your building journey.
We think it's important to pay attention to the following factors when researching your list of deck builders or contractors:
Experience
Find out how long the builder or their company has been in business. Established companies with a track record are often more reliable than those just starting out.

Credentials and Licensing
You'll want to ensure the builder is licensed and has the necessary permits to work in your area.

Insurance
Also, confirm that the builder carries liability insurance, which is crucial in case of accidents or property damage during construction. (We can't recommend this tip enough.)

Portfolio
Review the builder's portfolio to get a sense of their work. Look for projects similar to what you have in mind so you can feel confident in their ability to create your ideal look.

References
You can also ask the builder for references from past clients or view testimonials on websites like Angi, Yelp, or Facebook.
Step #4: Interviewing Your Candidates
Got your research narrowed down to a few potential candidates? Great – it's time for interviews!

This may seem a bit strange at first, but it's very common in the industry, and any good deck builder or contractor will be more than happy to meet with you for a quick interview or consultation session.
Before your meeting, prepare a list of important questions you want to ask, including any information you couldn't find online.
Here are a few questions we recommend you ask to make sure you know what you're getting:
What is the expected timeline for the project from start to finish?
Will the builder be using subcontractors for any part of the project, and if so, what is their role throughout the job?
Will the builder obtain the necessary permits, and how familiar are they with local building codes and regulations? Have they done work in your area before?
Does the builder offer a warranty on their work, and if so, what does it cover?
What is the payment schedule for the project? (NOTE: Be wary of builders who demand a large upfront payment.)
How will the builder keep you informed throughout the project, and what is the best way to contact them if you have questions or concerns?
Step #5: Compare Written Estimates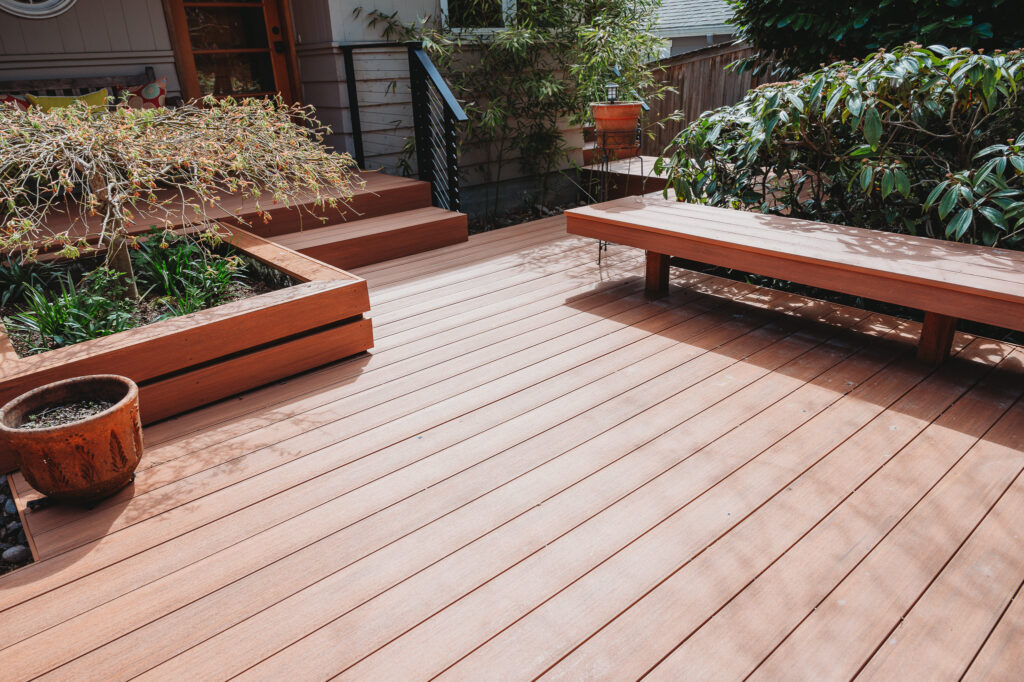 Once you've met with several builders and discussed your project, you should request a detailed written estimate. The estimate should include a complete breakdown of costs, materials, labor, and any additional expenses for your project parameters.

We also like to see an estimated timeline included as well! If the initial estimate doesn't have a timeline, you can always ask for one.
Pay attention to any discrepancies, questionable line items, or unexpected charges. If you have any questions, you should address them with the builder ASAP!

A good-quality, transparent estimate is the sign of a trustworthy professional builder.
Step #6: Double Check for Proper Licensure
Before making your final decision on a deck builder, you should verify that they are properly licensed and insured. The builder should be completely transparent and open to discussing this topic and should offer proof of insurance and licensure without hesitation.
Licensing ensures that they meet the necessary qualifications to perform the work indicated for your project. Insurance adds protection in case of accidents or damage during construction.
Step #7: Review Your Contract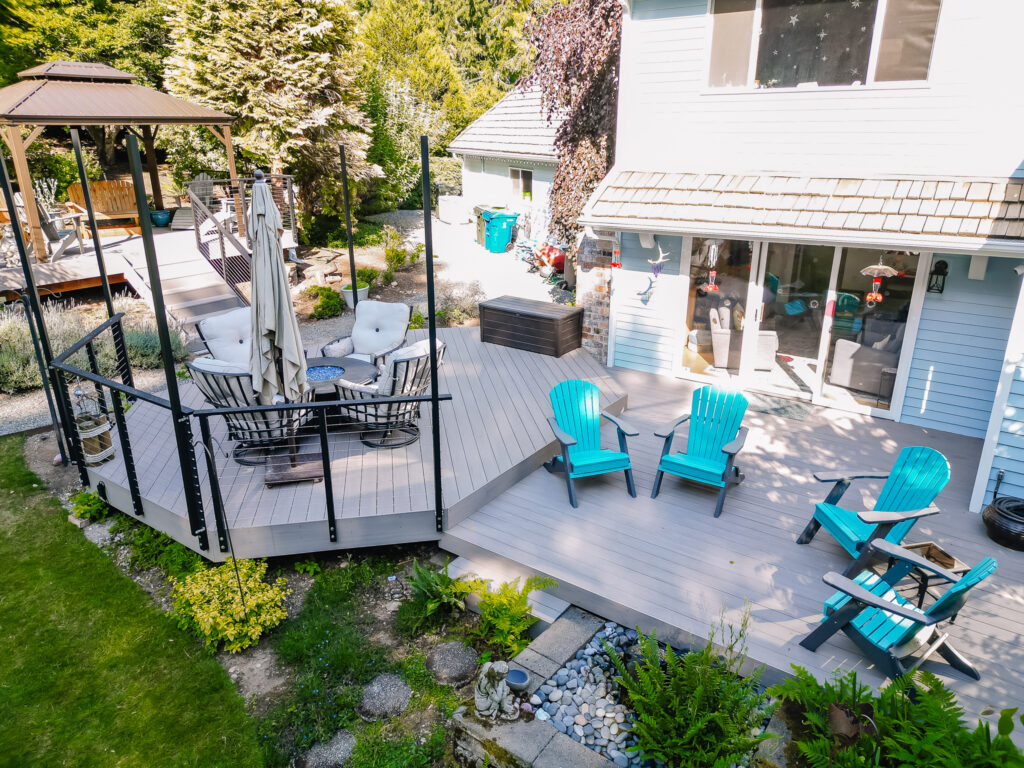 You're almost there! By now you should feel completely confident in the deck builder you've selected for the job. The last thing on the list is to get your contract and review it with a fine-toothed comb.
A detailed written contract is crucial for both you and the builder to create an outline for the scope of work and how it will be accomplished. It should include specifics about the project, such as materials, design, timeline, payment schedule, and any warranties.
You'll want to ensure that all verbal agreements are included in the contract, which is why we said to keep good notes early on in the process! Review your contract carefully, have multiple people review it if possible, and don't hesitate to seek legal advice if you have any concerns.
Step #8: Trust Your Gut
The last step is more like a piece of cautionary advice: trust your instincts. Choose a builder with whom you feel comfortable and confident. If anything feels fishy throughout these initial research and interview stages, don't ignore those feelings.
The builder you select will be your partner throughout the project, so clear communication and a good working relationship are vital to making your dream deck a reality!
---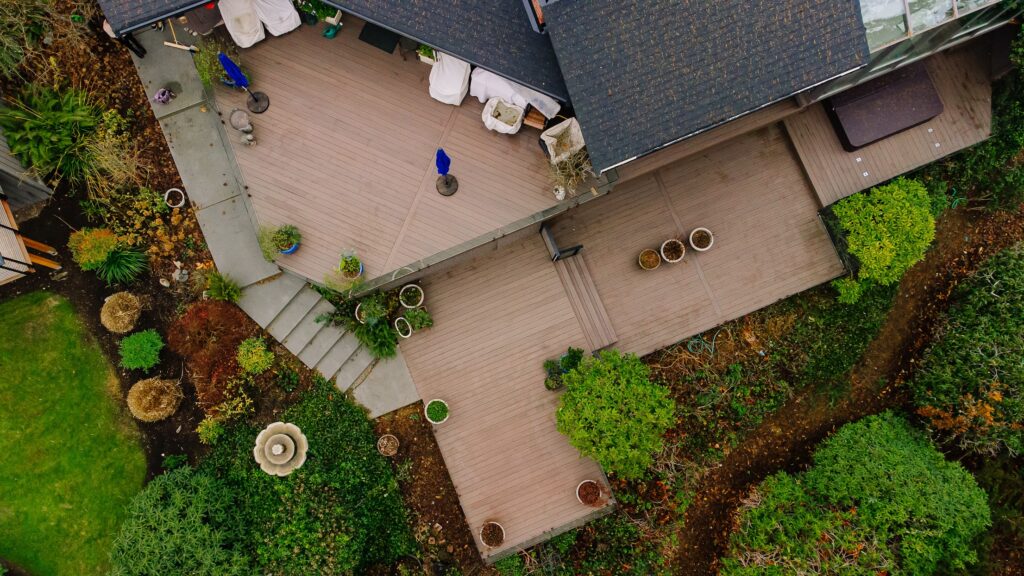 Navigating the intricate details of choosing the right deck builder can feel like a maze, but we've just walked you through a step-by-step guide to illuminate the path. It's a journey that requires attention to experience, licensing, budgeting, and so much more.
As you take the final step and trust your instincts, consider the expertise and proven track record that 3 Brothers Decking brings to the table.
Why leave your dream deck to chance? Explore our comprehensive list of services, and let's take the next step in crafting your outdoor oasis together!