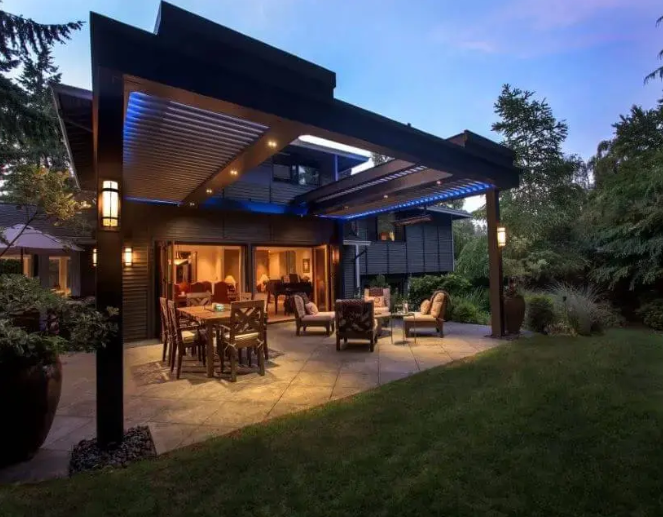 Discover how automatic pergolas offer luxurious convenience and versatile design to transform your outdoor living space.
Automatic pergolas are fast becoming the crowning jewel of outdoor spaces, blending innovative technology with aesthetically pleasing designs to create multifunctional areas that cater to a variety of experiences. As you explore the advantages of integrating an automatic pergola into your deck or patio, you're uncovering an essential component of contemporary outdoor design.
In this blog, we'll delve into unique features and benefits that not only enrich your investment but also enhance the quality of your outdoor living.
1. Vast Customization
Automatic pergolas stand out for their incredible adaptability to personal preferences. You have a wide range of design choices, so you can tailor your outdoor space to perfectly suit what you like and how you live. These versatile structures go beyond just providing shade—they offer a custom-designed spot that aligns with your specific needs for beauty and practicality.
Here's how automatic pergolas can be tailored to each homeowner's unique style:
Choice of Design: Whether you prefer a modern minimalist look or a cozy, rustic feel, there's a pergola design to fit your vision. You can pick from different materials and finishes that harmonize with your house's design.
Smart Features: Modern systems let you adjust your pergola for the right amount of light or shade and can even be integrated with your home's smart system for easy control.
Color Selection: A variety of color options lets your pergola stand out or blend in with your home's exterior, depending on what you're looking for.
Lighting Customization: Add built-in lights to your pergola for function or ambiance, transforming your space into a welcoming area at any time of day or night.
Extra Features: Think about adding privacy screens, heating elements, or other accessories to make your outdoor space comfortable in any weather.
2. The Health and Wellness Connection
An automatic pergola bridges the gap between indoor comfort and the refreshing qualities of the outdoors, enhancing your living space with adaptability and balance.
These pergolas foster health and wellness by offering a customizable environment for peaceful outdoor activities like meditation or yoga. They shield you from intense sunlight when necessary, creating a safe and enjoyable outdoor haven.
Spending time under your pergola can also lead to better air quality intake, promoting respiratory health. This access to a comfortable outdoor area increases the likelihood of regular use, reinforcing the connection to nature and its calming effects.
Lastly, the pergola's weather-responsive features make it perfect for hosting, encouraging social interaction in a comfortable setting. It serves not just as a backyard addition but as a tool for enriching your lifestyle with moments of tranquillity and social connectivity.
3. Seamless Event Hosting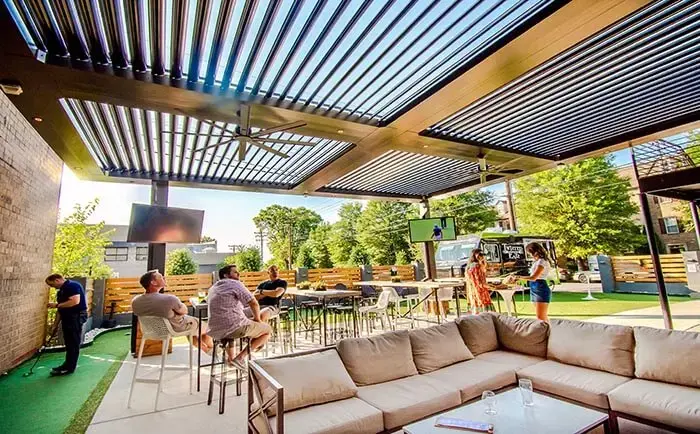 Hosting events at home can often be a challenge, especially when accommodating for the unpredictable whims of the weather. However, with the installation of an automatic pergola, event hosting becomes a breeze, allowing you to plan without the usual stress. Here's what makes automatic pergolas a game-changer for entertainers:
Weather-Ready Celebrations: At the touch of a button, your pergola can adapt to sudden rain or intense sunlight, ensuring your guests remain comfortable. There's no need to set up temporary shelters or move the party indoors.
Ambiance Control: With adjustable shades and lighting options, you can create the perfect atmosphere for any event, from a bright brunch to an intimate dinner under the stars.
Space Maximization: Utilize every inch of your outdoor area by tailoring the pergola's position to suit the event's needs, whether you need full sun for a pool party or shade for a summer cookout.
Ease of Use: Simplified controls mean you can adjust settings without having to step away from your guests, keeping you engaged in the festivities while managing your space's comfort.
Added Comfort: Built-in features like fans or heaters can be integrated into your pergola's design, providing additional comfort for guests as the temperature demands.
In short, an automatic pergola transforms your deck or patio into the ultimate event space, where you can seamlessly transition from one setting to another, ensuring every gathering is memorable for all the right reasons.
4. Smart Integration
Got a smart home, or considering an upgrade to one? Don't overlook your outdoor space. An automatic pergola can become a key feature of your smart home system, bringing high-tech convenience to your backyard.
Picture effortlessly controlling your outdoor environment with simple voice commands or a quick tap on your smartphone. The pergola adapts to your needs, whether you're shading your space from the afternoon sun or setting the scene for an evening soiree with ambient lighting, all integrated with your smart home for a unified experience.
For the tech-savvy homeowner or the aspiring one, integrating a smart pergola into your home automation system means stepping into a world where convenience meets luxury. With the ability to adapt to your preferences and the changing environment, it offers a personalized experience that's effortlessly controlled through your existing smart setup.
5. Elevating Home Appeal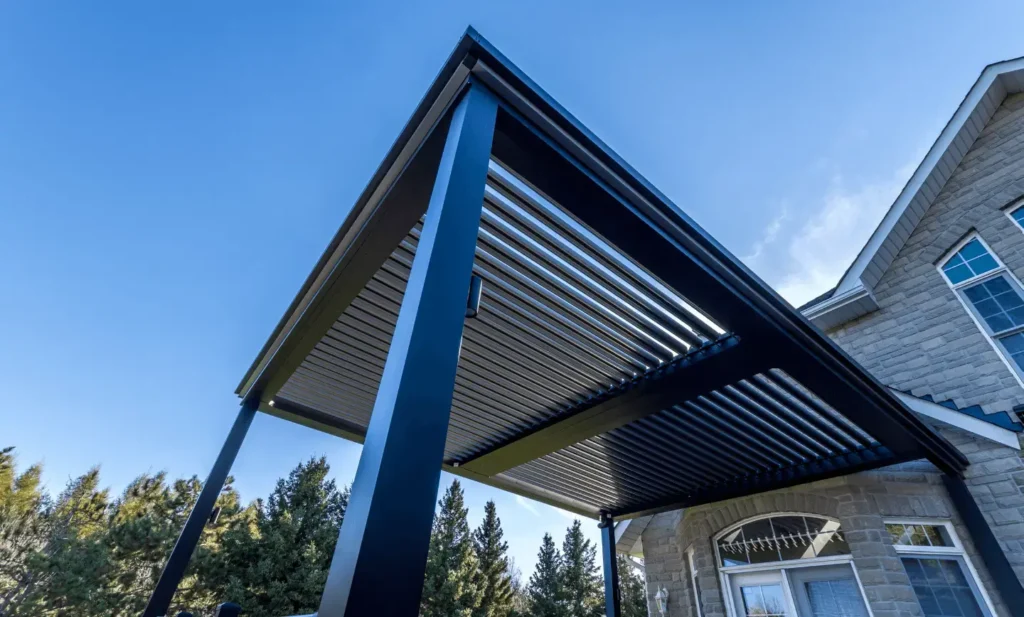 Embracing an automatic pergola can enrich your home experience, potentially influencing your property's appeal in the future. Let's consider how a sophisticated pergola could add to your home's charm:
Visual Enhancement: The presence of an automatic pergola often elevates the visual allure of your property. Its contemporary design and convenience might catch the eye of future home seekers who value outdoor sophistication.
Versatile Outdoor Living: The blend of comfort and outdoor ambiance that an automatic pergola offers could become a noteworthy highlight, possibly making your home more appealing in a competitive market.
Enduring Appeal with Minimal Upkeep: Many automatic pergolas are crafted from materials designed to withstand the elements, offering enduring beauty with less maintenance, which could be an attractive aspect for those considering a home purchase.
Adding an automatic pergola may not only amplify your enjoyment today but could also potentially serve as a noteworthy feature should you ever decide to transition from your home.
A New Chapter in Outdoor Living
Imagine an outdoor space that not only complements your home but also responds to your lifestyle with the whisper of innovation—a smart pergola that offers both shelter and ambiance at a moment's notice.
At 3 Brothers Decking, we specialize in integrating these sophisticated structures into your life seamlessly. Our commitment goes beyond installation; we tailor your automatic pergola to your personal style and the rhythms of your home's smart ecosystem.
It's about creating an outdoor sanctuary that adapts to your desires, where comfort is just a voice command away, and your backyard becomes the setting for every season's story.
Want to transform your deck into a dynamic outdoor haven?