Check out our recent deck drone video in Bellevue!
At 3 Brothers Decking, we take an immense amount of pride in being able to deliver top-tier craftsmanship for every one of our clients. We understand that a deck is so much more than just an addition to a home – it's an extension of your lifestyle, and we are honored to be a part of that.
Our team has many years of experience in the deck building industry, and we use the latest technologies and materials to create long-lasting, beautiful outdoor spaces. We recently used another type of technology during a few of our deck projects – drones!
Drone footage
We recently used drone videography to capture footage and images of four different decks that we built in the Bellevue, Redmond, and Seattle areas. Take a look below to check out the amazing views from above!
Seattle and North Idaho deck compilation
In this video we showcase our recent work in Bellevue, Redmond, Seattle, and North Idaho. As with all of our projects, we used our experience, skillset, and world-class materials to deliver the highest quality product possible.
We were particularly proud of the final products for these four decks as the views from each of them is nothing short of spectacular. While we can't claim the vistas that stretched ahead of each of these properties, we were able to maximize the views by building world-class decks which offered exceptional viewing areas.
Deck overlooking the Bellevue and Seattle skylines
This deck overlooking Bellevue perfectly captures the scenic views through Maisy Rail custom steel cable railing manufactured locally in Washington state.
The decking boards are made of high-quality Trex composite, which is one of our favorite products on the market.
As you can see here, this was an unusual deck as it features slim supporting pillars. We did this so as not to obstruct the view from the lower floors. The result is a high deck with great views, and a ground floor area where the owner can look out across the yard and scenery below. We added lights to the deck to give it a bit of evening ambiance.
You can also see that we used a cable railing system. We did this because it's a sleek, modern design that doesn't get in the way of the views. It's also a very safe railing system that has become a favorite in homes across Washington.
Wrap around deck with covered fireplace living space
This was another great project to work on. When a Maple Valley, WA, homeowner wanted a deck that would expand their usable outdoor space without blocking their gorgeous backyard views, we knew exactly what needed to be done.
We created a deck which wrapped around the entire back of the house. This deck includes a staircase, with Maisy Rail cable railing gates to match, and a deck cover for shade and protection from the elements for all-season use.
We took the central location of the door and adjacent bay window into consideration and created a design that went with the flow of the space. We made sure that we left plenty of space for a staircase that didn't jut out into the yard below. The balance worked out nicely.
To give it a modern look we used angled edges instead of 90-degree edging. We really like how this angling gives the deck a more fluid feeling. You can see how the trees surrounding the home gives the property a sense of being immersed in nature, while the green flowing lawn provides a great view out as an introduction to the scenery ahead.
The final result was a deck that transformed this home's exterior into a more functional entertaining, dining, and outdoor living space.
This project was great fun to work on because we got to explore a fresh twist on a classic design.
High balcony deck with two levels
This high balcony deck was way up there, providing incredible views from the home over the landscape below. This client had a wonderful property, that was further enhanced with a two-level deck featuring a Maisy Rail cable system. We didn't want to hold back on maximizing the view, and this type of railing was perfect for this.
The lower level provided privacy, while the top level offered nothing short of the best possible view in the area. The client was overwhelmed with this expansive deck that created the ideal space in which to host friends and family.
It really was a great project to work on.
Deck with covered grill and bar space underneath
One of our favorite aspects of deck construction is being able to do a lot with very little, which is something that we achieved with this project.
This project began with a fairly conventional architectural foundation – a brick patio with a stone retaining wall and elevated naturalistic features. The reason the homeowner wanted a deck was that they simply didn't have enough outdoor space to enjoy.
This deck was created to enhance the view of the local wetlands and the pond below. The underneath of the deck was sealed, and styled with a natural wood ceiling, to make for a perfect outdoor grill and bar area.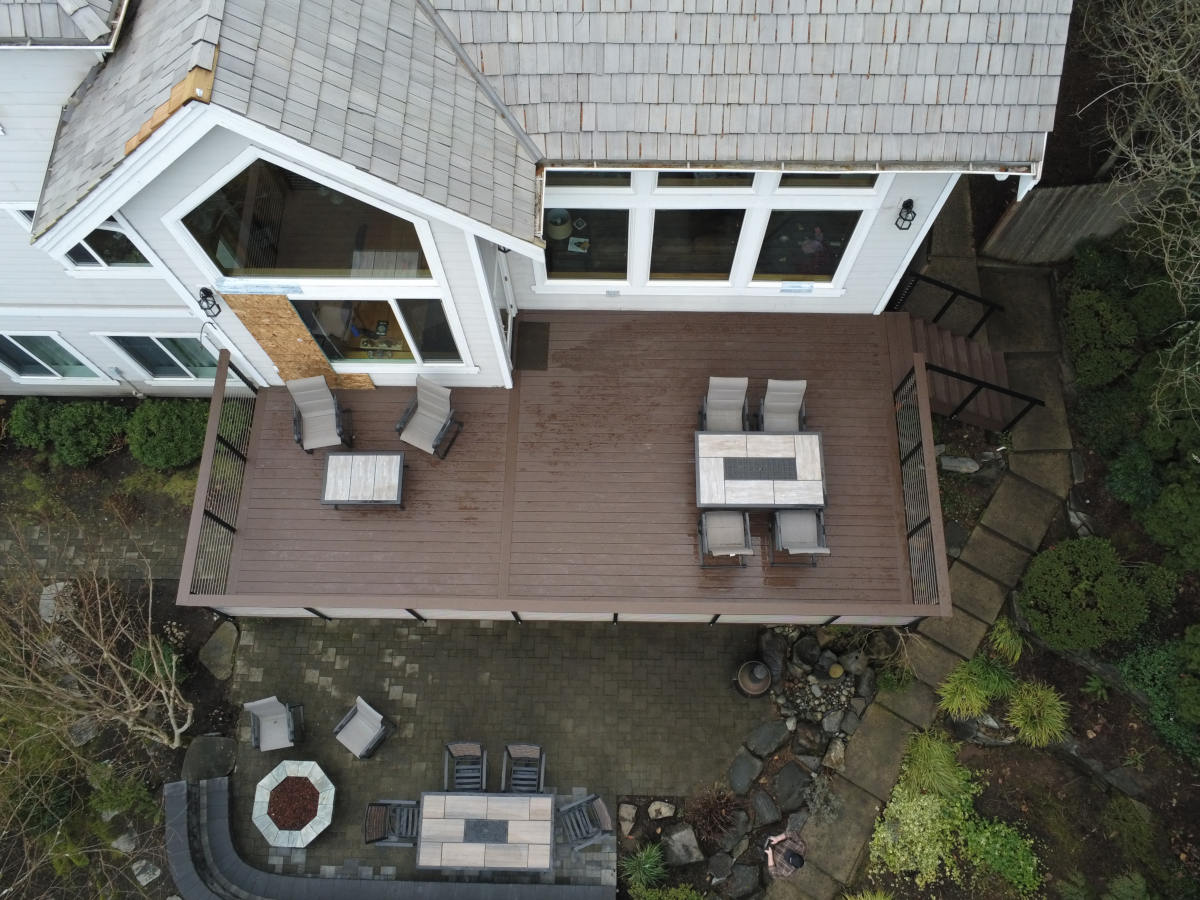 The client wanted a deck that they could use all year round, and so we built them a covered grill and bar space underneath. This is the perfect spot to host summer BBQs or winter get-togethers.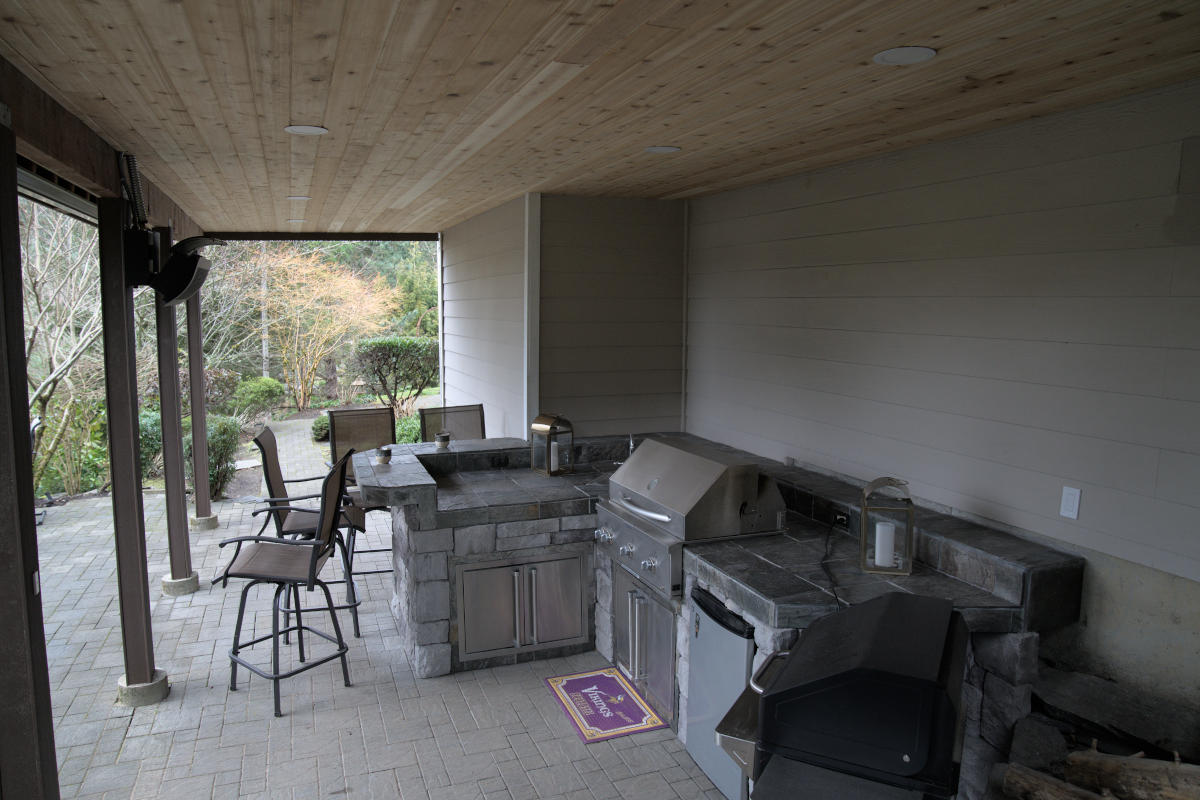 The deck, made with Trex composite, was designed in such a way that it slotted into the natural-colored surroundings.
To make sure that there was no sense of clutter, we opted not to use a second-level bar, leaving it up to the homeowner how to use their versatile, open deck area.
The deck itself offers stunning views of the lake below, and the surrounding mountains. It's the perfect place to relax and take in the natural beauty of the area. To further enhance the beauty of the deck and to create some ambiance, we installed low-profile deck and stair lighting.
Our deck services
As you will have seen above, we offer a wide range of deck installation services.
Railing installation: We design our railing system to maximize the view while also providing the safety that you and your family need. One of our most popular railing systems is cable railing, for various reasons.
Stair installation: We can install your deck stairs in a way that is both safe and stylish. We will work with you to figure out the best design for your space.
Deck lighting: We can install low-profile deck and stair lighting to create a beautiful and safe outdoor space.
Roof extension construction: We can extend your deck roof to provide additional protection from the sun and rain.
If you are interested in any of our deck services, please don't hesitate to get in touch. We would be more than happy to discuss your project with you and provide a free quote.
To view more projects using our deck construction services, view our project gallery or our blog feed.
To learn more about our deck services and to book your free consultation, contact us, or give us a call at (425) 505-5282 (Bellevue) or (509) 998-6522 (Spokane).
It's never too late to invest in a high-quality deck!